Retail investors in the United States sometimes have difficulty staying on top of events and markets in Europe.
In the last week, I have suggested several ways to monitor the status of various pockets of interest in Europe, including Spain (via the iShares MSCI Spain Index ETF, EWP) and the euro. I certainly also could have included the VSTOXX, the volatility index tied to the Dow Jones STOXX 50 index of European companies.
While I love proxies, ground zero for the European financial crisis is Greece, where ongoing discussions with European Union leaders, particularly those from Germany, are wrestling with the best way to balance national and regional interests.
There is not currently a Greek ETF, but as proxies for Greece go, the National Bank of Greece (NBG) is an excellent one. This bank trades millions of shares per day and has a market cap of $12.5 billion. So whether you just wish to take the temperature of the Greek financial situation or want to speculate on a particular outcome, NBG is a worth addition to any watch list. (Click to enlarge)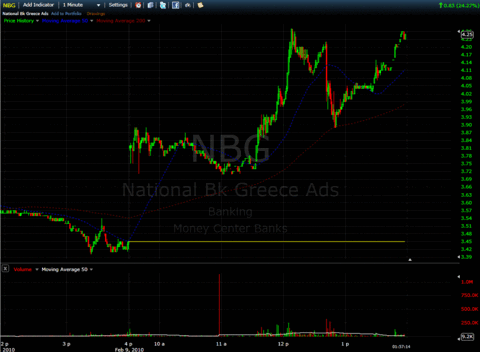 Disclosures: long NBG and EWP at time or writing

[source: FreeStockCharts.com]