Sectors in the stock market can be thought of as neighborhoods. When potential homeowners mull over their options, they try to avoid run-down areas and concentrate on buying in, or near, the growing ones. The same strategy is generally applied in the stock market - in any given industry, there is a range of companies from under-performers to out-performers. That's why finding a niche neighborhood where nearly every company has potential is a rare treat.
Confectioners look to be in just such a sweet spot right now, as a result of an emerging global middle class. Chocolate's global business is estimated to reach $98.3 billion by 2016, growing at a rate of 12% within 5 years. Demand in Asia is expected to grow by almost double that rate, thanks to an expanding middle class in China that should reach 340 million in 2016. And 77% of total growth in confectioneries is expected to come from emerging markets. Let's take a look at three of the world's biggest confectionery companies.
Hershey (NYSE:HSY) is one of the world's most recognizable brands and the leader in overseas sales. By 2017, the company expects to have total sales of $10 billion, with $2.5 billion derived from international markets. With a weighted average cost of capital of just 4.49%, Hershey can aggressively finance acquisitions and expand its global reach. EPS growth over the last five years has averaged over 25% and even though the stock is up 35% this year, future earnings expectations conservatively put its value at $110 - an upside of 15%. Adding more value for investors, Hershey also offers a 2% dividend yield.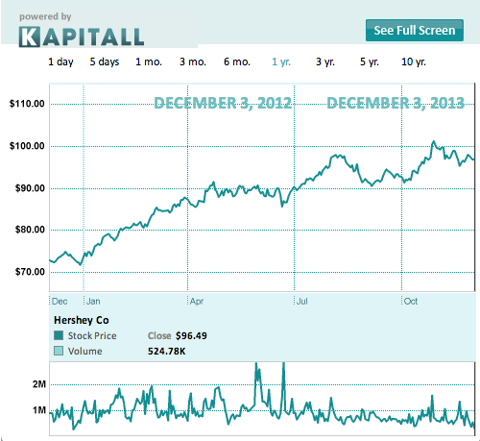 (Click to open dynamic chart. Sourced from Zacks Investment Research.)
However, with a valuation of $59 billion, Mondelez International (NASDAQ:MDLZ) is closing in on Hershey's international exposure. Formerly known as Kraft Foods, the maker of Cadbury Chocolates has already purchased plants in China and plans on increasing investments in emerging markets to $300 million by 2015. In the third quarter, Mondelez grew sales 10.7% in overseas markets and even lifted its EPS guidance for 2013 to $1.57 - $1.62. This represented a 470% quarterly earnings gain from the same quarter last year. Like Hershey, Mondelez also offers a dividend, which currently yields 1.7%.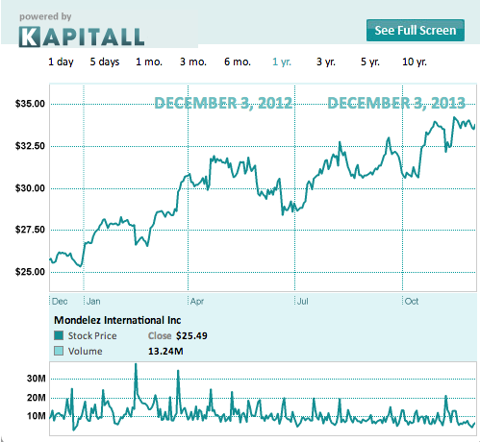 (Click to open dynamic chart. Sourced from Zacks Investment Research.)
However not everything has been sweet in the sugar industry. Take for instance the $1.9 billion Tootsie Roll (NYSE:TR), where management has failed to innovate and its brand is suffering. Its valuation is very high, trading at over 34 times earnings, and Tootsie Roll also offers the lowest dividend yield of confectioneries at less than 1%. The only upside for investors is the fact that the company carries almost no long-term debt and has been eyed as a buyout target by institutional investors.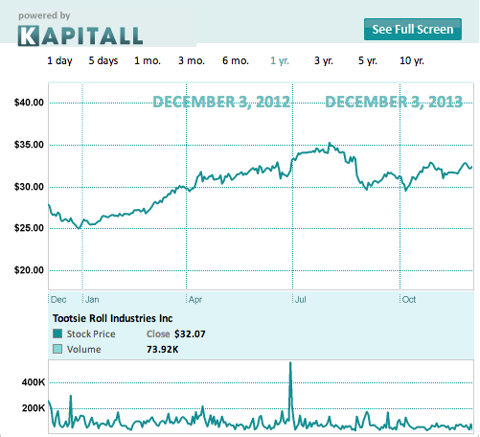 (Click to open dynamic chart. Sourced from Zacks Investment Research.)
Emerging markets continue to offer the best opportunities for confectioners, a trend that's expected to last for the foreseeable future. With the exception of Tootsie Roll, these companies may experience above average returns uncorrelated to the general market thanks to the increasing appetite of the global middle class.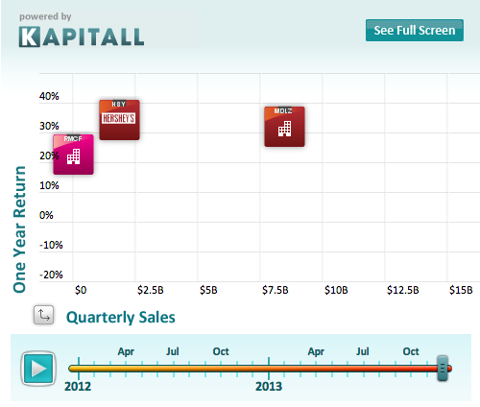 (Click to open dynamic chart and see returns compared to sales over time. Sourced from Zacks Investment Research.)
Disclosure: I have no positions in any stocks mentioned, and no plans to initiate any positions within the next 72 hours.
Business relationship disclosure: Kapitall is a team of analysts. This article was written by Daniel Cross, one of our writers. We did not receive compensation for this article (other than from Seeking Alpha), and we have no business relationship with any company whose stock is mentioned in this article.