The new year has brought some surprises for yen traders.
The Financial Ministry leaned on the Bank of Japan, convinced them that deflation and a tepid recovery were the big problems, and low rates and expanded money supply were the answer. What could be a more ideal set up for the yen to be the lending currency for the carry trade? Well planned trades often give way to changing world events. The markets concern about the size of the Greek debt, and the ability to service this debt grew, and fear of the sovereign debt in Spain Portugal and Ireland emerged. Speculators even began to question the sanctity of the Euro, annoying European Bank President Jean-Claude Trichet.
The movement to the safe haven currencies like the dollar and the yen have resulted in the yen appreciating a surprising 8.5% against the euro in 2010. After trading at a high of 134.35 on Jan. 11 2010, the euro plunged to a low of 120.65 on Feb. 5. It has since recovered to near the 124 handle.
It is not only the carry traders that have been slammed in the emergence of the strong pound. Japanese exporters are severely hurt by the strong yen, as the yen has strengthened above levels that were forecast by the big exporters. Have no doubt that the export trade will be bending the ears at the Ministry of Finance, trying to get the government to weaken the yen.
There have been some big time bears on the yen based upon the massive amount of debt issued to the government. The Financial Times pointed out that these fears may be exaggerated. Most of the debt is owned by Japanese, not foreign investors, and the rate on a 10 year note is only 1.3% compared to 3.6% in the US. This means that the cost to service their debt with the low interest is only 1.3% of the GDP, compared to 1.8% in the US and 2.3% in the UK. Also noteworthy is a report in The Japan Times Online, that:
"Foreign-exchange reserves at the end of January rose $ 3.67 billion from a month earlier to $ 1.053 trillion, up for the first time in two months to hit the third-highest level on record, the government said Friday." This implies, of course, that the super bears on the yen are probably wrong, but this does not exclude the possibility of a pull back.
Since the arrival of the Greek debt problem on the front page of the world financial papers, it is estimated this concern has resulted in over $4T in losses in global equities markets. Today rumors abound that the Euro Central Bankers have a plan to bail out the Greek government and address their debt issues. Equity markets have applauded this news with solid global gains. The USD has weakened against the euro today, but against the yen the trade in indecisive. If indeed the Euro Bankers are going to loosen the purse strings and come to the rescue of their spend thrift southern neighbors, this would help the euro and remove the need for the yen as a safe haven currency. Try to buy the Euro versus the yen in the 1.23 area with an appropriate money management stop. If the Bankers get the job done we may see a move back to the 126/27 level. (Click to enlarge)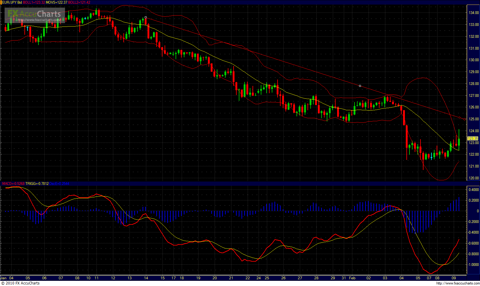 Disclosure: no positions