Samsung Electronics (OTC:SSNLF) is the largest subsidiary of the giant South Korean conglomerate, Samsung. The largest information technology company measured by revenues is a leading producer of a vast selection of products, ranging from smartphones, televisions and household appliances to health and medical equipment. But perhaps, most enviable, are its operations in semiconductors, displays and storage systems. Despite intense competition and the dynamic nature of the industry, Samsung has been able to differentiate itself from the competition through its immense scale in production and innovation.
Samsung and Apple
Samsung is almost invariably compared to Apple (NASDAQ:AAPL), but the two companies are in fact very different. Although the two directly compete with each other, they are also dependent on each other. Samsung is Apple's biggest supplier, and in turn, Apple is Samsung's biggest components customer. With the intensifying competition, Apple has been trying to reduce its dependence on Samsung. It adopted displays for its Retina iPad Mini from Sharp (OTCPK:SHCAY) and LG (LG). However, it appears that moving away from its dependence from Samsung also has its costs. Many analysts have attributed the delay and potential supply constraints of the Retina iPad Mini on Sharp's low panel yields. Rumors are already circulating that Apple is seeking to make a deal with Samsung for additional display supply.
Apple has also signed an agreement with Taiwan Semiconductor Manufacturing Company (NYSE:TSM) to supply it with processors. But, because of the manufacturing problems TSMC is having in achieving Apple's technical standards, Samsung is likely to continue to be its main supplier of processors through 2014. Because of Samsung's immense scale and reliability, Apple will continue to find it difficult to source its components elsewhere.
Samsung's huge capital expenditure and R&D spending
Samsung expects to spend $22 billion on capital expenditure, and $14 billion on research and development (R&D) in its current financial year. Very few companies can match Samsung's scale in both capital expenditure and R&D spending. Although size is not always best; Samsung has generally invested wisely. Samsung's current leading market position in mobile application processors, flash memory and DRAM manufacturing is a testament to this. It is clear that Samsung excels in hardware, but it is the mobile and consumer products that generate the overwhelming majority of the company's profits. And competing in those markets relies heavily on integrating customer friendly software onto its hardware.
Software development has typically been a weak spot for traditional hardware and component manufacturers. Samsung has been no exception; and it understands the consequences of that weakness. Samsung claims that already half of its R&D staff are focusing on software development. Once again, size is not everything; as Blackberry and Nokia have shown that despite the huge amount of resources they spent at improving their software, their market shares continued to languish.
Samsung has been working with Intel (NASDAQ:INTC) in designing Tizen, a mobile and tablet operating system, which could one day become a significant competitor to Android. Although Samsung is not even close to designing an operating system which would rival Android or Apple's iOS, it has made some strides in improving user experience through its latest version of TouchWiz, Samsung's own proprietary user interface which is available on its Android operating system.
But, Samsung is in no hurry to drop the Android (or Microsoft's Windows) operating system from its tablets and smartphones. Google (NASDAQ:GOOG) and Samsung have mutually benefited from Samsung's adoption of its Android operating system. Google provides its Android operating system to handset and tablet manufacturers free of charge; and in return, Google gets an overwhelming proportion of the revenues it receives through online ads and from the apps, e-books, music and video content sold through its Play Store. (However, many patent holders, most notably, Microsoft, have demanded a royalty fee for each device from manufacturers using the Android operating system, including Samsung, for the apparent infringement on their patents.) Samsung benefits from the use of a popular and user friendly operating system, and a proportion of the ad revenue.
Samsung has $39 billion in net cash and trades at just 7.2 times projected earnings
With $39 billion in net cash, investors have been urging the company to return more cash to shareholders. Samsung is considering a targeted dividend yield of around 1%. Although it is significantly higher than the current dividend yield of 0.52%, Samsung Electronics' payout ratio is expected to be little more than 7%. Given Samsung's diversified range of products, Samsung has little need to hoard cash, in fear of declining mobile and tablet margins. Samsung claims it is seeking acquisition and investment opportunities to combat intensifying competition.
With a 35% market share of the global smartphone market, Samsung Electronics' profits have soared over the past few years. For the third quarter of 2013, the company reported net profit of 8.2 trillion Won (around $7.7 billion), which is 26% higher than the same period last year. Despite this, concerns over flattening demand in the premium smartphone market have meant Samsung Electronics' share price is up only 2% from a year earlier. As a result, the company trades at just 7.2 times projected 2013 earnings. This compares favorably to TSMC which trade at 14.4 times projected 2013 earnings, and Apple's PE ratio of 14.3.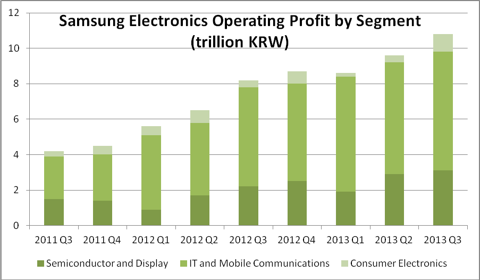 Click to enlarge
(Click to enlarge)
Samsung Electronics is listed on the Korea Exchange. However, for foreign investors, it may be preferable to trade Samsung Electronics through its Global Depository Receipt (GDR) listing on the London Stock Exchange.
Disclosure: I have no positions in any stocks mentioned, but may initiate a long position in OTC:SSNLF over the next 72 hours. I wrote this article myself, and it expresses my own opinions. I am not receiving compensation for it (other than from Seeking Alpha). I have no business relationship with any company whose stock is mentioned in this article.