Hartford Financial Services Group (NYSE:HIG) sort of takes a backseat (in terms of market recognition) to better known insurance brands such as Berkshire Hathaway (NYSE:BRK.A) (NYSE:BRK.B) or American International Group (NYSE:AIG). I think this is quite undeserved as Hartford Financial has presented quite a decent turnaround and its shares have rocketed up quite nicely. Nonetheless, the $16 billion Property- and Casualty insurance company still has much more potential to grow its valuation.
Share performance
Like many insurance companies, Hartford Financial Services has fallen off a cliff in 2008/2009 as the financial crisis unfolded. Share prices have rebounded quickly in 2009 but subsequently fell back into the $16 range. In 2012 John Paulson, best known for his blunt subprime mortgage wager in 2007, pushed for change at the insurance company and shares ultimately took off. Hartford Financial Services is up 143% over the last five years but still trades at a 9% discount to book value.
Insurance companies' share gains have accelerated since 2011 as American International started to make progress in repaying the government for its bailout and the financial markets exited their depressed state amid encouraging economic data. Over the last two years Hartford gained 91%, AIG 106%, The Allstate Corporation (NYSE:ALL) 98% and CNA Financial (NYSE:CNA) 58%.
Financial performance
I am generally bullish on insurance companies and believe many of them can trade at a reasonable price to book ratio of 1.20-1.30 as the economy grows at higher rates. Pricing momentum in the commercial business has considerably improved for a variety of insurance companies in 2013 and Hartford was no exception. Hartford's Property and Casualty Commercial Written Premiums hit $1,567 million in Q3 2013 compared to $1,533 in Q2 2013 (a plus of 2.2% q-o-q) and $1,454 million in Q4 2012 (a plus of 7.8%).
I am particularly bullish about Hartford's Consumer Markets business which posted consistent q-o-q growth in new auto and home business. New Business Premiums have gradually been rising over the last year. New Premiums stood at $135 million in Q3 2013 vs. $116 million in Q3 2012; an increase of more than 16% y-o-y that indicates that Hartford can achieve significant business growth in a highly competitive insurance market segment.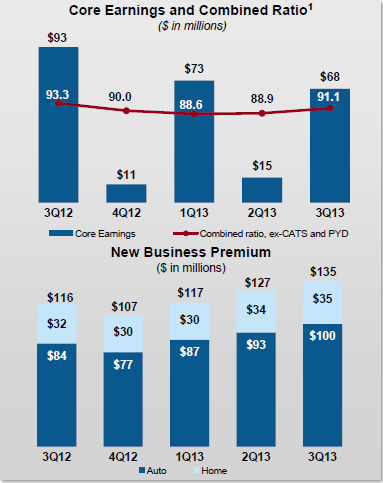 Hartford earned $505 million in core earnings in Q3 2013 compared to $433 million in Q3 2012 (a plus of 17%) and results were primarily being driven by its Commercial Property and Casualty unit. Net income literally exploded to $293 million vs. $13 million in Q3 2012 (results were impacted by a $388 million reinsurance loss in last year's third quarter). Core earnings per diluted share came in at $1.03 in Q3 2013 compared to $0.90 in Q3 2012 (an increase of 14%).
Market valuation
The S&P recently hit 1,800 and marked a new all-time High in November. Despite the increase in share prices, insurance companies still represent a good bargain based on their low valuations. Nearly all insurance companies, either in the Property and Casualty or Life space, exhibit meaningful discounts to book values and low earnings multiples.
Hartford is the cheapest Property and Casualty insurance company in the peer group with a multiple of just 9.72 times forward earnings. AIG achieves 11.35 and is just as an undervalued insurance bargain as Hartford Financial.
Hartford Financial has a book value per share of $38.91 (excluding accumulated other comprehensive income) and $38.87 including AOCI. With a share price of $35.42 this equates to a discount to book value of 9%. Allstate already manages to trade at a premium to book value and I estimate that a larger group of insurance companies will be able to trade at a multiple of around 1.2x book value over the next 2-3 years. American International Group trades at the largest discount to book value and, correspondingly, is one of the cheapest companies in the insurance sector.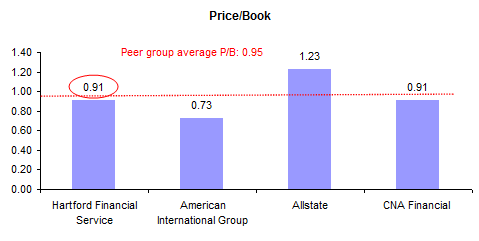 A summary table comparing valuation- and dividend metrics for the Property and Casualty insurance peer group is provided below:
Conclusion
Insurance companies still have decent potential to achieve higher valuations as insurance volumes grows over time. Interest rate increases (which will surely come) are likely to benefit insurance companies that have significant exposure to Life businesses like American International Group.
Hartford Financial Services should profit from pricing momentum in the commercial Property and Casualty business as business conditions normalize. In addition, Hartford has been repurchasing shares aggressively throughout 2013: The company has repurchased $408 million worth of stock in 2013 and $241 million during the third quarter.
Hartford Financial Services provides insurance investors with a decent margin of safety as measured by a near 10% discount from book value. In addition, investors purchase Hartford at an earnings yield of over 10%. Long-term BUY with potential book value premiums as the financial sector completes its recovery and the U.S. economy grows without artificial support from the Federal Reserve.
Disclosure: I am long AIG. I wrote this article myself, and it expresses my own opinions. I am not receiving compensation for it (other than from Seeking Alpha). I have no business relationship with any company whose stock is mentioned in this article.