This article is a follow up to "Prospect Capital: Q1 2014 Expectations" where I discussed my expectations for Prospect Capital (NASDAQ:PSEC) and things that I would be looking for in the recently reported financial results. My key concerns were regarding earnings and dividend sustainability but also looking at how the company was positioning its portfolio with investment mix and yield direction as key indicators. Overall I was satisfied with the performance but interest income was a little lower than I had projected due to most of the originations being weighted toward the last two months of the quarter (as usual). I was also looking for direction regarding new share issuances and the continued dilution of shareholders but taking into account the new investment income to cover the new shares as well as the average price per share and accretion to the current share values for the upcoming quarter. This article will cover the results of my analysis at a high level but "Prospect Capital: Sustainable High-Yields? Part 2" will provide the detail to the earnings projection and dividend sustainability, revised pricing and rankings as well as overall recommendations.
New Share Issuances
PSEC had net originations of around $380 million growing the portfolio from around $4.2 billion to $4.6 billion or 9.1% for the quarter but they also added almost 24 million shares or 9.5% more than the previous quarter. This has been a concern for a few reasons including the dilution of earnings and keeping the stock price low due to a constant supply of new shares on the market. However the at-the-market (ATM) method of issuing shares is more cost effective with only a 100 basis point discount compared to typical offerings that are all at once with 200 to 400 basis point discounts to the current share price. In other words PSEC retains 99% of the capital raised compared 96% to 98%. Also PSEC only issues shares above net asset value ("NAV") per share so that each transaction is accretive.
Part of my analysis looked at the average amount of shares offered compared to the price and I found that they do issue more shares during periods of higher average prices. From July 1 to August 21 they issued almost 10 million shares or an average of 270,000 per trading day at an average price of $10.97 compared to almost 17 million shares from August 26 to October 10 or an average of over 526,000 per trading day at an average price of $11.27. Between October 1 and November 4 they have issued another 12.7 million shares at an average price of $11.21 and since then the stock price has gone up to $11.51 during intraday trading. I would expect that PSEC is actively issuing share at these prices and have estimated the amount of share issued for this quarter to be around 30 million to 34 million or an additional 11% to 12%. PSEC's current NAV per share is $10.72 and I believe that this will prove to be accretive to the current shareholders and have provided my estimates in Part 2.
Portfolio Growth and Dividend Sustainability
Over the last five quarters PSEC has had average net originations of almost $500 million per quarter and has grown its portfolio from $2.1 billion in June 2012 to its current $4.6 billion in September 2013 or 117% compared to the amount of shares growing from 140 million to 271 million or 94% during the same period. Another way to look at this is the average portfolio at fair value per share growing from $15.00 to $16.80. This is a good sign but investors need to take into account portfolio yield which has gone down during the same period from 13.46% to 12.96% due to yield compression in the industry from competition.
The CEO stated something similar to what many other BDCs have stated recently: "we're seeing a real stabilization in yields right now, which I think is driven by supply and demand that there has been an uptick in activity. So there is sort of more deals to go around right now in the marketplace than in three months ago or even six months ago. And so desperate lender syndrome as I'd like to call it that people shoving money up the door on a - in an imprudent basis accepting higher leverage and a higher risk attachment point has moderated a bit because people have more to feast on. So that's what we're seeing generally speaking the current quarter. It's hard to hear on November 5, that's exactly what our originations will be when the ball drops on New Year's Eve that's just the deal business. But we do have more than a $1 billion in category right now which is close to record high."
There are few takeaways from that comment including a stabilizing yield but also the potential for a large upcoming quarter for originations. Last year during calendar Q4 many deals were closed due to tax reasons and some of it was related to politics but overall Q4 activity seems to be higher followed by a lighter Q1. As discussed earlier the originations from last quarter were weighted toward the back end and PSEC will receive a full quarter of benefit in this coming quarter.
I have used all this information to come up with my projections over the next two quarters with net originations of around $600 million for fiscal Q2 2014 and another $500 million in the following quarter. This also takes into account the continued development of its 'seven origination strategies' and a team of growing professionals (almost 100 now), representing one of the largest dedicated middle market credit groups in the industry.
Given this amount of potential originations and stabilizing yield along with its lower than average debt-to-equity ratio of 0.59 or 0.54 net of cash, I believe PSEC will have enough recurring net investment income to almost cover dividends (around 95% coverage) in the coming quarters. Coverage of 95% using recurring portfolio income with only a modest amount of dividend and other income that is usually lumpy and inconsistent is around the average for the industry but with a yield of 12% this is good news for investors. In Part 2 I will provide the detail for these projections as well as best and worst case scenarios for dividend coverage but I project that the next two quarters EPS will be around $0.32 per share and in line or a little above current analyst estimates.
Portfolio Credit Quality
As discussed in recent articles I continually watch the amount of collateralized loan obligation ("CLO") type investments and senior vs. subordinated debt as well as overall portfolio yield direction. The CLO portion of the portfolio crept up a bit from 16.5% of the portfolio to 17.7% but with a current yield of over 15% it accounts for almost 20% of the interest income.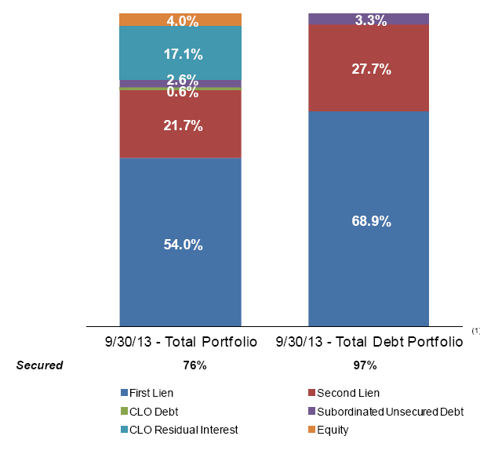 Click to enlarge
(Click to enlarge)
The COO recently stated, "And in terms of the credit quality CLO book, I would describe that as Sterling. At the end of September, we were I believe below 0.2% in terms of our default rate within the CLO business compared to market average of over 2%."
There was a modest increase in the amount of senior loans from 53% to 54% of the portfolio and non-accruals were reduced to 0.5% of net assets with no loans originated in the last six years going non-accrual status. For a BDC as large as PSEC I believe this a good sign but there is a possibility that they sell the potential non-performing loans before they are placed on non-accrual as discussed in "BDCs With The Highest Gains". PSEC continues to focus on senior secured loans with 76% of the portfolio having first and second liens. Floating rate loans account for 89% of investments and 96% of borrowings were at fixed rates positioning the company well for rising rates. However PSEC has higher than average floors on its investments meaning the company will not see significant increases in net investment income ("NII") until rates rise more than 200 basis points.
The portfolio yield has been slowly declining as PSEC focuses on more senior types of investments as well as maintaining underwriting standards. I believe this is a good sign that the company is dedicated to focusing on quality as well as a certain amount of risk with its CLO investments to maintain income to support dividends and maintain its stable NAV per share.
Summary
PSEC has stayed the course and for a high-yield BDC with a good mix of increasing amounts senior debt along with riskier CLO investments to enhance returns to shareholders with low non-accruals. I am still concerned about PSEC's rapid growth rate but after my recent analysis I believe that the dividends are sustainable even if NII falls short from quarter to quarter due to lumpy income from dividends and other income or timing of deployments. Currently the company has a cushion of undistributed net investment income of almost $73 million that only decreased by $4 million from the previous quarter giving PSEC plenty of cushion and investors should watch these amounts in the coming quarters. Also I believe the accretive nature of ATM program for raising equity capital will either help to maintain or potentially grow NAV per share giving investors a higher amount of total return.
These projections for dividend coverage, NAV per share growth and total return are covered in "Prospect Capital: Sustainable High-Yields? Part 2" that also discusses best and worst case scenarios, revised rankings, pricing and recommendations for PSEC.
Investors should only use this information as a starting point for due diligence. See the following for more information:
Disclosure: I am long PSEC. I wrote this article myself, and it expresses my own opinions. I am not receiving compensation for it (other than from Seeking Alpha). I have no business relationship with any company whose stock is mentioned in this article.