By Simon Avery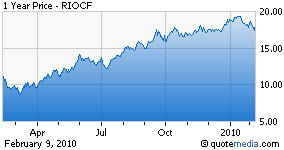 The price of RioCan Real Estate Investment Trust (OTCPK:RIOCF) units tumbled more than 5% Tuesday after Canada's largest shopping mall company posted disappointing results.
RioCan said profit for the three months ended Dec. 31 fell to $28 million, or 11 cents a unit, down from about $29 million, or 14 cents a unit, from the year-earlier period. Funds from operations fell to $66 million (28 cents a unit) from $87 million (39 cents a unit). The consensus of analysts was for 32 cents a unit.
RioCan blamed the decline on an increase in interest expenses and lower gains on properties held for resale.
Results mean that RioCan has a distribution payout ratio of 144% of funds from operations, calculates Shant Poladian of Canaccord Adams Inc., which rates the trust a "hold."
"Will the distribution be cut? We do not expect so, given that the shortfall is small when taken in the context of the overall value of the REIT's portfolio," Heather Kirk of National Bank Financial wrote in a research note.
Same store net operating income decreased 3.4%, caused mainly by an increase in bad debt expenses and vacancies.
"This is either an indication of pressure to come on occupancy or a desire by management to be conservative in Q4 which would contribute positively to 2010 year over year comparisons," Ms. Kirk said.
RioCan is Canada's largest REIT and owns a portfolio of shopping centres anchored by tenants such as Wal-Mart (NYSE:WMT), Loblaw and Shoppers Drug Mart (OTCPK:SHDMF). During the fourth quarter, RioCan embarked on its first foray into the United States, buying a minority stake in Cedars Shopping Centers Inc. of Port Washington, N.Y., and forming a joint venture with the U.S. REIT to acquire supermarket-anchored retail properties.
"Overall, we expect the market reaction today could be mixed with some focused on the weaker Q4 (and taking profits) and others looking through Q4 toward a more promising future, driven by recent accretive buying and leasing," BMO Nesbitt Burns analyst Karine MacIndoe said in a note. She has a "market perform" rating on the trust.