BlackBerry (NASDAQ:BBRY) finds itself in an extremely tough situation since the company failed to find a buyer after looking for a few months. The company's smartphone sales are falling precipitously even as overall global smartphone sales are growing. All major smartphone makers such as Apple (NASDAQ:AAPL), Samsung (OTC:SSNLF), Lenovo (OTCPK:LNVGY) and Microsoft (NASDAQ:MSFT)-Nokia (NYSE:NOK) have reported growth in overall shipments in the last quarter. BlackBerry does not have an attractive portfolio of smartphones and is losing share even in some of its traditionally strong markets, like India. IDC reported a dramatic 50% y/y decline in BBRY's smartphone shipments, while the company also lost market share in Indonesia.
BlackBerry continues to bleed money every day by selling smartphones as it bears large global marketing and distribution costs over a shrinking revenue base. The loss of scale will also hurt BlackBerry's bargaining power with suppliers and its ability to procure lower-priced components. BlackBerry's smartphone business is caught in a vicious cycle, and I do not see a way out for the company. Selling or shutting down the smartphone hardware segment seems the only viable option for BBRY. The stock is currently priced cheaply as the company faces a lot of uncertainty with regards to its future. However, I would wait on the sidelines to see more clarity on how the new BBRY management performs on its restructuring.
BlackBerry's Sales are dropping alarmingly in Key Markets
BlackBerry is very quickly losing ground in key markets, as the company does not have a good enough product portfolio and lacks the marketing muscle of its competitors. The cheapest BB 10 smartphone is priced way too high for most emerging smartphone customers. While Apple and Samsung are bombarding the Indian newspapers with full page advertisements almost daily, BlackBerry remains woefully absent even in the back pages. BlackBerry is even failing in distribution, as BlackBerry handsets are poorly advertised in key electronic retail chains. The uncertainty caused by the management's announcement of a sale has led to many companies offering Apple as an alternative for enterprise mobility. BlackBerry is also seeing its sales drop rapidly in Middle Eastern and African countries where it had a dominant market share, thanks to an early mover advantage.
BlackBerry's Smartphone Portfolio is not generating enough Volumes
I think that BBRY will have to eventually sell off its hardware business, as the company's BB 10 portfolio is not generating enough volumes for it to remain a viable player. The company's Z10 failed and is now selling at extremely low prices. Q10 has also not really caught on, and you hardly see many advertisements. The Q5 seemed to be priced absurdly high, given its positioning as an emerging market smartphone. The Z30 from BBRY looks like its best smartphone at the current point of time, but it does not seem good enough to put BBRY back in the top league. I think that BBRY failed in positioning Q10 as the only smartphone with a great keyboard. Instead it got lost in copying the touch and phablet features of its competitors. The Z30 and Z10 are decent smartphones, but you can find better products at a much lower price. BlackBerry will find itself at a big cost disadvantage with component suppliers if it cannot ship a minimum level of smartphone volume. The $1 billion infusion may not be enough for the company to mount a turnaround.
BB 10 a distant choice for App developers focused on Android and iOS
It has become clear that app developers are focusing mainly on Android and iOS for their apps. It makes little sense to build/port their apps for Windows or BB 10 operating systems, given the small number of smartphones which currently use these OS. Most app developers work on a tight budget and simply do not have the resources to support a large number of operating systems. iOS is the favorite app operating system because of the high amount of money spent by iPad and iPhone users. Android has also become indispensable due to the massive number of Android devices. BB 10 and Windows come a distant third in terms of the operating system chosen by app developers. Microsoft and BlackBerry have to heavily incentivize app developers to develop apps for their operating systems. Apps have become one of the most important reasons for users to choose a smartphone OS. While I find my Nokia 720 to be a good smartphone, the lack of many apps is a problem. Some apps also lack the finesse found on Android and iOS. To offset these issues, BBRY is giving some of its apps for free, which is not great for the bottom line, given its strained financial condition.
BlackBerry lacks a Plan for what to do
One of Canada's big pension funds refused to invest in BBRY because the company lacked a decent business plan. It certainly seems that the company does not know what to do. The company wants to focus on software and services, but its management is doing nothing to execute that strategy. The launch of BBM on rival platforms is a good idea, but a tad late in my view. There are already big pure play messaging companies with a good product. BlackBerry will face a hard time displacing these players which are focused on the messaging segment. One area that BlackBerry can really shine is in MDM as well as BYOD with its traditional strengths in enterprise security and reliability. But BBRY has not really focused on this area, spreading its limited resources too thin. The company can do much better by selling the smartphone hardware portion and concentrating its resources and management attention to its software part of the business. The company does not have a lot of money or time to do that. It needs to quickly move in pushing strategic changes or the stock price may see even lower levels.
What could make BBRY a Buy
BBRY's stock remains undervalued compared to the assets that BBRY possesses. The reason for the undervaluation is the lack of strategic direction and the big losses being made by the hardware segment. The top management has a good idea of what to do, but they have failed to implement those ideas. The company's stock can quickly start to reverse if the management starts to focus on BBM, BYOD, BES 10 etc. while jettisoning the hardware part of the business. Nokia had to sell out to Microsoft, despite selling ~60 million mobile devices as it could not make enough profits to sustain a global marketing and distribution footprint. BlackBerry, with less than 5 million unit shipments (even with a greater ASP) a quarter, has a tough task in doing the same. Microsoft has massive resources and can easily afford some losses while selling smartphones. Microsoft recently made a huge loss while writing down its Surface inventory, but its stock price has gone up in recent days. BlackBerry, which wrote down a similar amount due to smartphones, saw its stock price crater after that news. The reason is that BlackBerry (similar to Microsoft with proprietary smartphone hardware plus software) cannot afford any losses.
Snapchat recently got an offer of $3 billion from Facebook (NASDAQ:FB), and there is no reason why BBM cannot be valued at much higher levels. Other parts of the business, such as its patents, also have a lot of value. A new CEO made Alcatel Lucent's (ALU) stock go up dramatically after providing a clear roadmap for the company. BBRY's new CEO can do the same provided that he moves quickly to cut off the hemorrhaging parts of the company.
Stock Price and Valuation
BlackBerry has a market valuation of ~$3.3 billion and trades at a low valuation, with a P/B of 0.4x and P/S of 0.3x. BBRY posted a loss in 2012, so valuing it using the P/E ratio does not make sense. BBRY stock has climbed by ~26.4% in 2013, though in the past month the stock has given a loss of ~10%.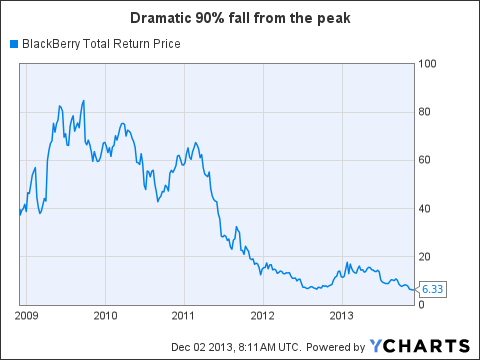 BBRY Total Return Price data by YCharts
Summary
BlackBerry is a going through a bad time as the company's top management and board have failed in providing a clear strategic direction for the company. It seems clear that BBRY cannot remain a viable smartphone player on its own. It needs to either find a partner/buyer for its smartphone business or exit it. The company cannot afford many loss making quarters similar to the last one. The company has tremendous assets, but it has failed to capitalize on them. The new CEO has a chance to start on a clean slate and hive off the bad assets. He will have to make tough decisions on a number of areas, but he has no option. The longer the delay, the bigger will be the price that BBRY has to pay. Investors should wait on the sidelines to see where and how fast the company is moving towards reorganization. The company can make a comeback, but it will be a long and a hard road. BBRY stock appears cheap on most conventional valuation measures, but currently is not a buy given the losses the company is making.
Disclosure: I have no positions in any stocks mentioned, and no plans to initiate any positions within the next 72 hours. I wrote this article myself, and it expresses my own opinions. I am not receiving compensation for it (other than from Seeking Alpha). I have no business relationship with any company whose stock is mentioned in this article.