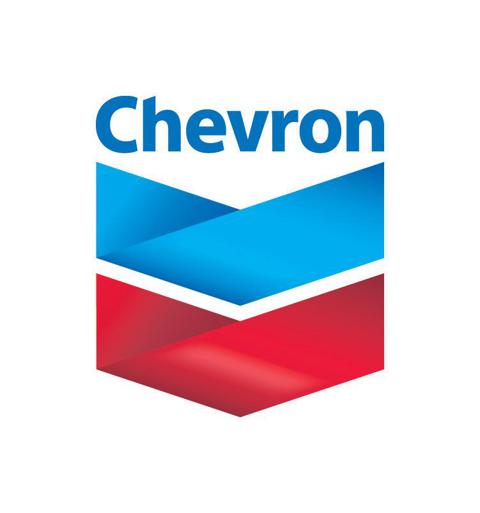 Click to enlargeThe US Energy Information Administration ("EIA") recently predicted natural gas demand will grow 64% over the next 30 years: from 113 trillion cubic feet ("Tcf") in 2010 to 185 Tcf in 2040. The industrial and electric power sectors will account for 77% of the total worldwide projected growth in natural gas consumption. But natural gas is also the fastest growing transportation fuel. Much of the growth in natural gas demand will come from Asia - specifically China. As a result, Chevron (NYSE:CVX), which is constructing multiple liquid natural gas ("LNG") projects in Australia, is in an excellent position to supply the world's fastest growing markets with clean burning natural gas.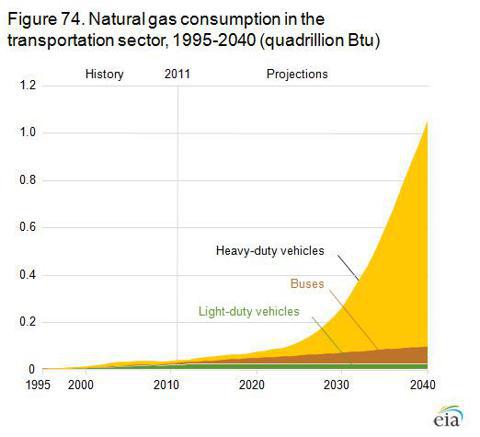 As I reported in September, China is seeing explosive growth in the deployment of natural gas vehicles ("NGVs"). A Reuters article estimated China's use of NGVs could replace the equivalent of 840,000 bpd of oil by 2030. China is increasingly turning to natural gas for electric power generation to cut down on the pollution problems caused by burning coal. But Since China is not a big producer of natural gas, and its shale exploration efforts face several challenges (including water, pipelines, and energy infrastructure), the obvious question is: where will all the natural gas come from? The answer is LNG imports, and this is where Chevron comes in.
Chevron Has Invested Heavily In LNG Capacity
Chevron's Q3 earnings presentation focused on global LNG supply/demand and on the company's market position. In the Seeking Alpha Q3 conference call transcript, Chevron VP Joe Geagea said LNG demand has already doubled since 2000 and predicts LNG demand will double again by 2025. Due to all the publicity lately, the average investor may be inclined to believe there are sufficient LNG projects on the table to adequately meet growing demand. However, Chevron predicts another 150 million tons per annum ("MTPA") will be necessary to meet demand by 2025. That is a shortfall of roughly 30%: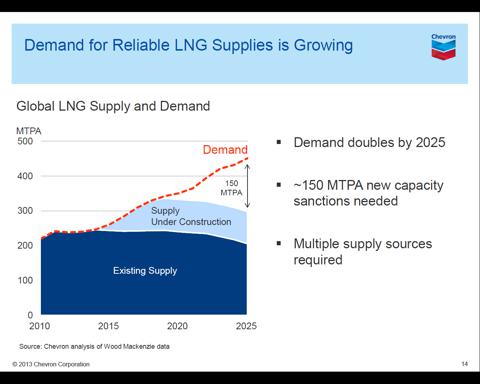 Click to enlarge
More importantly, Geagea gives a sanity check on those who believe the shortfall in worldwide LNG supply and demand will be made up by exports of LNG from the United States:
Now my buyers are counting on the United States to make up the shortfall .... Even if you believe the most optimistic predictions of new U.S. supply available for export, there are still projected short fall of more than 50 million tons in 2025 and more reasonable predictions of U.S. exports suggest a GAAP of around a 100 million tons in 2025.
So this gap in LNG supply and demand obviously bodes well for companies that have current LNG projects in the works - and that means Chevron. As I reported earlier this year, Chevron is already Cashing In On Angola LNG, one of the largest energy projects on the African continent. The project has the capacity to produce 5.2 MTPA of LNG, 63,000 barrels per day of natural gas liquids for export and 125 Mcf/day of natural gas for domestic consumption. The Angola LNG project has a peak production capacity of 175,000 boe/d. Chevron's is the operator of Angola LNG and owns a 36.4% interest in the joint-venture. Others include Angola's state oil company Sonangol (22.8%) and subsidiaries of Total (NYSE:TOT), BP (NYSE:BP) and ENI (NYSE:E), each with a 13.6% interest.
In the Q3 presentation, Chevron also updated the progress on its other major LNG projects: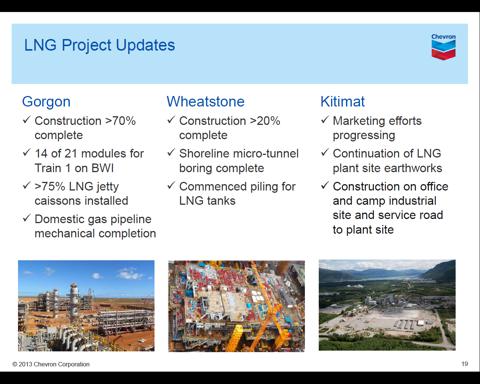 Click to enlarge
Gorgon
The near term jewel on the horizon for Chevron is, of course, the massive Gorgon LNG project. Gorgon is a $52 billion joint venture in Australia that's one of the biggest infrastructure projects in the world. Gorgon will produce the equivalent of 450,000 barrels of oil per day (half of which goes to operator Chevron) when it comes online in 2014. There is no shortage of feedstock for the plant as CVX has announced its 20th discovery offshore Australia. With over 50 Tcf of gas discovered nearby, Gorgon should provide steady Chevron with a steady cash flow for at least the next 40 years.
There is so much gas in the Gorgon area, Chevron and its partners Shell (NYSE:RDS.A) and Apache (NYSE:APA) decided to invest $29 billion in another LNG project nearby: Wheatstone.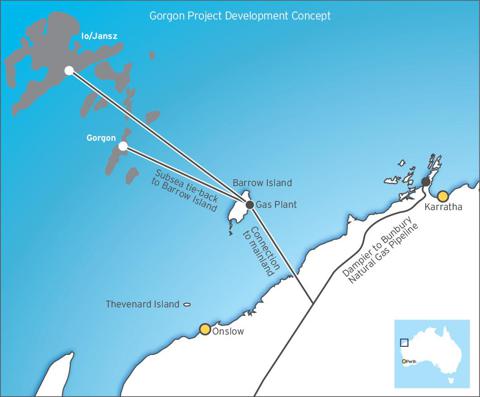 Click to enlarge
Wheatstone
The Wheatstone Project will include an onshore facility located at Ashburton in Western Australia's Pilbara region. The project includes two LNG trains with a combined capacity of 8.9 MTPA and a domestic gas plant.
The Wheatstone Project is a joint venture between Chevron (64.14%), Apache with (13%), Kuwait Foreign Petroleum Exploration Company (7%), Shell (6.4%), Kyushu Electric Power Company (1.46%), and PE Wheatstone Pty Ltd (part owned by TEPCO, 8%).
During the latest quarter, Chevron signed binding long-term sales and purchase agreements with Tohuku Electric Power Company in Japan to supply just under 1 MTPA of LNG for up to 20 years.
Kitimat
Kitimat, is a 50-50 joint venture with Apache. The proposed two-train LNG Project is currently progressing through Chevron's front-end engineering and design phase. Kitimat has a Canadian National Energy Board license to export 10 MTPA of LNG. Front end engineering continues on plan. Chevron is focusing now on early earthworks at the LNG plant site where construction on the office, camp industrial site and service road is ongoing.
Key activities for the Pacific Trail Pipeline to feed Kitimat are obtaining necessary permits, building roads and securing right-of-way access. Kitimat LNG marketing activities with potential customers are underway. The timing of Chevron's final investment decision will be determined by its ability to secure sufficient LNG takeaway agreements with customers.
Chevron's LNG Capacity Commitments Are Strong
Chevron's current LNG capacity commitments are robust and are shown below.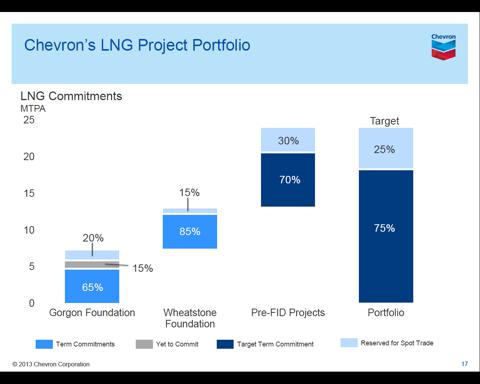 Click to enlarge
Wheatstone commitments have already met the company target of 85%. Chevron is currently seeking commitments for another 15% of Gorgon capacity. Chevron's pre-FID project capacity commitments for Kitimat & Gorgon Train 4 are a work-in-progress. For the entire LNG portfolio, CVX seeks to commit 75% of capacity while having the flexibility of leaving 25% open to capture spot trade prices.
Speaking of spot prices, Chevron presented data showing that Japan has been paying an average of over $15 MMBtu for LNG. Of course Japan has greatly increased consumption of natural gas since the Fukushima disaster in March of 2011 caused the country to shut-down most of its nuclear reactors.
Chevron: Poised To Become A Top-5 LNG Supplier
As a result of these new LNG projects, Chevron will jump into the top-tier of global LNG suppliers. With the projects under construction at Gorgon and Wheatstone and with CVX's existing equity shares in Angola LNG and Australia Northwest Shelf, Chevron will be one of the top-10 LNG suppliers in the world: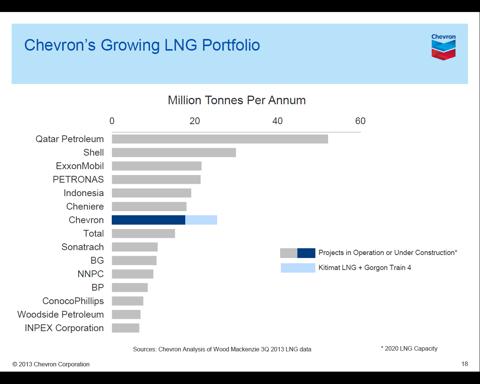 Click to enlarge
Summary & Conclusion
While Chevron is the #10 natural gas producer in the US as of Q2 2013, the company is also poised to become a top-10 worldwide producer of LNG by 2020. The company has significant LNG assets online already (Angola, NW Shelf) and has massive additional capacity coming online soon. Gorgon & Wheatstone alone have a combined total capacity of over 24 MTPA (~11.3 MTPA net to CVX). If Chevron decides to move ahead with the Kitimat and Gorgon Train 4 projects, it could well become a top-5 worldwide supplier of LNG.
While the chart above may show that there are bigger LNG players in the market, the reason I believe Chevron is the best way to play LNG isn't due to its LNG growth efforts alone: it is because LNG will nicely compliment the company's existing upstream oil production and its downstream production of refined product and chemicals. Also, Chevron has consistently posted superior returns on a $/boe basis versus its peer group: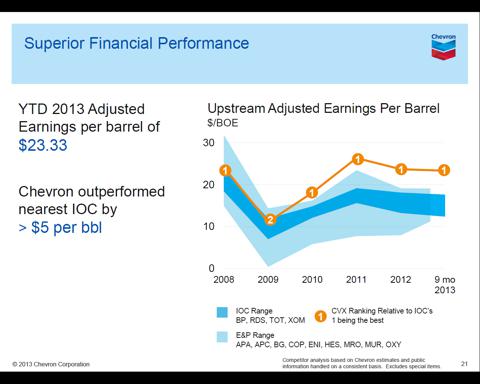 Click to enlarge
Lastly, I like Chevron because it is trading at a substantial discount to the S&P500 while at the same time paying a $1/share per quarter dividend. That works out to a 3.3% yield - substantially higher than the current yield on a 10-year Treasury bond. Chevron is up 220% over the past 10 years (see below) not counting dividends. I see no reason why the next 10 years won't be even better. As I have written before, Chevron is simply the Best Integrated Oil Company In the World. Chevron is a BUY.
Mkt Cap = $235.6 Billion
P/E ("ttm") = 10
EPS ("ttm") = $12.23
Div (Yield) = $4.00 (3.3%)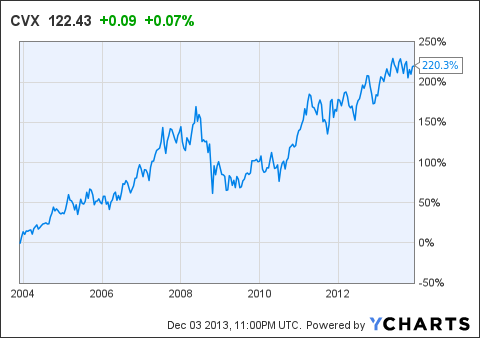 Disclosure: I am long CVX. I wrote this article myself, and it expresses my own opinions. I am not receiving compensation for it (other than from Seeking Alpha). I have no business relationship with any company whose stock is mentioned in this article.
Additional disclosure: I am an engineer, not a CFA. The information and data presented in this article was obtained from company documents and/or sources believed to be reliable, but has not been independently verified. Therefore, the author cannot guarantee its accuracy. Please do your own research and contact a qualified investment advisor. I am not responsible for investment decisions you make. Thanks for reading and good luck