The US IPTV market has two major players, AT&T (NYSE:T) and Verizon (NYSE:VZ). At the end of the third quarter, AT&T's U-verse surpassed its rival Verizon's FIOS in terms of IPTV subscriber base with the addition of 2.6 million new U-verse TV consumers. As of November 2013, U-verse had a subscriber base of 5.3 million in comparison to Verizon FiOS's 5.2 million subscribers.
The concept of IPTV is getting popular in the US. Around 16.6% of global IPTV subscribers are in the U.S. In terms of revenue, the U.S. is the most lucrative economy, generating around $10.4 billion, which is 47.3% of the global revenue from IPTV. By 2017 the global IPTV subscriber base is expected to grow at CAGR of 9.1% reach to around 100 million homes. Currently, the revenue generated from the global IPTV business is around $21.9 billion and is expected to be around $41.2 billion by 2017. Keeping all the metrics such as market share, revenue, and growth rate constant, I anticipate the U.S. IPTV market will generate around $19.7 billion by 2017. This seems to be a massive untapped potential market for AT&T.
AT&T enhanced its U-verse service by introducing 45 mbps downstream and 6 mbps upstream speed in 40 new markets in the U.S. under the name U-verse Power. The complete bundle of internet and voice service is available for $49.95 per month for 24 months. Also, AT&T is planning to upgrade U-verse speed to up to 100 Mbps by the end of 2013.
On the other hand, AT&T's major competitor, Verizon uses fiber optic connections, or FTTP, to provide service to its customers, which is very expensive compared to the existing copper wiring. Installation of fiber optic cables in new regions will lead to delay in the rollout of its services, but this offers much faster speed than copper wiring. AT&T is using its existing fiber optic infrastructure and copper wiring, which is much cheaper and less time consuming.
In the third quarter, Verizon's wireline segment reported an impressive revenue growth of 4.3% year over year, which was led by FiOS's revenue growth of 13.4% year over year. FiOS's average revenue per unit, or ARPU, was $113 in September 2013, an increase of 8.7% year over year. It has added around 173,000 FiOS internet subscribers in the third quarter of 2013.
Verizon is transitioning customers from the copper network, which has slower speed compared to the fiber optic FiOS connection. It has converted around 500,000 copper connections to fiber optic connections as of November 2013 since the beginning of 2012. Verizon is aggressively shifting customers to fiber optic connections as fiber optic connections are more reliable, and customers can enjoy high-speed internet.
Partnership with automobile companies
Telecommunication companies are observing developments in the automobile industry, due to increasing demand for wireless connectivity services in cars. AT&T, being a big player in providing wireless technology facility to the automotive industry, has entered a partnership with Tesla Motors (NASDAQ:TSLA) to provide wireless services in cars. Through this wireless service, the car owners will be able to access features associated with smart phones such as internet search and video streaming. Apart from this, it will also provide roadside assistance and remote engine diagnostics. This will help locate a car, if stolen, and provide information on the performance of the car.
This is not the first time AT&T is targeting the automobile industry. In the beginning of this year, AT&T entered into a partnership with General Motors (NYSE:GM). Through this wireless service, the car users will be able to access features such as a traffic indicator, internet radio options, and online TV. Along with the wireless facility of AT&T, General Motors will be launching its new version of electric cars by the end of 2014. As per the deal, AT&T will be providing 4G LTE facility to General Motors and will receive $20 per month for every customer.
With the increasing demand for wireless services in the automobile industry and AT&T's increasing market share in the 4G LTE segment with new contracts, I expect the company's revenue to increase in the future.
Cash Flow Analysis
The company has generated $9.16 billion in cash from operations in the third quarter 2013, and free cash available after deducting capital expenditure is 3.26 billion. In the table below, I have analyzed the impact of free cash flow on its shares.
| | | | |
| --- | --- | --- | --- |
| Quarter | Free cash flow ($) | Outstanding shares (billion) | Free cash flow per share |
| Sep. 2013 | 3.26 billion | 5.28 | 0.61 |
| July 2013 | 4.09 billion | 5.31 | 0.77 |
| March 2013 | 3.94 billion | 5.42 | 0.72 |
AT&T Free Cash Flow (Quarter) Chart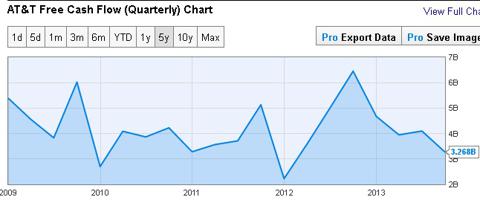 Click to enlarge
(Source: Ycharts)
In the third quarter of 2013, the company witnessed a decline in its free cash flow. The reason behind this decline is the company's repurchase of 55 million shares for $1.9 billion. Due to decline in free cash flow, the company was not able to give increased returns to its shareholders. The free cash flow is expected to rise by the end of the year, as the company's revenue is expected to increase in the fourth quarter, backed by strong demand of U-verse and AT&T's initiative in the automobile segment.
Conclusion
AT&T seems to be in a good position due to its initiatives mentioned above. These initiatives are expected to increase its revenue in the near future. AT&T's latest steps of providing wireless services to automobiles will help the company expand its market and increase its revenue by the next quarter. The increasing demand for internet TV in the U.S. is expected to help the company generate increased revenue in the next quarter. I'm bullish about the company in the long run considering the increasing demand for U-verse and automobile services in the U.S.
Disclosure: I have no positions in any stocks mentioned, and no plans to initiate any positions within the next 72 hours. I wrote this article myself, and it expresses my own opinions. I am not receiving compensation for it (other than from Seeking Alpha). I have no business relationship with any company whose stock is mentioned in this article.