Following the equity screen I did for low P/E companies with a strong net cash (less debt) position, I was rewarded with 3 investment ideas (all in the telecommunications sector) including China Mobile Limited (NYSE:CHL).
Target Price: $71
Rating: Buy
Upside: 31%
I try to invest in companies with the ability to generate a long-term stream of sustainable cash flow, and I am beginning to see value in certain companies as I build my BIG Portfolio from the bottom up. One of them is China Mobile Limited. Before we begin, let me disclose that I recently added a small position to my personal investment portfolio.
About CHL
CHL is the leading mobile services provider in China and is the world's largest mobile network and has a customer base of about 740 million customers. Its market share is about two-thirds of the mobile network market. It competes in its domestic market with China Unicom (NYSE:CHU) and China Telecom (NYSE:CHA).
What Analysts Say
Analysts expect earnings to decline in 2014 and 2015, but earnings growth will pick up in 2015.

Source: Nasdaq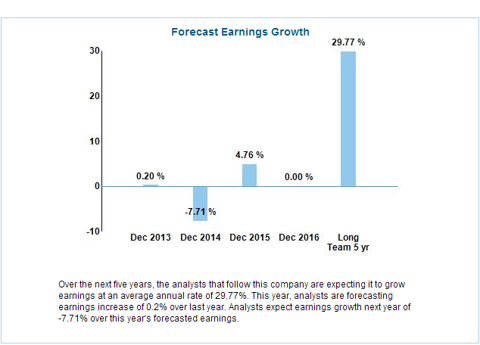 Source: Nasdaq
The Risks
CHL is being penalized for being the biggest and most profitable player in China, and it is a state-owned entity. This is echoed by the UBS analyst who downgraded CHL to Sell following the last set of earnings reported in October.
Further, there is an increasing threat to breaking the oligopoly in China, where mobile networks are dominated by China Mobile Limited, followed by China Unicom, and China Telecom.
Seeking Alpha contributor Doug Young wrote an insightful article about the monopolistic market dynamics in China and the possibility of the Chinese authorities opening up to private telecommunications operators as a Mobile Virtual Network Operator (MVNO), as soon as end of this year. An earlier report by law firm Clifford Chance suggests that Tencent and Sina could be the first two to obtain the license although many other companies have been reported to be interested.
Over the long run, there is a risk that CHL may not be able to maintain its operating profit margin at current levels (over 20% of sales) as the market matures and opens itself up to competition.
CHL has been slower than its peers in promoting 3G resulting in the company losing market share in 3G mobile services. The slide below, taken from the company's 1H2013 report sums it up.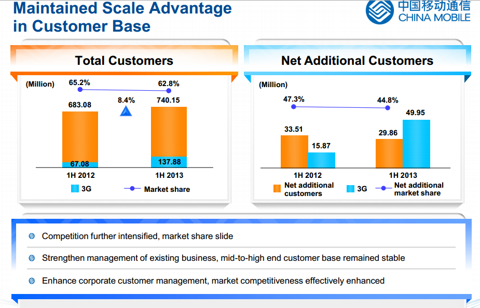 Source: China Mobile 1H2013 Presentation
Investment Thesis
In spite of the risks mentioned, I believe CHL to be a fairly stable and good investment based on the following reasons:
1) Margin declined with phone subsidies but CHL remained best-in-class in terms of profitability. CHL had a net profit margin of 20.8% on the back of a 10.4% increase in revenues, measured on a year-on-year basis. This compares to China Unicom's net profit margin of 3.7% in 1H2013 and China Telecom's net profit margin of 6.5% in 1H2013.
2) Average Revenues Per User (ARPU) should increase with 3G/4G (TD-LTE) user additions. China Mobile reported in 1H2013 an ARPU of RMB66 versus RMB77.6 for China Unicom's 3G mobile ARPU (1H2013 presentation slide 18). This shows that there are organic growth opportunities when China Mobile converts its current pool of customers to the smartphone generation.
CHL reported in the 1H2013 presentation that out of 730 million customers, only 137 million of them are 3G customers, and net additions for the period was 50 million customers. Early expansion into developing 4G capabilities would consolidate the company's position as a market leader in the future of mobile in China, in anticipation of users upgrading to 4G networks. I believe that CHL is trying to roll out 4G in order to strengthen its position by leapfrogging the current competitors' 3G service offering.
3) Discounts have impacted cost of sales but in the long term, these promotions benefit CHL as they consolidate their market share. The expectation that Apple and the company will agree to a deal for selling into China would create some much needed short-term demand.
4) Linking to points 2 and 3 above, here is a very recent article on ZDNet that gives us clues to China Mobile's strategy on MVNOs. It writes that while China Unicom and China Telecom have submitted 14 and 16 names of MVNO applicants respectively, China Mobile might be holding back its decision. From this, I infer that China Mobile is building up its 4G capabilities to create a competitive advantage for its service offering in the face of impending competition. I read this as a bold move, one that makes sense.
5) Leading on from point 4 above, there are reports that China Mobile is poised to be the first in China to launch 4G, on Dec 18, 2013, the day that the 4G licenses will be issued officially. No news has been made about China Unicom and China Telecom's 4G roll-out.
Here is a comparison in terms of what China Mobile presented in the 1H2013 results presentation in terms of CAPEX and strategic initiatives as compared to China Unicom.
Source: China Mobile 1H2013 Presentation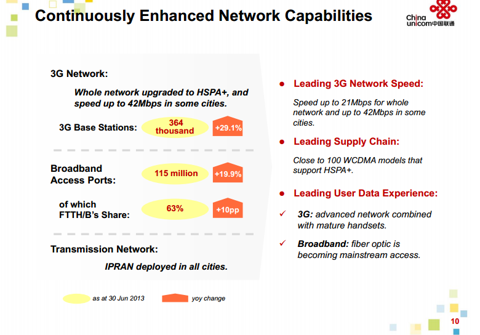 Source: China Unicom 1H2013 Presentation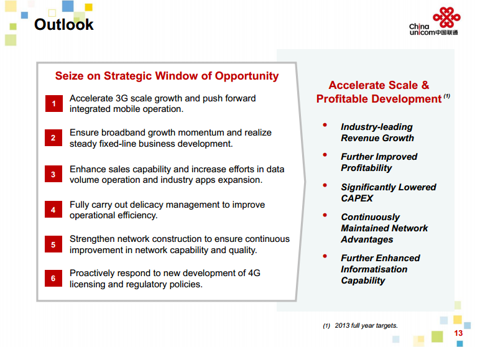 Source: China Unicom 1H2013 Presentation
It seems pretty clear that China Mobile is trying to leapfrog its peers by concentrating on rolling out its 4G capabilities in anticipation that customers would prefer this service. I do speculate that this could be a determining factor in Apple's (NASDAQ:AAPL) decision to partner with China Mobile.
In fact, China Mobile has already been advertising heavily in November, promoting its "pilot" 4G program in Beijing, ahead of the Dec 18, 2013 announcement.
6) CHL has about $70 billion in net cash (less of debt). that's about $17.50 of cash per share. Further, CHL generated RMB68b, roughly $11 billion, of Free Cash Flow in 1H2013. This is roughly about $2.70 cash generated per share in the first half of the year.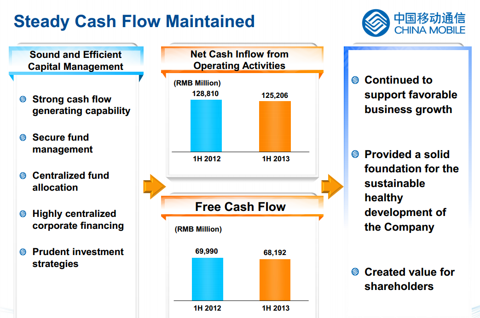 Source: China Mobile Limited Corporate Presentation
Valuation Estimate
Taking $54 as the current share price and using the $4.73 EPS forecast in 2014, I derive a multiple of 11.4x. Less out the cash and the P/E is a low 7.7x.
Using a valuation multiple of 13x which is AT&T's forward P/E, I derive a $71 price target for CHL.
Disclosure: I have a long position in CHL and may increase it over the next 72 hours. I wrote this article myself, and it expresses my own opinions. I am not receiving compensation for it (other than from Seeking Alpha). I have no business relationship with any company whose stock is mentioned in this article.