All has been wrong in the world of the Tesla (NASDAQ:TSLA) investor over the last month or so. The company failed to offer guidance on its 4th quarter during its third quarter call and shareholder letter - reports of fires continued to pop up, and NHTSA announced they were opening an investigation into Tesla in response. It was an investigation that Tesla CEO Elon Musk said he expected and welcomed.
Regardless, Tesla stock is still over 300% higher than it was one year ago to the day, showing massive gains to investors over an extremely small amount of time.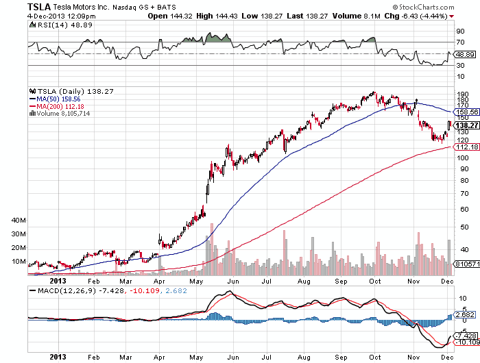 Click to enlarge
(Click to enlarge)
Those events certainly cooled off the fire that had driven Tesla's stock, and ensuing valuation, to rather speculative heights, with investors convinced that the electric car maker could still be a revolutionary entry into the automotive field.
Analysts, as I pointed out in my last article, seem to be evenly matched on both sides of the Tesla trade. Bulls have been arguing that the valuation is nothing due to the immense future prospects of the company, bears argue that the stock price will be roped in immediately when people "come to their senses" or the market in general starts to recede.
I noted on these two arguments:
The bull makes some good points, but the NHTSA investigation, although likely to produce little that is detrimental, still remains outstanding and needs to be considered. I also think the bull fails to take into account the capex that's going to be necessary for Tesla to take its battery production operation to the next level; and how that's likely to affect margins. Putting a $200 price target on the stock is about as sensational as putting a $45 price target on it.
My thesis behind the article was that I was likely to re-enter into Tesla, but I was waiting for the $110 level, roughly an in-between spot between the bullish and bearish estimates. I didn't have time to act before news was released yesterday that catalyzed a 15% run in Tesla's stock that is now correcting and cooling off a bit today, Wednesday.
Even more so now am I convinced that the NHTSA investigation will yield nothing, as it was reported that Tesla had passed a German Federal Motor Transport Authority examination into the recent Model S fires. It was reported by Street Insider that no defects were found and that the news will foreshadow similar good news from U.S. authorities:
Kwei believes the negative news from the vehicle fires is priced in, with short interest increasing to roughly 32% of the float following 3Q earnings (from 27% prior). "We expect a neutral NHTSA investigation (either no recall or minor modifications required) to be a positive catalyst for the stock, barring another freak accident/negative news headline. Although it is difficult to believe that three reported car fires in the span of six weeks is the result of pure chance, it would appear equally improbable that no major incidents were reported in California, which is home to the largest concentration of Tesla vehicles."
The same report notes that VIN numbers seem to support the 4th quarter guidance that the company has laid out. However, as I learned firsthand, sometimes the VIN number data is not the greatest projection of how production is going and certainly shouldn't be a finite indicator.
Lastly, the analyst notes that VIN numbers support 4Q delivery guidance. "During recent visits to Tesla stores in California, we observed vehicles with VINs in the 25,000-26,000 range awaiting delivery to customers. We believe this number is in the right ballpark given 2012 deliveries of 2,650, 2013 deliveries of 15,550 through 3Q, and guidance for 6,000 deliveries in 4Q. This would correspond to roughly 24,200 cumulative Model S sales by YE 2013. Along with TSLA's 550 unit/week production rate exiting 3Q, we are comfortable with TSLA's guidance for around 6,000 Model S deliveries in 4Q."
Tesla has pulled back and corrected a bit after yesterday's run, so the question is now what comes next for Tesla from here - an uptrend or a downtrend. Let's take a little bit closer look at the technical chart.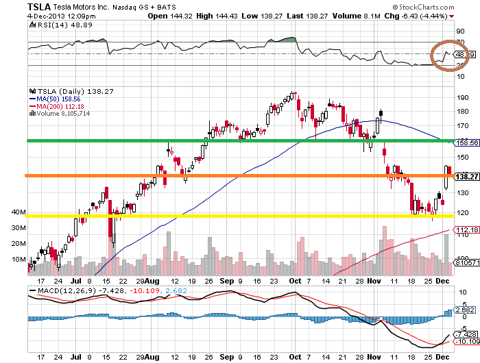 Click to enlarge
(Click to enlarge)
The yellow line shows the support that Tesla bounced off of at $120. The orange indicator is going to show where Tesla is going to need to hold today, tomorrow and through the end of the week to hold its current pricing - around $140. From there, should the NHTSA report be favorable and/or Tesla release decent news, the next stop should be back towards $160 to see if we can get past there. After that, $200 isn't far off.
The RSI indicator, circled in brown, showed that even during the midst of yesterday's rally, Tesla never seemed to cross into near overbought territory, leading me to believe that we should be able to rest on the support at $140.
From there, I'm predicting another move up from here catalyzed definitely by a favorable NHTSA report, and possibly by some Q4 metrics that could surprise investors.
As with your other "momo" stocks, Tesla is not only susceptible to the results of this potential probe and its fundamentals, but is also susceptible to macro market corrections, as well. Big P/E companies are usually the first ones to pull back in a sector-wide or market-wide correction. Tesla's valuation is still one of a company that needs to grow extraordinarily quickly. Additionally, there is going to be some capex necessary for Tesla to make its new battery plant a reality in the relatively near future. However, I believe that's already priced in, as it's relatively older news.
However, having come damn close to my target of $110 and missing it, I still think that Tesla remains a buy at these values with catalysts coming down the pipe and major long-term growth prospects still intact.
Best of luck to all investors.
Disclosure: I have no positions in any stocks mentioned, but may initiate a long position in TSLA over the next 72 hours. I wrote this article myself, and it expresses my own opinions. I am not receiving compensation for it (other than from Seeking Alpha). I have no business relationship with any company whose stock is mentioned in this article.