Guest post by David Ristau

Long Play of the Day: Hansen Medical Inc. (HNSN)
Analysis: I am a big fan of what is going on in earnings for medical supplies. A lot of these companies are turning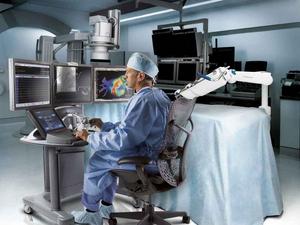 extremely nice profits, and I think HNSN is poised to make a run up until their earnings come out Thursday night. Tomorrow, the earnings of Boston Scientific are set to be release, which if positive should give a boost to their entire industry, including Hansen. Then, Friday will be the day of reckoning for the stock after earnings.
Hansen is projected to hit a negative EPS of 0.28. Yet, the company has improved their EPS over the past four quarters. This estimate is only 0.04 higher than last quarter, while most medical suppliers have been jumping EPS 100%, even more. I think the estimate is way too low, and it is presenting a great trade for us over the next few days.
Twelve out of fifteen of the recent medical supplies companies reported beating EPS estimates with surprises. Hansen, if in that category, which I think it will be, will be looking at some big swings. First off, the stock has high beta - over 2. We like that because it allows the needed volatility in the stock to make it move in large quantities. Secondly, the stock is in the pits right now. It is 66% off its 52 week high, and it is trading right at its lower Bollinger band. Some good earnings from Boston (NYSE:BSX) followed by good earnings at home could produce 8-9% easy.
Get into this one by the end of the day, and ride this baby up and away.