American Realty Capital Properties (ARCP) is a Residential Real Estate Trust worth the attention of investors. The REIT distributes its dividend monthly just like Realty Income (NYSE:O). Investors desiring real estate exposure might very well opt for a monthly dividend stream which offers them more reinvestment opportunities and/or greater compounding power compared to companies that pay quarterly. Realty Income is a quality REIT that currently pays investors a yield around 6%. While Realty Income has earned a reputation for paying investors a high-quality dividend stream (that is, regular and increasing dividends), American Realty Capital Properties has a much shorter dividend track record but might very well grow its reputation over the next couple of years.
Despite American Realty Capital Properties' shorter track record compared to Realty Income in shareholder remuneration, I believe the company is another quality REIT in the making for a variety of reasons:
The REIT just announced another monthly dividend hike to $0.0783 or $0.94 annualized. This translates to a forward dividend yield of 7.17% (based on a current share price of $13.11). More interestingly, the sell-off in REIT shares which began in May deeply affected ARCP: The REIT lost more than 26% of its market capitalization since May 20, 2013. The sell-off was triggered by beliefs that higher interest rates in the future will negatively affect the profitability of REIT structures. I believe this rational to be more valid for mREITs which seem to exhibit higher interest rate sensitivity than traditional real estate investment trusts. Classic REITs, companies that purchase real estate properties to rent out, will do fine over the long-term. Though financing costs might increase, rental income will increase as well and property values are likely to appreciate over time which should more than mitigate higher forward financing costs. In summary, investors with a long time horizon looking for steady income shouldn't worry too much about short-term sell-offs and timing the market. Instead, lower prices allow investors to pick up shares opportunistically at higher yields.
ARCP's acquisition of Cole is expected to be dividend accretive: ARCP estimates a post-transaction dividend of $1.00 per share which equates to a potential 7.63% annual dividend yield. The acquisition creates the largest net lease REIT in the US with outsized growth opportunities, operational synergies estimated to be in the neighborhood of $70 million and attractive AFFO growth.
American Realty Capital Properties reaffirmed its AFFO guidance of $1.13-1.19 per share for fiscal year 2014 which gives shares even more potential resulting from potentially higher payouts.
Diversified portfolio: The REIT is geographically diversified with operations across the United States and not reliant on any specific tenant. American Realty Capital Properties has a diverse customer base and its largest tenant will account for only 3.5% of pro-forma revenues. The majority of ARCP's tenants are investment grade companies.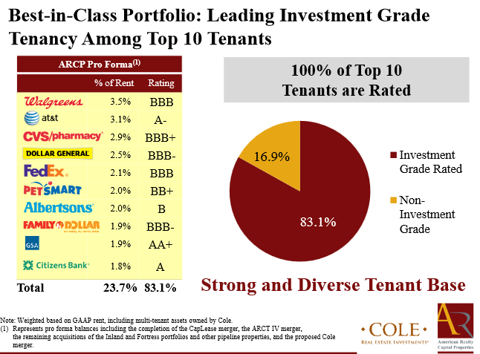 Click to enlarge
(Click to enlarge)
From a macro perspective I generally believe investors will do well with real estate related investments over the coming years. The phase of the interest rate cycle (near zero interest rates) and stubbornly high unemployment indicate that potential GDP still far outstrips actual GDP. As a result, the REIT has still significant room to grow in the coming years, especially when the housing market manages to sustain its recovery.
American Realty Capital Properties is one of the most aggressively growing companies via acquisitions. No other comparable company in the sector has increased its company value as much as ARCP: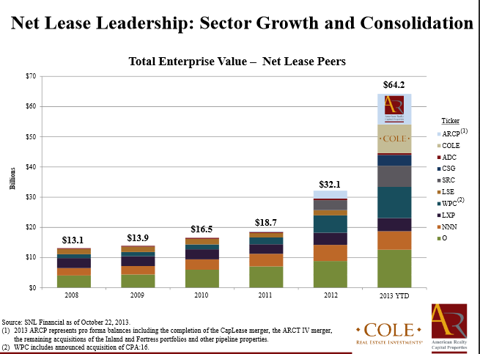 Click to enlarge
(Click to enlarge)
Conclusion
American Realty Capital Properties is an aggressively growing REIT focused on acquisitions rather than organic growth. The proposed Cole acquisition comes just after the CapLease and ARCT IV merger. While I expect the acquisition to be cash flow accretive, there is still a risk that American Realty Capital Properties grows too quickly via acquisitions which could lead to problems in integrating new corporate structures and portfolios. However, the sell-off in the REIT space has pushed American Realty Capital Properties down to attractive yield levels. The current yield of over 7% by itself is very attractive. Investors who also desire exposure to an explosively growing U.S. real estate investment vehicle with above-average AFFO prospects should have a look at American Realty Capital Properties as an alternative to Realty Income. Both REITs pay their dividends monthly which further allows shareholders to pursue alternative investments or, better yet, reinvest dividends and profit from compounding effects (the concept of compounding should not be underestimated especially over a long time horizon like 20 or 30 years). Long-term BUY on high yield, strong growth, accretive acquisitions, diversification potential for equity- and bond portfolios as well as favorable long-term real estate economics.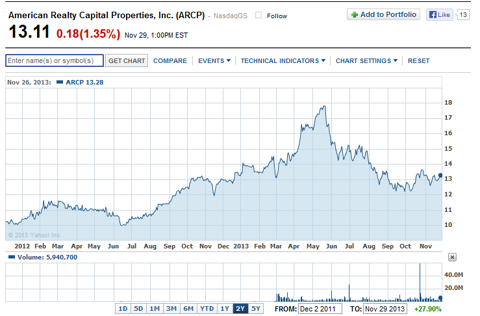 Click to enlarge
(Click to enlarge)
Disclosure: I am long O. I wrote this article myself, and it expresses my own opinions. I am not receiving compensation for it (other than from Seeking Alpha). I have no business relationship with any company whose stock is mentioned in this article.