A small battle has been waged between the United States and New Zealand for the past few years. This war is not based upon the movement of troops of ships, but rather it is based purely upon economics. At stake are hundreds of jobs in the logistics, manufacturing, and tourism sectors. The battle ultimately will not be resolved in a single engagement, but rather through time, currency strength and economic activity will dictate the victor.
Since the financial crisis, the United States has been a net exporter to New Zealand. In 65% of all months since 2008, the United States has accrued a deficit totaling $2.8 billion with its trading partner. In recent months however, exchange rate volatility and dollar weakness has led to a reversal of the status quo in that the United States is now running a surplus with New Zealand. This reversal in trade balance as well as macroeconomic improvements provides profit opportunity for the nimble investor.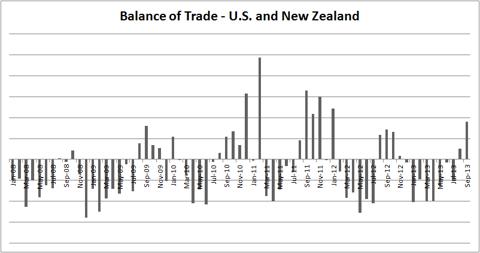 As the United States runs a surplus with New Zealand, this signals a growing demand for the dollar (NYSEARCA:UUP) in relation to the New Zealand dollar (BNZ). Tangibly, this means that New Zealand is demanding more goods and services from the United States than the United States demands from New Zealand. In this surplus situation, New Zealand is selling its Kiwi dollars to purchase the U.S. greenback to obtain goods and services. Such a situation allows economically-attuned investors the ability to capitalize by trading with the balance…of trade.
Not only is the balance of trade favorable for U.S. dollar appreciation, but the macro economic landscape is changing in such a way that at a fundamental level, profit can be made by purchasing the U.S. currency and selling the New Zealand Dollar. In the following chart, I have graphed the history of economic changes in each of these nations and how these changes have impacted each currency.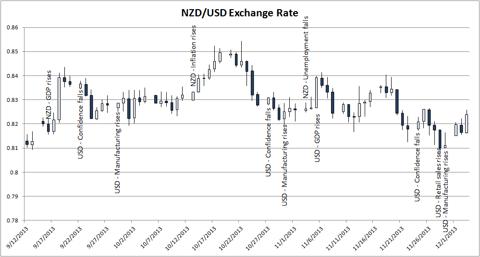 Rather than going through each economic surprise in detail, some brief summary statements will suffice:
The United States has steadily been improving from a manufacturing standpoint. This is very helpful in that as the balance of trade has swung to favor the United States, the expansion in the manufacturing base has ensured that product is available to meet continued demand. This implies a strong U.S. dollar as the economic trend continues.
New Zealand is experiencing growth in GDP, increasing inflation, and declining unemployment. These three factors are very important to the health of the economy. As the economy continues to pick up speed, New Zealand will be experiencing rising inflation implying a weakening currency.
So how do we trade this?
Buy the United States dollar to capitalize on a swing in balance of trade with New Zealand and a strengthening manufacturing base
Sell the New Zealand dollar to profit from a broad economic advance
In the trade wars between nations, I believe the tides are temporarily favoring the United States against New Zealand. In conclusion, I believe a short NZD/USD trade will be profitable in the near future.
Disclosure: I have no positions in any stocks mentioned, and no plans to initiate any positions within the next 72 hours. I wrote this article myself, and it expresses my own opinions. I am not receiving compensation for it (other than from Seeking Alpha). I have no business relationship with any company whose stock is mentioned in this article.
Additional disclosure: I may initiate a trade in any of these currencies within the next 72 hours.