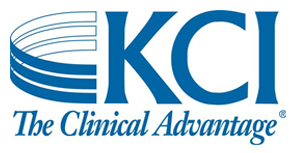 My recent trip to the hospital put me in touch with a company which I had not reviewed in quite some time. Kinetic Concepts (KCI) made its public market debut in February of 2004 and by the end of the year investors were rewarded with a triple digit gain. The company has a proprietary wound care treatment which has proven to be effective at both reducing the amount of time it takes for wounds to heal, and at the same time reducing the risk of infection.
Without going into too much detail (I've unfortunately become intimately familiar with the process), KCI has developed a process by which a vacuum (or low pressure pump) is attached to the wound and continually sucks excess fluid and drainage out of the wound. While it's a bit disturbing to have tubes attached and watch the drainage be sucked out of one's body, the process is amazing in that it truly does allow wounds to heal more quickly and efficiently.
KCI protects its patents and intellectual properties vigorously. In a discussion with the doctor, I learned that KCI usually rents out many of its pumps instead of selling them outright in order to keep close tabs on the product use. In fact, out of the several different versions of the wound vacuum pump, some are licensed for hospital use and some are licensed for home use. When I was discharged from the hospital, they actually had to switch my pump in order to comply with KCI's term's of service.
Similar to Gillette or Hewlett Packard (NYSE:HPQ), KCI has adopted a business model where it makes a large portion of its revenue on consumable products while the margins on the actual pumps are often a bit lower. The Negative Pressure Wound Therapy can only be applied with KCI brand dressings, tubing and other peripherals. Since the wound dressing and tubing need to be changed several times a week, this is a stable and predictable source of revenue.
You might think that with these restrictions, healthcare providers would be hesitant to work with KCI, but at this point there are no other providers who are able to reproduce the Negative Pressure Wound Therapy system. I spoke with my insurance company who had expressed reservations about paying for the KCI treatment but when they were informed that no other providers existed it appeared that they became willing to accept the claim. Still, KCI works hard to keep close relationships with physicians, insurance companies and Medicare providers in order to maintain a healthy business.
And business does appear to be good. A few weeks ago the company announced fourth quarter earnings with revenue up 7% to $526.8 million and non-GAAP earnings of $1.10 (up 12%). For the full year, KCI earned $3.82 and is expected to report 2010 earnings near $4.40 which represents 15% growth. KCI continues to expand its geographic footprint and will be focusing on growing its Japanese business in 2010. While the global economy may offer investors plenty of surprises in the year to come, innovative and efficient health care technology like the Negative Pressure Wound Therapy system should lead to continued growth in profits.
For 2010, we look forward to several new product launches, the launch of V.A.C. Therapy in Japan, continued expansion of our LifeCell business domestically and in Europe, and stabilization of our TSS business. ~Catherine M. Burzik, CEO
KCI is currently trading below $40 and given the expectation for $4.40 in profits in the coming year I believe that the multiple is exceptionally low. With an expected growth rate of 15%, it seems logical that the stock would trade for at least 12 times 2010 expectations which would represent a stock price of $52.80 – an increase of 37% from the current price. Any positive surprises could not only increase the expected earnings for 2010, but could also lead to multiple expansion. From this perspective it's not difficult to imagine a scenario where KCI doubles from its current level.
One concern investors may have is that the company is saddled with $1.174 billion in long-term debt. While this number is certainly no small matter, one should note that KCI actually reduced its debt by $242 million over the past year so it looks like they are on track to reduce leverage. At the same time, the current cash flow is robust and should have no trouble covering interest payments for the foreseeable future.
Wound care is a need that does not ebb and flow with the economic cycle. And since KCI can actually help to reduce the time a patient spends in the hospital, and expedite the healing process, the company should receive favorable treatment from insurance providers as well as government healthcare plans. The future looks bright for KCI and I will be watching for attractive opportunities to get involved with the stock.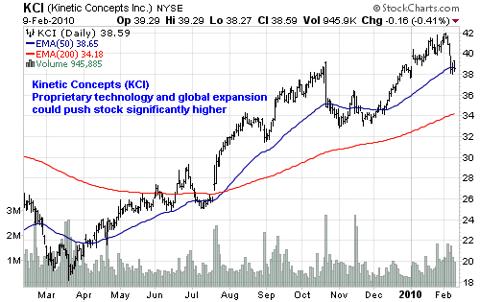 Click to enlarge
Full Disclosure: Author does not have a position in CLI