I have to admit one of the most fascinating topics on earth is Microsoft (NASDAQ:MSFT). Sure, some hate the company. But there's no denying the sheer impact the software maker has had on our lives.
With the PC market in full blown decline, many have finally had their worst fears realized. However, Microsoft eased concerns by having announced in an earnings conference that the PC market will eventually bottom out.
One has to question where Microsoft's end game really is. More specifically, can Microsoft survive if the PC market continues to decline? That's what I will try to uncover throughout the course of this article.
Business segment analysis
PC Shipments by Region and Form Factor, 2012-2017 (Shipments in millions)

Region

Form Factor

2012

2013*

2017*

Worldwide

Desktop PC

148.3

135.6

121

Worldwide

Portable PC

201.1

178.6

184.1

Worldwide

Total PC

349.4

314.2

305.1
Source: IDC
IDC has revised its forecasts even lower for PC shipments from -9.7% to -10.1% for 2013. Considering the timing of the press release after the Black Friday weekend, I don't think we're in for any more surprises. The PC market is in decline, and investors should adequately prepare themselves psychological for further weakness in demand from both portable and desktop PCs. On the bright side, things are expected to slightly regress throughout the 2013 to 2017 period with the PC market expected to regress by 0.73% per year over the next four years. This isn't bad, but it's not necessarily good. Again a forecast is just a forecast, and could be revised lower further on down the road.
However, Microsoft did give investors some hope in the previous earnings release putting a floor underneath the price of the stock. Amy Hood (Executive Vice President and Chief Financial Officer) reassures shareholders in the shareholder meeting:
We did make good progress in our devices and our Windows business broadly both the consumer as well as the business segments, were better than we expected and we have begun to see some stabilization, especially across the business environment. And we are very excited as we look forward in this quarter to holiday and the wide breadth of products from small screens all the way up to the largest screens that you heard both Ryan talk about as well as Steve in our comments. So I do think that overall we were encouraged in Q1 by the results.
In other words stabilization is another way of saying stagnating PC demand. It looks like the PC segment is starting to turn into a cash cow. It has limited growth, but continued cash flow that can be used to grow other business segments. If I had to make a guess as to how Microsoft is committing resources, I would summarize that by mentioning mobile and cloud.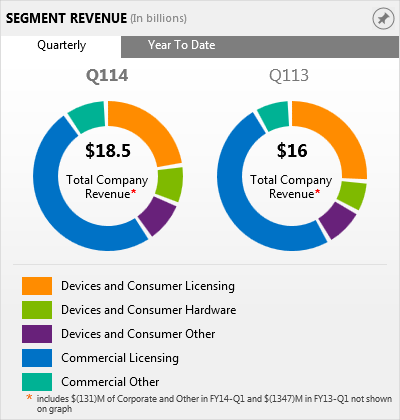 Source: Microsoft
Mobile continues to grow
Microsoft doesn't have significant market share with its Windows platform in mobile. But given enough time, Microsoft can easily change its position as a more significant player in mobile by acquiring more mobile phone players. I could only venture to guess what companies Microsoft would buy out. But, if it were to do this, it would have a significant impact on bottom line performance of the stock.
| | | | | | |
| --- | --- | --- | --- | --- | --- |
| Operating System | 3Q13 Shipment Volumes | 3Q13 Market Share | 3Q12 Shipment Volumes | 3Q12 Market Share | Year-Over-Year Change |
| Android | 211.6 | 81.00% | 139.9 | 74.90% | 51.30% |
| iOS | 33.8 | 12.90% | 26.9 | 14.40% | 25.60% |
| Windows Phone | 9.5 | 3.60% | 3.7 | 2.00% | 156.00% |
Source: IDC
Microsoft's Mobile Phone 8 has been able to grow shipments by 156% year-over-year. This implies that there are plenty of brand loyalists willing to stick around. Plus, I have to admit, Windows 8 is sort of growing on me. It's really not a bad operating system. Some adamantly hate it for being an overly simplified user interface. But this is all a part of Microsoft's grand plan of combining the Windows ecosystem with its rumored operating system update Threshold. The Threshold Windows update is expected to pool software resources between the mobile, desktop, and Xbox One version of Windows. This will help to keep Microsoft relevant against Android and iOS.
Commercial remains the pillar of Microsoft
Currently Microsoft generates the vast majority of its revenue from commercial licenses for its software. What's nice is that Microsoft's commercial business should be able to retain a durable advantage for many years to come. This is because there aren't a whole lot of effective product substitutes for Microsoft's productivity software. Sure, some have mentioned Apache Open Office as a potential alternative. However, most get their computer information sciences training on Microsoft Excel, PowerPoint, and Word. It's unlikely that preferences from users will change. Plus, it's hard for companies not to justify paying extra for better productivity software. Even just a 1% boost in productivity by going with Microsoft rather than other products is enough to move the needle. However, it is also true that employees can eventually adjust to different office suite platforms. But, there's no reason to do this if labor effectiveness drops enough to make a $150/year subscription worthwhile.

Source: Gartner
On the Office Suite end of the spectrum, Microsoft is expected to do extremely well. This is because Office 365 can be used across Android, Mac, and iOS. Apple is expected to ship 570 million units under its product ecosystem by 2017. This implies that Microsoft's distribution of its Office Suite program has increased by 570 million more customers in a single year by 2017. Then there's also Android, which could be another 1.468 billion potential customers by 2017 (within a single year). I say a single year, because these are just shipment figures, these figures don't represent the total addressable market.
Microsoft's business is becoming more dependent on its Office Suite business rather than its Operating system licenses. To put this in perspective, if one billion people have an Office 365 subscription, Microsoft will generate $150 billion revenue (or more) in a single year. This may imply that the consensus analyst estimate of 7.18% compound earnings growth for the next five years is a huge underestimate.
Financials & stock performance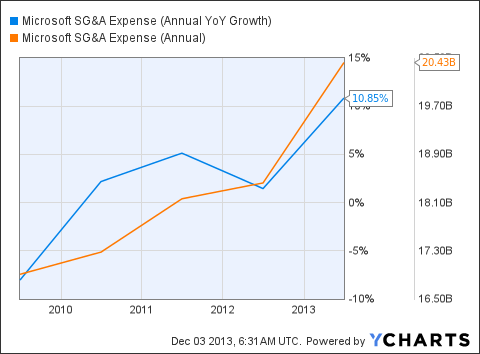 Source: Ycharts
Microsoft is continuing to invest aggressively in its sales, general, and administrative expenses. The company depends heavily on marketing in order to retain a durable advantage across many of its businesses.
Judging by the successful launch of the Xbox One, growth in mobile unit shipments, and stabilizing PC shipments, the marketing dollars may have been well spent. The company's marketing expenditures grew by around 10.85% year-over-year.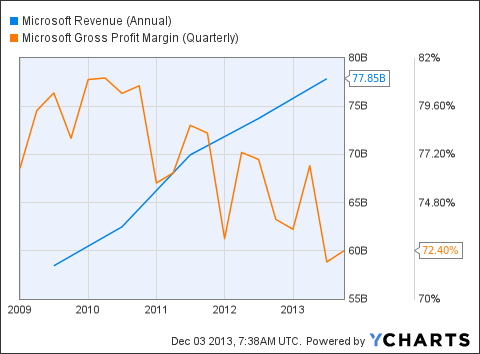 Source: Ycharts
It's also true that while the PC market was in decline for most of 2013, Microsoft still grew its sales. The gross margin figure definitely took a hit. But with revenues growing from around $60 billion to $77 billion over five years, and the gross profit margin falling by around 5%, the company is still well managed financially. The drop in gross margins may continue as Microsoft shifts more of its focus onto its hardware business (Microsoft Surface, and Nokia (NYSE:NOK)).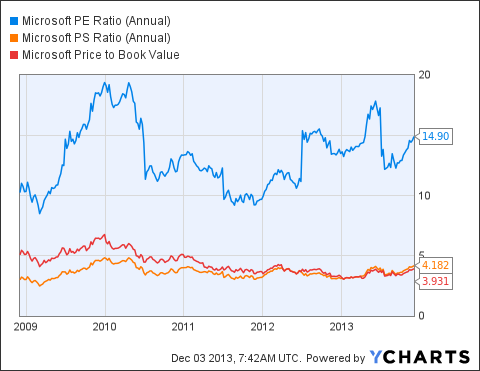 Source: Ycharts
Currently, Microsoft's price-to-sales, price-to-earnings, and price-to-book value are trending higher. Part of this is driven by stronger market sentiment as the stock market is floating near all-time-highs. However, we also cannot ignore the strength of Microsoft's businesses helping to justify higher valuations. Towards the end of the year, Microsoft started to offer favorable guidance in the consumer PC segment while growth continued to take off across all the other businesses that Microsoft owns. The commercial business is the real money maker, though, and there's still a lot of upside potential in that part of Microsoft.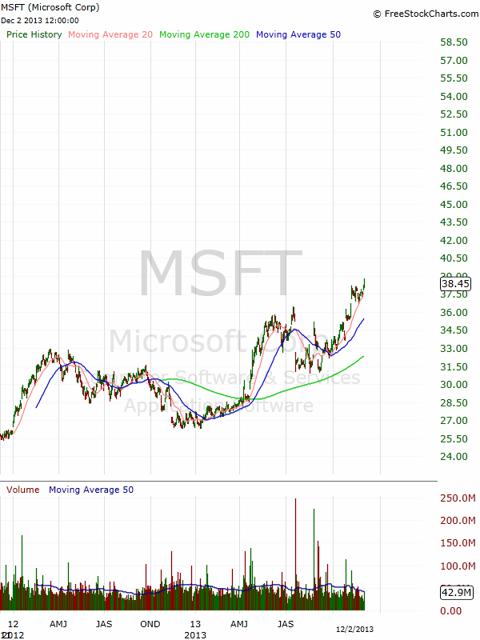 Source: FreeStockCharts
The stock price had a bit of a rocky ride towards the middle of the year, but it eventually recovered towards the end of the year. The stock is above the 20-, 50-, and 200-day moving average, which implies that the stock is in a strong up-trend. The momentum in the price of the stock should be sustainable as Microsoft's fundamental outlook remains fairly solid. Assuming Microsoft is able to meet expectations when it reports earnings in Q1 2014, the stock will continue its up-trend.
Conclusion
I can wholeheartedly agree that Microsoft's PC segment isn't doing too great. In fact, it may continue to stagnate and report repeatedly poor sales growth over the next five years. However, I believe that assumption has already been fully baked into the price of the stock. IDC pointed out that this was the worst year for PC shipments on record. On the other hand, we have to admit that the traditional tower and laptop ecosystem had a fairly strong run. Sure, PCs have had hiccups, and yeah, it affects the sentiment around the price of the stock, but it doesn't change the fact that Microsoft is still a fairly well-run business.
Even though the PC segment isn't doing too great, Microsoft grew earnings and revenue for the year. This was driven by high growth rates in its mobile, web, and commercial business. Now this doesn't mean that Microsoft has the same amount of growth potential as a start-up. But at least Microsoft continues to deploy phenomenal products across all of its product categories. Plus, many of the products that Microsoft has created in-house have been able to produce success over the long haul.
Going forward, I see Microsoft's commercial segment the primary ingredient to its success. However, all of its other businesses have a lot of growth potential as well. But to summarize how I feel: Microsoft is a great investment opportunity.
Disclosure: I have no positions in any stocks mentioned, and no plans to initiate any positions within the next 72 hours. I wrote this article myself, and it expresses my own opinions. I am not receiving compensation for it (other than from Seeking Alpha). I have no business relationship with any company whose stock is mentioned in this article.