By Chris McKhann
The biggest options action of the morning comes from the Williams Company (NYSE:WMB), with more than 100,000 contracts going off in one trade.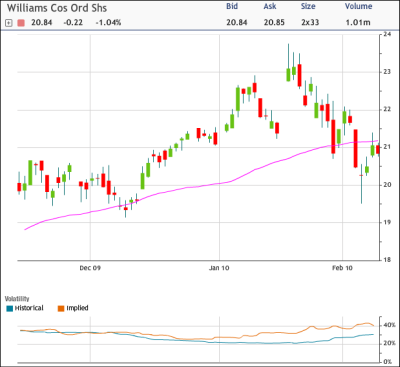 The average daily options volume in WMB is 7,000 contracts over the last month, so the volume definitely is eye-catching. We saw unusual action in the natural gas name just the other day, but today the volume is even greater.

optionMONSTER's systems show the sale of 52,800 February 10 calls for $11 against open interest of 60,808 contracts. A minute later a block of 41,160 May 16 calls were bought for $5.30, and a few seconds later another block of 17,640 traded for $5.20. This strike had no open interest, so these were new opening positions.

WMB trades at $20.84, down 0.22 percent so far this morning. Shares hit a 52-week high of $23.76 three weeks ago and then fell to $19.50 by the end of last week.
It looks as if this large transaction involves a trader selling a long deep-in-the-money call to take profits and rolling the position up and out (to a higher strike at later-dated contracts). The strategy is still using in-the-money calls, which increase cost but reduce the time premium.

(Chart courtesy of tradeMONSTER)