Coach (NYSE:COH) has been left behind by Wall Street, understandably, due to the increasing competition from the ever-popular Michael Kors (NYSE:KORS), decreasing COH's share of the luxury handbag market. YTD, COH's stock price has increased 1.62% (3.4% with dividends reinvested), while KORS' stock price is up 58%. I believe the fundamentals are ripe to take some profits from KORS and move capital into COH.
Last June, I wrote an article where I pointed out strength in high-end consumers. My analysis deduced that KORS, at that time, was the best way to play this strength. Since then, KORS stock has appreciated 30%, while COH's has fallen 3.7% (versus a 9.25% gain for the S&P 500). The main reason I have continued to be (and am remaining) long KORS is it has consistently beaten earnings estimates. However, earnings and revenue beats have narrowed, and KORS may be reaching an inflection point.
| | | | | | | |
| --- | --- | --- | --- | --- | --- | --- |
| KORS Reports | Revenues (est.) | Earnings (est.) | Revenues | Earnings | Revenue Beat (%) | Earnings Beat (%) |
| 3Q2013 | 722.2 | 0.69 | 740.3 | 0.71 | 2.51% | 2.90% |
| 2Q2013 | 570.5 | 0.50 | 640.9 | 0.61 | 12.34% | 22.00% |
| 1Q2013 | 546.1 | 0.39 | 597.2 | 0.50 | 9.36% | 28.21% |
| 4Q2012 | 540.3 | 0.41 | 636.8 | 0.64 | 17.86% | 56.10% |
| 3Q2012 | 519.9 | 0.40 | 532.9 | 0.49 | 2.50% | 22.50% |
| 2Q2012 | 362.9 | 0.20 | 414.9 | 0.34 | 14.33% | 70.00% |
| 1Q2012 | 360.0 | 0.16 | 380.0 | 0.21 | 5.56% | 31.25% |
| 4Q2011 | 348.6 | 0.09 | 373.6 | 0.28 | 7.17% | 211.11% |
Analysts are finally catching up to KORS' phenomenal growth, and, as the growth is priced in, COH's market cap has fallen. Fortunately for COH, the luxury handbags market is not a zero-sum game. In fact, there are signs, other than an economic recovery, that luxury is a growing trend. In August, teen retailers were given a wake up call: teens were spending money on luxury goods rather than buying the commoditized Aeropostale (NYSE:ARO), Abercrombie (ANF) and American Eagle (NYSE:AEO) brands. The reason I enjoy investing in retail stocks is that I can do my own primary research and see these trends first-hand. I have consistently noticed more teens with luxury apparel, and store-traffic at the teen-retailers has fallen significantly. During the pre-Black Friday sales, I was at an outlet mall in Niagara, where a Michael Kors store was across from a Coach store. Both had long lineups to even get in to the store, and oddly, it seemed more people were buying COH merchandise. However, there is one important difference: the growth in KORS is priced in, while very little growth is expected from COH, leaving significant room for upward surprises, particularly during this upcoming holiday season.
COH is trading at a steep discount to KORS, with a trailing twelve months P/E of 15.17 versus KORS' 33.35. That valuation is well-deserved, given analyst estimates. Analysts at Yahoo Finance are predicting a 2014 EPS of $3.47, a drop from $3.73 (a 6.9% decrease), comparable to forecasts by Zacks. This is even despite the restructuring charges incurred in FY2013 due to the sale of the Reed Krakoff business (the segment led by the previous Executive Creative Director). Revenues are expected to increase 6.5% next fiscal year. Several factors can allow COH to outperform: first, low margins and high SG&A expenses estimates; second, international growth; third, increasing YoY cash flows; and fourth, the spring line from the newly appointed Executive Creative Director, Stuart Vevers.
Growth in North America is expected to lead the decline in earnings. Last quarter, sales fell 0.8%, mainly due to a comparable store sales decline of 6.8%. Given that the majority of COH's stores are catering to females, it seems the trend is shifting toward men's accessories, and this may reignite North American growth. COH has been able to adapt to this changing trend to mitigate the drops in sales caused by competition from KORS. In the last 15 months, COH has closed 4 retail stores but opened 29 factory outlets, including 11 Men's. However, this shift may reduce margins and increase SG&A expenses, which is why there is a large discrepancy in earnings and revenues estimates. I do not see such a significant drop in margins. In FY2013, despite shifting toward men's bags, gross profits actually increased from 72.8% to 73%, although this figure fell last quarter to 71.8% (likely due to the rising Dollar/Yen). Besides increasing competition, there are no signs that margins will continue to decrease significantly, particularly since KORS' gross margins have increased from 55.5% in 2011 to 60.8% in 2013. COH's SG&A expenses also fell last quarter to 43.9% of sales, compared to 44.2% the year before. As COH's costs from the sale of the Reed Krakoff business draw to a conclusion, SG&A expenses should also be expected to fall.
It seems that analysts have forgotten about COH's strong position internationally, where 32% of sales are made. More importantly, last year, international sales increased 9.9% (15.8% without the devaluation of the Yen). Compared to the quarter ended September 28, 2012, last quarter's sales decreased 0.7%, but without currency effects, sales increased 9.3%. COH is still expecting high growth internationally for FY2014. From COH's 2013 Annual Report:
"Coach Japan plans to open new doors over the next several years, growing low to mid-single digits. The balance of Coach international (China, Asia and Europe) anticipate their owned-retail doors growing low double digit over the next few years."
COH's international growth trends strongly contrast to analyst estimates, although a large part may be due to KORS' international expansion, taking away market share where COH has had the majority of its success in. Again, this is largely priced in for KORS - a factor supporting profit - taking in that stock. Moreover, given COH's low P/E and huge underperformance of the S&P 500 since the beginning of 2012, it seems that the worst-case scenario is expected for COH, allowing for large upside surprises.
As investors know, cash is king, but despite COH's underperformance, free cash flows have increased significantly. Given that analysts expect negative earnings growth in FY2014, FCF is also expected to be negative. Although COH may be unable to maintain its double-digit FCF growth due to additional competition, a negative mid-single digit drop in FCF growth, which is what analysts are predicting, seems excessive.
| | | | |
| --- | --- | --- | --- |
| COH | 2013 | 2012 | 2011 |
| Free cash flow | $1,172,621 | $1,037,380 | $885,527 |
| FCF growth | 13.04% | 17.15% | -2.66% |
On June 25, Coach announced a new Executive Creative Director, Stuart Vevers. Vevers' line will be available at stores in the spring. Glamour states "(Vevers) is famous for creating "It" bags wherever he's worked: He's the designer behind the Pumpkin from Givenchy, theGisele from Luella Bartley, and the Emmy at Mulberry." After a quick Google search, I, surprisingly, recognized all three of those bags. However, if anyone on SA can confirm Vevers' track record, please comment, particularly if you're his target consumer. Despite Vevers' history, COH stock has hardly reacted to his appointment, showing additional upside potential starting in spring 2014.
Along with an increasing store count and positive comparable store sales internationally, internet visitors have remained steady. In previous years, unique visitors to COH's website increased from 59 million in 2010 to 76 million in 2012. Last fiscal year, this figure remained somewhat stable at 74 million. This shows that COH is still popular among consumers, and it has been able to maintain its successful brand internationally. According to Digital Luxury Group, COH is the most-searched luxury handbag brand globally (last report was June 2012). From June 2012 to June 2013, Coach has retained its position as one of the most searched luxury brands in China, behind other luxury handbags/accessories manufacturers, such as Chanel, Louis Vuitton, Gucci, Hermès, Cartier, and Burberry. Coach has even moved up two slots to the 22nd most searched luxury brand in China for all industries, including jewelry, clothing, makeup, and cars.
Despite COH's strong position in the luxury handbag market, analysts have very low expectations. While we wait for the new trend in men's bags to grow, additional international expansion, and Vevers' new line, investors can get paid by this cash cow. With a 2.39% dividend yield plus a $1.19 billion stock buyback program (started with $1.5 billion in October 2012), investors can afford to wait for this top luxury name to reinvent itself. More specifically, COH has increased its dividend every year since 2009, from 8 cents per quarter in 2009 to 15 cents in 2010, 23 cents in 2011, 30 cents in 2012, and 34 cents in 2013. COH's diluted shares outstanding have also fallen from 315,848,000 in 2010 to 286,307,000.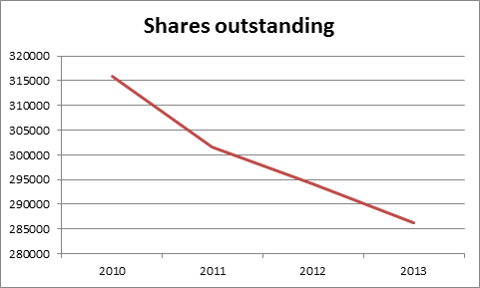 Investing in this turnaround company does have its risks, although many of these are already priced in. Firstly, it is very important to account for currency effects, particularly, the devaluation of the Yen. For example, last quarter, the difference between sales growth in constant-currency and unadjusted was 10%. To hedge against this, investors can simply short the Yen versus the U.S. dollar.
The second risk is more fundamental: decreasing return on invested capital. While KORS' ROIC has increased significantly, COH's has fallen. This implies that COH, which already generates much of its income internationally, has been unable to maintain its growth trends due to its size. Expansion for COH may be difficult since COH already operates in several emerging markets. Conversely, KORS has been able to take advantage of economies of scale as it expands, which I believe is already largely priced in to the stock prices. If this trend carries on, however, COH will continue to lose market share, and the stock may tread lower.
| | | | |
| --- | --- | --- | --- |
| ROIC | 2013 | 2012 | 2011 |
| COH | 42.92% | 51.53% | 53.82% |
| KORS | 37.97% | 25.85% | 23.72% |
The third risk is due to COH's popularity. According to Google Trends, "Coach bags" searches have been decreasing. Last month, the Google search volume index was at 32, while in 2012, 2011, and 2010, this figure was 39, 49, and 45, respectively for the month of November. If Vevers' new spring line does not reverse this negative trend, COH's stock price may decrease further.
With all the negativity surrounding COH stock, I believe most risks are already priced in, leaving strong potential for growth going forward, particularly when Vevers releases his new line in the spring. While COH reignites its growth, investors can get paid a strong dividend and benefit from a large stock buyback program. Technically, COH is overbought, given the recent rally, with an RSI of 77. There is support at the 200-day moving average at $54.16.
Disclosure: I have no positions in any stocks mentioned, but may initiate a long position in COH over the next 72 hours. I wrote this article myself, and it expresses my own opinions. I am not receiving compensation for it (other than from Seeking Alpha). I have no business relationship with any company whose stock is mentioned in this article.