Introduction
After writing an earlier article on the CME Group (NASDAQ:CME), I decided to follow up on the company by discussing its Q3 results which were released last month. I will provide my view on the financial statements and the company's balance sheet, which will result in my investment thesis at the end of this article.
My view on the financial statements
CME Group reported a revenue of $714.6M and an operating income of in excess of $400M for the third quarter of this year, which is an increase of respectively 4.5% and 1.1% compared to the same quarter last year. This revenue increase was mainly caused by a huge increase in the clearing and transaction fees, which was up 6.5% compared to last year, thanks to a 29% increase in trading in interest rate products. This compensated for a 20% drop in equity-related contracts, but this drop doesn't surprise or scare me, as the summer months are traditionally quiet months on the stock markets.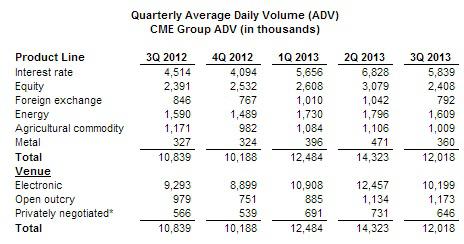 Let's now have a look at the cash flow statements of the CME Group, as I'm always keen to see how much operational and net cash flow a company really generates.
In the first nine months of the year, CME Group recorded an operating cash flow of $898.6M which is in line with the same period last year. As the company enjoyed the benefits of a settlement of a derivative related to a debt issuance of $127M, CME Group actually was able to report a net cash inflow from its operating activities as it only spent $94M on capital expenditures. This means CME Group generated just over $930M in free cash flow, which is approximately $2.80 per share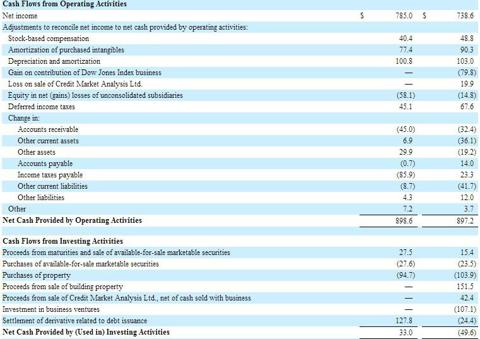 Click to enlarge
Approximately half of the free cash flow was spent to reward the shareholders with dividends totaling almost $450M, and the balance was added to the company's cash position, which stood at $2.07B at the end of the third quarter.
My view on the balance sheet
Let's now move over to discuss the company's balance sheet in more detail. At the end of the third quarter, CME Group had a working capital position of $1.835B, which is a 66% increase from the working capital at the end of last year.
CME's current ratio is approximately 1.10, which is quite low but still sufficient, as a ratio higher than one indicates the company has sufficient current assets to cover its current liabilities.
At the end of the quarter, CME Group had a book value per share of roughly $66/share which is an increase from the $64.7/share at the end of last year. However, I would like to emphasize again that the majority of this book value is attributed to intangible assets and goodwill (see image), and that's something I don't really like to see on a balance sheet. I don't dispute that CME Group enjoys a fantastic position in its sector and is one of the dominant players. I just don't like too much intangible assets and goodwill on the balance sheet, as there usually isn't a lot of transparency when the 'real' value of these assets is being calculated.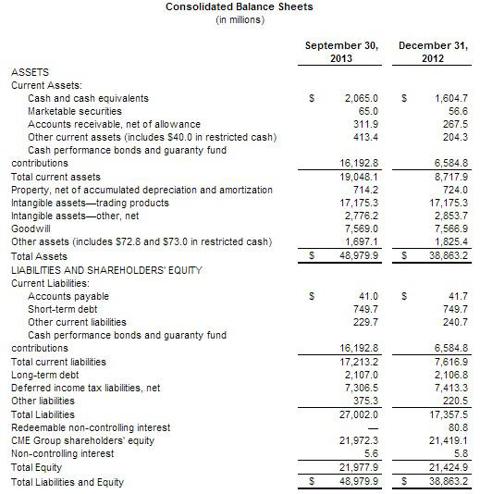 Click to enlarge
Investment Thesis
In my previous article, I recommended to write put options and particularly a P60 January 2014 at $1.10. The ask price of these options is currently the standard $0.05 and it looks like they will expire worthless, so investors who followed my idea will keep the option premium (of $110 per contract) in their pockets. As CME Group's share price has increased considerably and is currently trading at more than $80/share, I still don't feel like buying the shares right now (even though the dividend yield is a very acceptable 2.2%) and will probably try to write some more put options.
I'm particularly looking at a P60 or 65 for June 2014 at an option premium of respectively $0.90 and $1.50 which would result in an annualized yield of respectively 2.77% and 4.25%. This doesn't sound like much, but at least you now get paid whilst you're waiting for the share price to come down a bit from its recent highs.
Disclosure: I have no positions in any stocks mentioned, and no plans to initiate any positions within the next 72 hours. I wrote this article myself, and it expresses my own opinions. I am not receiving compensation for it (other than from Seeking Alpha). I have no business relationship with any company whose stock is mentioned in this article.
Additional disclosure: I might write put options as described/explained in this article.