In my view, dividends make up a large portion of an investor's overall return from an investment in a company. The dividend represents a return of cash on an investment, which in turn allows an investor an opportunity to make a reasonable estimation on future profitability. It is very difficult to consistently identify and invest in the next great thing, whereas identifying mature established companies with consistent growing earnings is quite easier. Once an investor identifies a company with growing earnings and a rising dividend, the odds of making money rise dramatically. This reminds me of my favorite Warren Buffett quote concerning making money which is as follows: Rule number 1- Never lose money, with rule number 2 being never forget rule number 1.
Ensco PLC (NYSE:ESV) recently caught my attention with its announcement of a dividend increase to $3 per share, which works out to a dividend rate of over 5% a share. I decided to examine the company further and came away quite impressed with what I learned. The article below will highlight some of the key reasons behind my purchase of ESV.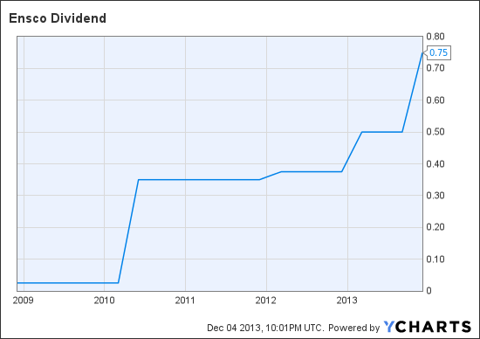 ESV Dividend data by YCharts
ESV operates in the energy industry, specifically providing offshore contract drilling rigs. The drilling industry tends to be cyclical as the price of oil determines if projects are economically profitable of not. At its current quote, deep sea oil production remains economically viable with the only potential change being if the world economy enters into a recession. A recession would drop the demand for oil which would lead to a temporary dip in the price of oil. In my view the odds of a recession here are quite remote, especially with Europe exhibiting signs of real sustained growth.
While researching ESV, I came away quite impressed with its management team. I was specifically impressed with its willingness to listen to its major shareholders when it comes to the issue of capital allocation. ESV decided to return its excess cash reserves to investors in the form of a dividend. The most impressive part is the company has basically doubled its dividend rate this year. ESV initially raised the first quarter dividend from 37.5 cents to 50 cents in January. Not to be outdone, the Board decided to increase it again in the fourth quarter to its current rate of 75 cents. To say the least, the dividend hike indicated the management team has enough confidence in the business and is willing to reward its shareholders. The following quote attributed to James Swent, the CFO of ESV, in my view neatly sums up ESV's position regarding rewarding shareholders.
"So I'd say, as a management team, we listen very closely to our shareholders. We take on board what's been discussed over the last couple of months and we will be sharing this feedback with our board here before the end of the year. As you know, this is ultimately a board decision as to what we do around return of capital and I'm not, obviously, in any position to give you any projected outcome of those discussions. But I will tell you there will be discussion before the end of the year on the matter. With respect to distributable reserves, I guess, I give you just in very general guidance, right now. We have a little bit less than $0.5 billion of distributable reserves and we expect that to be more than $1 billion by the end of the fourth quarter. And the issue, I think, people have not completely come to grips with is that U.K. companies do have to have distributable reserves in order to pay dividends and execute share repurchase programs. So that is - you're right to ask the question, it's an important element of how much can you pay in dividends and how much stock can you repurchase. And I'd say, we feel like we're in good shape, your distributable reserves basically get created by dividending up earnings from subsidiaries to the holding company which can be a challenging process for a U.K. company. But it gets done in the course of time, and I think we feel like we've got enough flexibility to do whatever we think makes sense going forward." Transcript courtesy of Seeking Alpha.
ESV products are currently in high demand as evidenced by their utilization rate. For the third quarter the utilization rate for floaters was 93% with jackup utilization coming in at 90%. Both levels are above the equivalent period as compared to last year indicating strong demand. On ESV's website there is a link to a report dubbed fleet status report which offers an abundance of details concerning the company's rigs. I examined the report and noticed that most were contracted for well into 2015 at favorable prices. Two of the four new rigs that they will have coming online in 2016 are already under contract, which in my view removes a great deal of uncertainty. I share management's enthusiasm for the business in the next year and am cautiously optimistic the two new rigs that are being built will be contracted before they are completed.
The most compelling part of the investment case for ESV revolves around its current valuation. The shares are currently trading at less than 10 times this year's earnings, with significant earnings per share growth slated for 2014. Depending on which source you use, estimates are all north of $7 per share with the exception of Credit Suisse which checks in at $6.99 per share. In my view there is little downside risk here as ESV valuation is hardly excessive. I am targeting a move up to $70 per share in the next year assuming ESV doesn't initiate a share buyback plan. If the company does initiate one, even for a billion dollars it will help eliminate a significant amount of shares which should make earnings per share numbers even more compelling. For example if the company where to eliminate 5% of the 230 million shares outstanding in the next year, eps would levitate from $7 to $8.56. I suspect management plans on doing exactly that, however this is conjecture on my part at this time. An aggressive share buyback at the current depressed levels would in my view spark a significant stock rally pushing the shares north of $80.
In summary, I find the investment case for ESV to be quite compelling at its present quotation. I have initiated a position at $58.32 and anticipating holding the position for a minimum of eighteen months. I will be reinvesting the dividends while patiently waiting for capital gains to materialize. Thank you for reading and I look forward to your comments.
Disclosure: I am long ESV. I wrote this article myself, and it expresses my own opinions. I am not receiving compensation for it (other than from Seeking Alpha). I have no business relationship with any company whose stock is mentioned in this article.
Additional disclosure: Investors are always reminded that before making any investment, you should do your own proper due diligence on any name directly or indirectly mentioned in this article. Investors should also consider seeking advice from a broker or financial adviser before making any investment decisions. Any material in this article should be considered general information, and not relied on as a formal investment recommendation.