As the digital ad market becomes clearer, it is now evident that the future of digital ad revenue is tied to premium web video. So when AOL (NYSE:AOL) acquired Adap.tv, it moved the company into first place in regard to video ad views, easily surpassing Google (NASDAQ:GOOG).
In September, the first month that Adap.tv was included in AOL results, AOL soared to 3.7 billion video ad views, leapfrogging Google, which generated 3.2 billion ad views. AOL's video ad views in October jumped to 4 billion, while Google climbed to 3.6 billion. That's not all video views, but only video ad views.
Other competitors with significant video ad revenue are BrightRoll, with 2.6 billion video ad impressions, LiveRail.com, with 2.5 billion, and TubeMogul, with 2 billion.
What's important about this is digital videos now attract the highest advertising dollars in the online market. There is no end in sight to the demand for digital video, as consumers are increasingly watching content on various streaming platforms.
source: StockCharts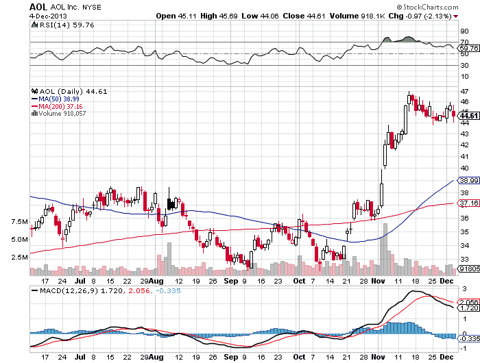 source: StockCharts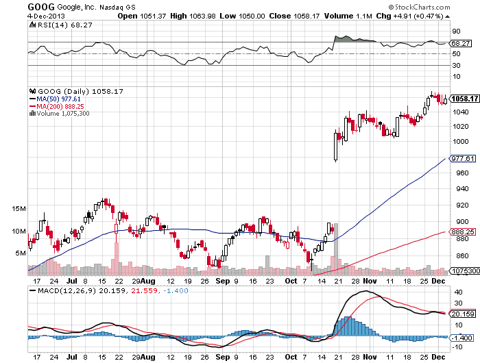 Digital Video Content Demand
The major reason AOL has been able to surpass Google in video ad views is because of the inclusion of more premium video content across its properties. Google's main video driver is YouTube, which of course still is heavily weighted toward user-generated content.
The second reason is Google's reluctance to allow third-party metric companies like Nielsen (NYSE:NLSN) to measure its ads. That has resulted in many marketers abandoning Google for other digital video content providers.
Advertisers are ready and willing to spend on digital video, but they insist upon premium and safe content, along with data they can trust. In-house metrics won't work any longer, which is why Google has gone to the industry standard: Nielsen. Google is also using comScore for video ad measurement.
source: StockCharts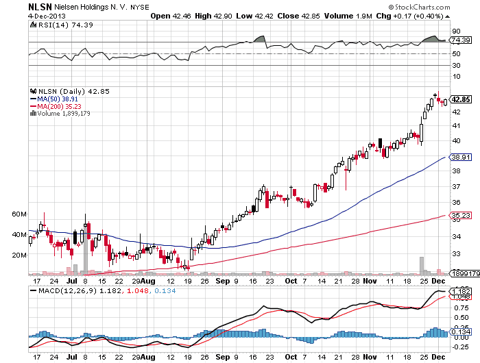 Digital Video Metrics
Another reason digital video is so in demand is it's also the most easy and accurate online content to be measured. This is primarily done through pre-roll advertising embedded in the videos. No matter where the video is viewed, the advertising goes with it. This is a huge benefit to all parties involved; a win/win for everyone.
With proven and growing online video demand, an accurate way to measure engagement, and advertisers willing to spend top dollar to get their brand or product before consumers, this trend will generate revenue and earnings far into the future.
The Wall Street Journal
Even though News Corp.'s (NASDAQ:NWSA) Wall Street Journal is one of the few print publications doing fairly well, it also sees the potential in digital video ads, and has been aggressively pursuing a strategy to take full advantage of it.
That's especially important because of News Corp. breaking off from its highly profitable TV and film business, which is now called 21st Century Fox (NASDAQ:FOXA). 21st Century Fox already has a plethora of content to offer across the various platforms, and The Wall Street Journal is quickly eclipsing all other video producers in quantity other than broadcast newsrooms.
It is producing approximately 1,600 videos or 120 hours of video on a monthly basis. Not only that, there is also no question as to the quality of the content, and no qualms from advertisers about placing advertising against it.
So with subscription revenue, general ad revenue, and a burgeoning digital video library, this is a tremendous growth area for the unit.
source: StockCharts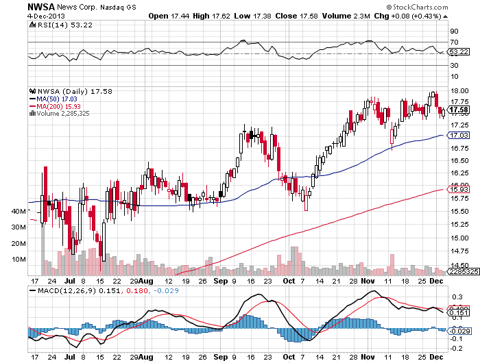 AOL's Video Future
AOL obviously has other challenges to meet, such as its unsuccessful local content site Patch, which has cost it a lot of money.
But as far as a growth catalyst that complements its strengths, AOL is positioned as strongly as any company to prosper from booming digital video content consumer demand, in which it can generate the highest amount of ad income in the digital space.
This is a market that is only just beginning to catch fire. It is a long-term trend that will boost AOL's revenue, as well as Google, News Corp., and other companies that produce content to meet the growing demand.
What the big broadcast companies need to be careful of is not just taking their content shown on TV and placing it on different digital platforms. While that has some value, it's not going to be the strategy that propels the industry forward. Original content beyond cable and broadcast TV is the answer. Those that meet that demand will generate strong revenue and earnings for shareholders.
Disclosure: I have no positions in any stocks mentioned, and no plans to initiate any positions within the next 72 hours. I wrote this article myself, and it expresses my own opinions. I am not receiving compensation for it (other than from Seeking Alpha). I have no business relationship with any company whose stock is mentioned in this article.