Berkshire is a unique business.
Valued at roughly $288 billion, Berkshire Hathaway (NYSE:BRK.A) (NYSE:BRK.B) has operations spanning insurance, utilities, railroads, and various manufacturing, service and distribution businesses. On top of these wholly owned operations, Berkshire engages in a number of short and long term investments, with a number of large derivative contracts and multi-billion dollar, opportunistic financing arrangements offered to companies during the recession (such as Goldman Sachs (NYSE:GS) and GE) or during other times of need (such as Wrigley (WWY)).
A large portion of Berkshire Hathaway's valuation rests in its ownership of equity investments valued at over $100 billion. It is this equity ownership which permanently distorts Berkshire's earnings downward because of somewhat unrealistic accounting standards (these standards make sense for investors with shorter time horizon, however).
The earnings from each of Berkshire's equity investments aren't directly reported on its Income Statement, these gains are only indirectly realized when each investment is sold, through the realization of capital gains. Over the last 12 months Berkshire's $106.8 billion portfolio would have reported earnings of $6.56 billion if they were able to report the proportional earnings of each company (ex. reporting 10% of a company's earnings if they own 10% of the company), the same as if it was majority owned.
The only piece of the $6.56 billion in earnings Berkshire was able to report was the $2.01 billion in dividends they received over this period. This is the same as averaging a portfolio with a P/E ratio of 53 in with the rest of Berkshire, giving the company a perpetually high P/E ratio, even if the company is at a fair or even cheap valuation.
Because of this accounting standard Berkshire's earnings have been understated by $4.55 billion over the last year, a situation which recurs in similar amounts every year. Berkshire describes this fact in their 2012 annual report:
Going by our yearend share count, our portion of the "Big Four's" [American Express (NYSE:AXP), Wells Fargo (NYSE:WFC), IBM, Coca-Cola (NYSE:KO)] 2012 earnings amounted to $3.9 billion. In the earnings we report to you, however, we include only the dividends we receive - about $1.1 billion. But make no mistake: The $2.8 billion of earnings we do not report is every bit as valuable to us as what we record.
Buffett makes it clear that he doesn't let the fact that these earnings are "unreported" affect his decision making process:
When acquisition costs are similar, we much prefer to purchase $2 of earnings that is not reportable by us under standard accounting principles than to purchase $1 of earnings that is reportable. This is precisely the choice that often faces us since entire businesses (whose earnings will be fully reportable) frequently sell for double the pro-rata price of small portions (whose earnings will be largely unreportable).
You could adjust for this accounting treatment by adding the portfolio's earnings to Berkshire's overall earnings and subtracting out the pretax dividends. This allows Berkshire to account for their proportion of the company's earnings while maintaining the tax penalty for being charged double taxes on these dividends. These adjustments allow Berkshire to account for the earnings from these long term minority investments in a more reasonable manor, similar to direct, majority owned businesses and more in line with the long term perspective taken by Buffett for these investments.
With this adjustment Berkshire's A shares have TTM earnings per share of $14,285 and its B shares have TTM EPS of $9.52, giving the company a P/E ratio of roughly 12.2.
Showing Berkshire's share of their portfolio's earnings next to their own wholly owned group of companies helps to show the earnings diversity inherent in this blue chip stalwart.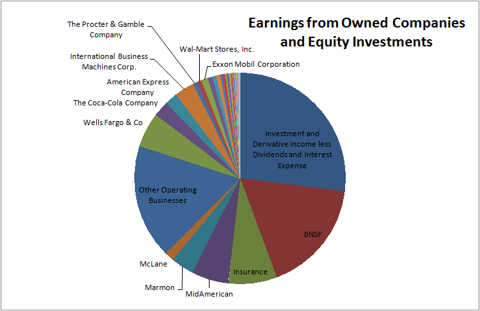 Click to enlarge
With no source of income bringing in more than a quarter of profits, and a solid balance sheet, Berkshire is well insulated from economic downturns. This is reflected in the fact that the per share book value of the company (Buffett's measurement of intrinsic value) has outperformed the S&P 500 during recessions, with book value per share only declining twice in its recent history.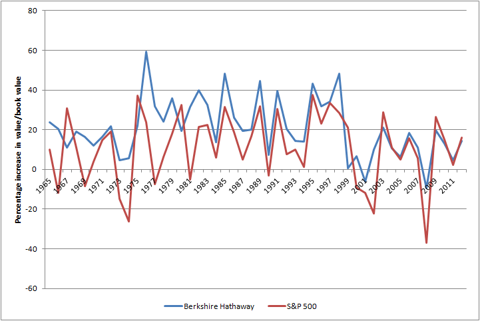 Click to enlarge
The one negative factor affecting an otherwise solid investment case is that over the next few years Berkshire's investment and derivative related earnings will almost certainly decline and will exhibit considerable variability from quarter to quarter.
The major issue is that a number of investments made during the recession at very favorable rates and prices will expire soon. A number of bonds with greater than 10% yields will be retired shortly. More importantly are the company's derivatives which should reap huge rewards for the company over time and have given Buffett money to invest over their lifetime.
The company's earnings from these derivatives also vary massively year to year, with fluctuations between losses and gains over recent years culminating into $4.2 billion in pretax gains over the last year, due to strong overall market performance.
Berkshire has a number of opportunities to help replace these investment and derivative based earnings over time. There is close to $1 billion in pretax earnings just coming live from Berkshire's recent investment in Heinz equity and preferred stock alone. With $8 billion of this investment held as a 9% preferred with a number of beneficial features (it will eventually be repurchased at a premium and came with warrants), this investment helps to show Berkshire's ability to obtain yield even in a low yield environment.
With over $40 billion in dry powder earning close to 0%, Buffett has every ability to grow and replace his current portfolio of high yield investments and derivative earnings. Over the medium term (3-5 years) I have every confidence that earnings will grow at a fair clip, maintaining Berkshire's history of above average growth.
Summary:
Because of how Berkshire has to account for its equity investments, its earnings are underreported by roughly $4.5 billion. At its current valuation, Berkshire Hathaway should continue its history of outperformance and represents a compelling buying opportunity.
Disclosure: I have no positions in any stocks mentioned, and no plans to initiate any positions within the next 72 hours. I wrote this article myself, and it expresses my own opinions. I am not receiving compensation for it (other than from Seeking Alpha). I have no business relationship with any company whose stock is mentioned in this article.