On October 5, 2013 I published an article about Micron Technology (NASDAQ:MU) and recommended the memory chipmaker as a Strong Buy at a price of $18.47. I argued that the tech company was facing a set of favorable circumstances that could propel shares much higher. Those circumstances certainly included the misfortune of SK Hynix whose wafer production took a substantial hit due to a fire back in September. This event was short-term in nature but it lend momentum to Micron's shares. It was also a clear positive that DRAM memory prices started to rebounded sharply at the time and the industry profitability outlook brightened. Shares of Micron subsequently corrected into the $17 range which prompted me to step up my investment in the chip maker. I also wrote an additional article about Micron on October 21, 2013 recommending an investment at $17.03 per share mainly because of three themes: The restructuring progress the company achieved, explosive gross margin growth with return to profitability and the bargain purchase Elpida transaction which I suggested could be instrumental in driving Micron's EPS growth going forward. I have also pointed out that I believe that the market underestimates Micron's innovation leadership which is a distinctive advantage in a competitive sector and it should benefit the company as the fragmented chip industry consolidates. In addition, Micron's $22.5 billion market capitalization makes it a heavyweight in the chip market and gives it the necessary standing to be a driver of industry consolidation.
Shares are now trading at $21.76 after Einhorn disclosed a stake of 23.02 million shares in the chipmaker (representing a 2% stake) at the end of November. The Einhorn endorsement certainly gave the shares further tailwinds and propelled them to a flurry of new 52-week Highs just after the Einhorn announcement. Einhorn seems to bet on further industry consolidation and higher gross margins in a cyclical industry. Micron itself plays an essential part in driving industry consolidation as witnessed by its Elpida transaction.
Share performance
Micron has returned a massive 252% over the last 52 weeks and 228% YTD. I think shares are currently overbought and a correction could drive shares back to the $20 range. Long-term investors playing a strengthening memory chip market and cyclical demand for semiconductors shouldn't be worried about short-term setbacks and might even want to take advantage of pullbacks opportunistically.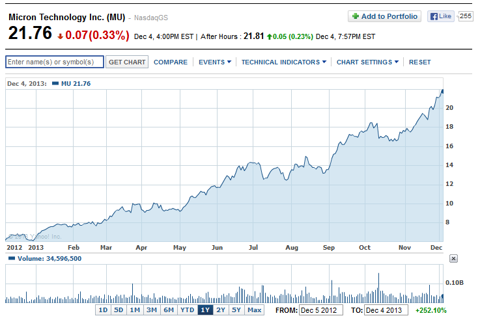 Other tech companies in the semiconductor/chip market have performed much worse than Micron. The return differential between Micron and companies such as Intel (NASDAQ:INTC), AMD (NYSE:AMD) and Nvidia (NASDAQ:NVDA) widened significantly since the beginning of 2013 reflecting the market's reassessment of Micron's earnings prospects.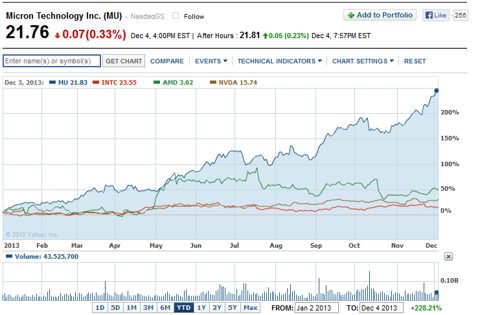 Micron still cheap despite 200%+ returns
One of the reasons I am not selling out my Micron position is because the company still trades cheaply compared to its earnings prospects. I still see meaningful upside potential for Micron based on Elpida's EPS contribution and multiple expansion. Despite a return of more than 200% this year alone Micron still trades at less than 10x times forward earnings. At the same time, other companies in the semiconductor business fetch significantly higher valuations.
Sandisk (SNDK) and Intel have leading P/E ratios of 11.60 and 12.56 respectively. AMD and Nvidia have the highest peer group P/E ratios of 27.46 and 22.42. With an average P/E ratio of 16.74 Micron trades at a 42.17% discount to the average peer group company. In other words, Micron shares could increase a further 73% and the company would only achieve the valuation of the average semiconductor/chipmaker in the peer group.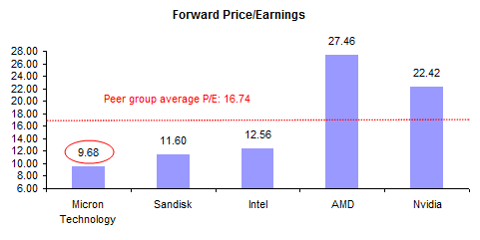 On December 3, 2013 it was reported that Needham & Company initiated Micron coverage with a BUY rating and a price target of $30 per share. Analyst Rajvindra S. Gill stated that multiple expansion should drive Micron's share price higher. He further noted (source):
While it's difficult to utilize historical valuation multiples for MU given that earnings have been so volatile, we believe MU should fetch a 12x-14x P/E and 3-4x tangible book value.

Clearly, sell-side estimates increased rapidly once the Elpida earnings became visible to investors (estimates moved from $1.01 to $2.16). But even after the estimates were modulated higher to account for Elpida, the P/E NTM multiple has stagnated in the 8-9x range.
Both arguments substantiate my rational from above: The bottom line is that Micron still has significant valuation growth potential. Micron's shares continue to trade too cheaply to its earnings potential and the market should ultimately adjust the multiple it assigns to Micron to a more realistic range of 12-14x forward earnings.
A summary table of market- and valuation metrics for Micron, Sandisk, Intel, AMD and Nvidia is provided below.

Conclusion
Micron's Elpida transaction, strong financial results and the Einhorn endorsement have created material catalysts for Micron. However, the valuation of the company is the most compelling buying argument. At less than 10x times earnings investors get exposure to the fast growing memory chip market but also get a significant margin of safety as investors are unlikely to overpay at 9.7x forward earnings. In addition, shareholders invest alongside a renowned investor with a great investment record. Investors should be aware that Einhorn is not necessarily a long-term investor and he might exit his Micron investment abruptly. I expect the share price to react sensitively to a potential Einhorn sale. Long-term BUY on low valuation, industry consolidation, Elpida EPS accretion and strong momentum.
Disclosure: I am long MU. I wrote this article myself, and it expresses my own opinions. I am not receiving compensation for it (other than from Seeking Alpha). I have no business relationship with any company whose stock is mentioned in this article.