On Monday, December 2, Chevron (NYSE:CVX) announced that it has resumed its search for shale gas in eastern Romania, despite opposition from local residents. In October of this year, CVX had won the approval to drill exploratory wells in the eastern part of the country but had to halt work shortly thereafter as local residents blocked access to the site and protested under the premise that fracking causes numerous environmental risks.
In the wake of Chevron's positive news, I wanted to not only highlight Chevron's Romanian-based interests but also note a number of reasons why I'm staying long on shares of this particular oil & gas play.
Current Romanian Interests
According to Chevron's most recent 10-K, the company holds a 100 percent interest and operates the Barlad shale concession. This license is located in northeast Romania and covers 1.6 million acres. Drilling of an exploration well is planned for second-half 2013.
In March 2012, three additional petroleum concession agreements, covering approximately 670,000 acres in southeast Romania, were approved by the government of Romania. Chevron holds a 100 percent interest and operates the concessions. Acquisition of 2-D seismic data across these concessions is expected to commence in second-half 2013.
Romanian Potential
The U.S. Energy Information Administration estimates that Romania could potentially recover 51 trillion cubic feet of shale gas, which would cover domestic demand for more than a century. That being said, the EIA website also noted that Romania's consumption of 486.29 billion cubic feet on an annualized basis currently trumps its production of 374.69 billion cubic feet by a margin of approximately 111.60 billion cubic feet.
By receiving the approval to drill exploratory wells in the eastern region of Romania, Chevron could potentially play a key role in the reduction of Romania's consumption-to-production spread.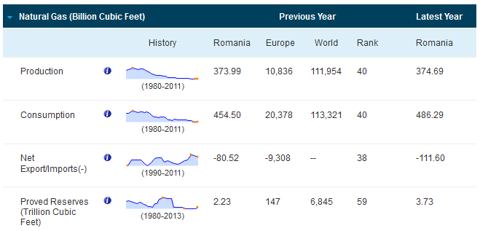 Click to enlarge
(Source: EIA Website)
Recent Performance and Trend Behavior
On Tuesday, shares of CVX, which currently possess a market cap of $234.51 billion, a forward P/E ratio of 10.18, and a dividend yield of 3.26% ($4.00), settled at a price of $122.34/share. Based on their closing price of $122.34/share, shares of CVX are trading 1.36% above their 20-day simple moving average, 2.27% above their 50-day simple moving average, and 2.84% above their 200-day simple moving average. These numbers indicate a short-term, mid-term and long-term uptrend for the stock which generally translates into a moderate buying mode for both short-term traders and long-term investors.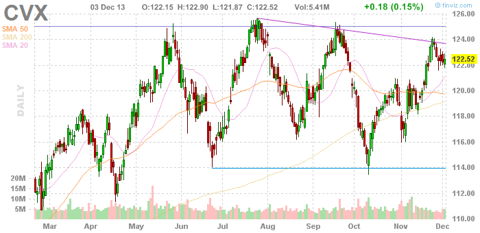 Click to enlarge
A Look at Chevron's Dividend 5-Year Dividend Behavior
Since November 14, 2008, the company has increased its quarterly distribution seven times over the last five years and could continue to do so considering the pile of cash ($18.58 billion as of the most recent quarter) the company is currently sitting on. The company's forward yield of 3.26% ($4.00) coupled with its payout ratio of 31%, make this particular oil and gas stock a highly considerable option, especially for those who may be in the market for a dependable stream of quarterly income.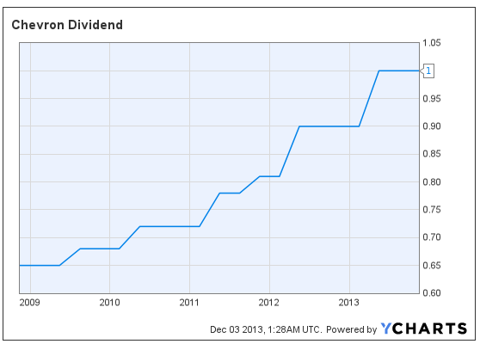 Click to enlarge
5-Year Peer-Based Dividend Growth Comparison
Not only does the company's 3.27% yield and 31% payout ratio make the stock attractive but from a comparative standpoint its dividend growth over the last five years versus a number of its peers also makes it quite the attractive play. For example, Chevron's dividend has grown a solid 53.85% over the past five years whereas the dividend growth of both Eni (NYSE:E) and PetroChina (NYSE:PTR) has failed to impress investors.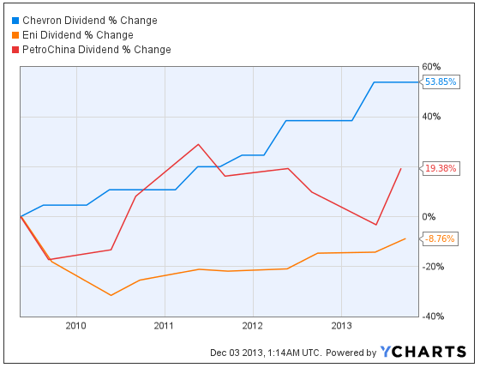 Click to enlarge
Risk Factors
Are there any risk factors investors should consider before establishing a position in Chevron? Yes there are, and according to Chevron's most recent 10-K there are a number of risk factors all investors should consider.
Changes In Commodity Prices:
-Chevron is primarily in a commodities business that has a history of price volatility. The single largest variable that affects the company's results of operations is the price of crude oil, which can be influenced by general economic conditions, industry inventory levels, production quotas imposed by the Organization of Petroleum Exporting Countries (OPEC), weather-related damage and disruptions, competing fuel prices, and geopolitical risk.
-Chevron accepts the risk of changing commodity prices as part of its business planning process. As such, an investment in the company carries significant exposure to fluctuations in global crude oil prices.
Impact of Greenhouse Gas Regulations:
- International agreements and national or regional legislation and regulatory measures to limit greenhouse emissions are currently in various stages of discussion or implementation. These and other greenhouse gas emissions-related laws, policies and regulations may result in substantial capital, compliance, operating and maintenance costs.
-Greenhouse gas emissions that could be regulated include those arising from the company's exploration and production of crude oil and natural gas; the upgrading of production from oil sands into synthetic oil; power generation; the conversion of crude oil and natural gas into refined products; the processing, liquefaction and regasification of natural gas; the transportation of crude oil, natural gas and related products and consumers' or customers' use of the company's products.
Conclusion
For those of you who may be considering a position in Chevron, I'd keep a watchful eye on a number of things over the next 18-36 months as each could play a role in the company's long-term growth.
For example, I'm currently keeping an eye on any progress the company is able to make with regard to its exploratory drilling campaign in Romania (which includes but is not limited to lowering Romania's consumption-to-production spread) as well as any further increase in the company's cash flows that could positively impact its dividend growth over the next 18-36 months.
Disclosure: I am long CVX. I wrote this article myself, and it expresses my own opinions. I am not receiving compensation for it (other than from Seeking Alpha). I have no business relationship with any company whose stock is mentioned in this article.