Digital Ally Inc. (NASDAQ:DGLY) is a company that entered both traders and investors' view sights about 5 months ago when a very prominent trader and Seeking Alpha contributor Superman profiled it in two great articles:
August 30, 2013 - Why Digital Ally Inc. Could Double When Compared To Taser International Inc.
September 9, 2013 - How Digital Ally Was Valued At $113-$132 Per Share
During those couple of weeks, stock price exploded from $8 to above $17, which was a gain of over 110%. All of that was based on the "hope" and "anticipation" of potentially good things to come.
There are many details in both of Superman's articles (that I will not rehash here) that spell out why this might be a very special company in a sector that demands more and more attention: Law Enforcement & Video Security.
The reason for today's article is to point out some new and important facts since those articles were written, which in my opinion can easily cause another run to the $17+ stock price, which would again be a double from today's $8 level.
Products and Contracts
1) On October 6, 2013 they announced that they have completed their initial production run for the FirstVu HD body camera system. The FirstVu HD is designed to operate independently or in conjunction with in-car video systems, thereby allowing law enforcement agencies to more effectively collect, record and manage video documentation of officer activities and evidence. The significant competitive advantage of the FirstVu HD system involves the Company's new patent-pending VuLink device, which allows the FirstVu HD to wirelessly communicate and interact with in-car video systems installed in police cruisers and other law enforcement vehicles.
Just over a month later, on November 15, 2013, Digital Ally announced that they received the largest single Order from the Evansville, Indiana Police Department for 150 FirstVU HD Body Cameras. This establishes that the product (FirstVu HD) is available, works and is being implemented for active use by the police force.
2) Digital Ally Inc. announced on December 2, 2013 that they received an initial order for 100 DVM-250 Video Event Recorders from the Kansas City Transportation Group ("KCTG"). Operating under the names "Yellow Cab", "10/10 Taxi", and "Super Shuttle", KCTG manages a fleet of over 400 transportation vehicles in the Kansas City metropolitan area. KCTG is part of the transportation division of Veolia Transportation ("Veolia"), the largest non-governmental provider of transit services in North America, with over 5,000 vehicles, 21,000 employees in the United States and Canada, and annual revenue approaching $1 billion.
3) On December 3, 2013, they announced a one-year extension of their statewide contract with the State of Michigan. The Michigan State Administrative Board has approved appropriations for the expenditure of up to $1 million for the purchase of the Company's DVM-500Plus In-Car Video Systems and approximately $250,000 for the purchase of the Company's LIDAR speed measurement systems by the Michigan State Police.
4) Later on the same day ( December 3, 2013 ) they announced a new major product with already $50,000 in pre-launch orders.
Stock Data and Short Interest
1) Even during the big spike in the stock price, none of the insiders sold a single share. Actually from 2011 onwards, except for a total of 7,000 shares sold by two insiders, there have only been buys (mostly on the open market). Check yourself here.
2)The float on DGLY is 1.6 million, the same as it was in August 2013. However, if you look at the screen below, you will see that at that time there were about 25,000 shares sold short. But now (as of last filing on 11/15/2013), there are over 160,000 shares sold short of DGLY.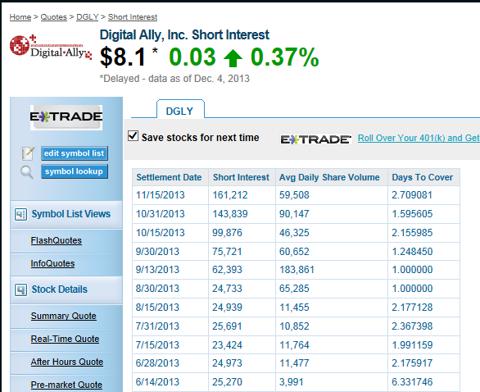 This number means that nearly 11% of all shares out there for trading have been sold short (up from less than 2%), so there is an increased chance of a major spike in price, as the shorts will need to cover.
Conclusion
The Kansas City Business Journal published an article on Digital Ally just as the markets closed for trading on December 4, 2013, outlining the significance of the recent order announcement with Veolia.
As with any micro-cap there are always a greater risk but also, a greater reward. When you have a company that is in the right place at the right time, offering actual products, having customers, being profitable, growing, insiders buying stock and a high short interest -- you need to take notice.
The stock is again trading near $8. Personally, I am looking at this as an second-chance opportunity to come along for the ride. That's why I started a long position in Digital Ally Inc.
Disclosure: I am long DGLY. I wrote this article myself, and it expresses my own opinions. I am not receiving compensation for it. I have no business relationship with any company whose stock is mentioned in this article.