While the market staged a decent late-day bounce yesterday, it still closed in the red, making it the third straight day of losses to start the month of December. This is the first three-day losing streak to start December since 2002.
Below is a look at the month-to-date, quarter-to-date and year-to-date performance of various asset classes using ETFs traded on US exchanges. As shown, both domestically and abroad, equity ETFs are down so far this month. International markets have gotten hit especially hard, including Brazil (-5.2%), Italy (-3.4%) and France (-3%). In the US, smallcaps are down the most, while Industrials, Health Care and Consumer Discretionary are the sectors that have underperformed. Fixed income ETFs are down too as interest rates have risen. The only asset class that is up month-to-date is energy, with oil up 4.24% and natural gas up 1.1%.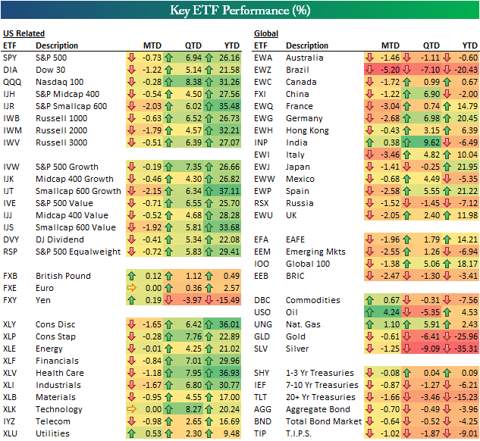 Investors have been selling the sectors that are up the most in 2013 over the last three days. Below is a scatter chart comparing month-to-date (December) and year-to-date performance numbers for the ten S&P 500 sectors. As you can clearly see, there is a trend of underperformance so far in December for 2013's best performing sectors, while 2013's laggards have held up relatively well to start the month. Typical profit-taking within a long-term uptrend so far. Let's see how long this continues.