In our original Roundy's (RNDY) article, we performed a valuation analysis of its two separate business models: its low-end grocery chains and its high-end Mariano's stores. In it, we made the following assumptions:
Roundy's will unlock significant shareholder value by growing its high-margin Mariano's chain
Mariano's growth would be approximately five stores per year for the foreseeable future
Growth capital expenditures might come cheaply due to Safeway's recent decision to exit the Chicago Dominick's business
While it makes sense that management would buy Dominick's properties across the Chicagoland area, the acceleration is far greater than we expected. Accordingly, we will review our change in outlook. We begin by summarizing management's conference call and press release:
Roundy's has signed a definitive agreement to acquire 11 Dominick's stores from Safeway in a $36 million cash and lease assumption transaction. The transaction is expected to close in mid-December, 2013. All stores will be converted to the Mariano's banner in the Chicago metropolitan area.
Ten of the eleven stores will reopen in the first quarter of 2014, with longer-term improvements to come over the next 2-3 years. The eleventh store will undergo expansion and will take longer to come back on line.
The company intends to keep the organic growth assumptions constant (five per year for the foreseeable future). Management expects to operate 29 Mariano's stores by the end of 2014.
Roundy's will simultaneously close on a new (presumably lower cost) credit facility. While the details of the facility have not yet been released, we do know proceeds from this transaction will not only pay for the acquisition but also will be used to repay part of its existing first lien facility. Importantly, the company will be able to relax some key covenants on that facility.
The board has also elected to suspend all dividend payments (which approximates $22 million per year).
Deleveraging Through Increased Cash Flow
If we take apart the relevant key components of free cash flow: Net income, D&A, working capital, and capital expenditures, we see some important drivers of growth above previous expectations, further proving our deleveraging thesis and raising our valuation range.
Net income: We already knew Mariano's carried a higher cash flow margin than other Roundy's banners. Management confirmed that revenue per store will be the same for its new stores as it is for its current stores. What is important is the EBITDA margin: Management assumes the transaction will be EBITDA neutral for 2014 (due to remodeling expenses) and accretive thereafter. This is in large part due to the change in EBITDA margin: Roundy's assumed Safeway's leases at an average of $10/square foot less than its other stores. This is expected to add 1% to its EBITDA margins, driving it to 6%.
Management believes the Chicagoland area can successfully absorb 45-50 new stores over the coming years at a rate of 5 per year (after 2014). Assuming similar revenues and the 5% (or 6%) EBITDA margin, we now have improved visibility of the cash flow story. We will show how all of this will affect our valuation below.
Capital expenditures: As expected, Roundy's took advantage of cheap capital expenditure opportunities by acquiring eleven new facilities for $36 million. In addition, management will plow half a million dollars into each store's renovation. In all, management expects the average store to cost $7 million in acquisition, remodeling and employment costs, plus $1 million in inventory ramp-up. Compare this to a Mariano's property that cost approximately $22.7 million to build in the South Loop of Chicago. That is a savings of roughly $15 million per store - times 11 stores. Even if that example is at the high end, the savings is real and all of it can be used to reduce existing debt.
Dividend payments: An extra component to the cash flow story is the dividend. Management has decided to suspend dividend payments at this time. That will save $22 million in cash flow, all of which can be plowed back into the business and/or used to deleverage the balance sheet (likely the former which will translate to the later).
From 2014 onward, we expect cash flows from the higher margin supermarkets, capital expenditure savings, suspension of the annual dividend and cheaper interest costs to help deleverage the business. It will take some time to play out.
Pro Forma Valuation
To more accurately determine a transition in valuation, we begin with management's forecast of future stores outstanding. We include management's assumption that the company will continue to open 5 new stores per year, plus 10 of the new stores in 2014 and one of the new stores in 2015:

By taking the revenues reported in its annual filings and dividing by the number of stores owned at year end, we can calculate the average store sales for all of Roundy's supermarkets. By taking out the number of Mariano's at year end and subtracting the contribution for that store over the previous 12 months ($52 million per store, or about $1 million per week as per actual experience) from total revenues, we can calculate the average sales of non-Mariano's chains. The calculation assumes that all stores opened in the year end were operating for 6 months: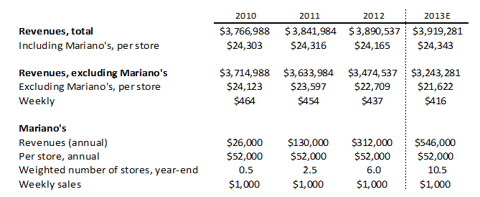 Mariano's is expanding exponentially as a percentage of company sales, and generates a significantly higher per-store sales figure each week. As indicated by the business strategies and financial performance, the two unique grocery channels under the Roundy's brand should not be valued based of a similar multiple. We return to this assertion when we complete our break-up analysis.
Updated Financial Projections
Below are our updated projected financials for Mariano's stand-alone business and the remaining company without Mariano's. The estimated margins for the lower-end and higher-end business units are based on comparable company margins for each division (for a list of comparable companies, see our previous RNDY articles). However, relative to our last analysis, we will add a 40% tax-affected margin increase in net income on the 11 stores due to the projected higher EBITDA margins (we only apply this addition to the new stores - we assume all other stores will continue to operate at a 1.7% net income margin). Sales per non-Mariano's store in the following table were pulled from the figure above and grown at 0.5% per year, an even more modest rate than we used previously (due to readership feedback):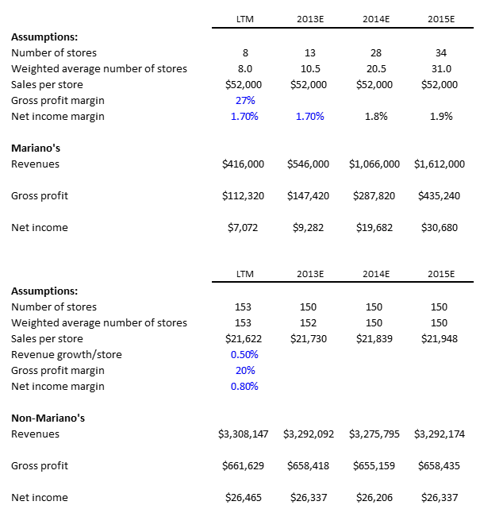 We previously assumed 2015 estimated net income contribution from Mariano's would be $27.4 million. We have increased this assumption to $30.7 million. At the same time, we decreased our non-Mariano's contribution from $27.1 million to $26.3 million.
Break-up Analysis Revisited
We continue to believe Mariano's brand deserves a higher multiple than its low-end grocery store counterparts. The estimated margins for the lower-end and higher-end business units are based on comparable company margins for each division (Safeway (NYSE:SWY), SuperValu (NYSE:SVU), and Kroger (NYSE:KR) for the non-Mariano's chains and Whole Foods (NASDAQ:WFM), The Fresh Market (NASDAQ:TFM), Village Super Market (NASDAQ:VLGEA) and Natural Grocers (NYSE:NGVC) for the Marino's segment). According to the comparable company valuations (which we have updated since our first article), the median one-year forward P/E multiple for high-end grocery chains is about 33 times and is 15 times for the low-end chains. Valuing the discount and high-margin chains separately using the 1-year forward P/E multiple (and our new 2014 projections), we see the following: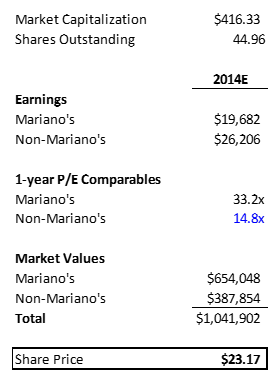 This represents an 18.8% increase in our expected share price compared to our previous estimate. That said, recall that we chose to revisit the high-end multiple because of the potential Whole Foods skew. If we instead use Village Super Market as a proxy (which is Mariano's closest competitor), the comparable multiple would instead be about 19 times. We must apply the Village Grocer's LTM P/E multiple to the above breakup analysis since 2014 is not available. Even if we acknowledge a discount to the LTM multiple, we will likely see a target that is still well above the current share price: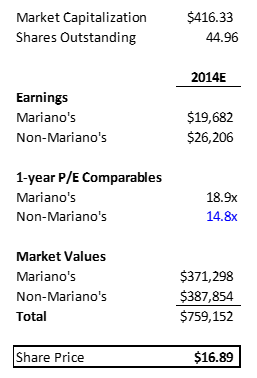 This represents an increase of 14% over our previous price target, even with a slight reduction in our non-Mariano's revenue assumptions. As before, we acknowledge a discount to the LTM multiple but must use it since the forward year P/E is not available.
Sensitivities
Here we address key sensitivity points to our analysis. In our second article, we learned that the most important sensitivities to vary are the net income margin and market multiples for the low-end supermarket chains. In the table below, we pit the two against each other:

The results leave us quite bullish. The net margin appears to be one of the biggest show-me stories of the stock (as shown by its wide impact on the target price). This also should not be surprising given the high leverage of the firm. It also speaks to the main point made in the last few articles - if the firm can repay its debt quickly, there is a huge potential for upside in the stock price. Currently it appears the market believes the net margin will soon be a very small fraction of what it is today (excluding the charges last quarter, we believe Roundy's low-end net income margin tends to run in the 0.8% range). If management can perform, the reward appears quite lucrative.
New Risk Considerations
Eleven stores at once is a lot, particularly since the Mariano's concept is still small and relatively new. We can't be sure they can execute such a large acquisition on time. However, we know Mariano's has already assumed two Dominick's stores in the past and each has proved to be a successful transition. We also know the real estate are generally in demographically favorable areas. As an added bonus, many executives at Roundy's, including the CEO, were once part of Dominick's management team and are very familiar with its operations.
Leverage is a double-edged sword and in this case it is no different. Including operating lease obligations, Roundy's is likely to have well north of $3 billion in leverage (making assumptions about the pro forma facility). Supermarket margins are razor-thin no matter which chain it is. Roundy's must execute the Mariano's concept effectively and in proper time.
Disclosure: I am long RNDY. I wrote this article myself, and it expresses my own opinions. I am not receiving compensation for it (other than from Seeking Alpha). I have no business relationship with any company whose stock is mentioned in this article.
Additional disclosure: I put my money where my mouth is.