On Wednesday, December 4, 2013, the Bank of Canada decided yet again to keep its overnight rate target planted at 1%. The Canadian dollar (NYSEARCA:FXC) immediately followed through on weakness against the U.S. dollar that has slowly grown over 15 months and accelerated somewhat over the last two weeks.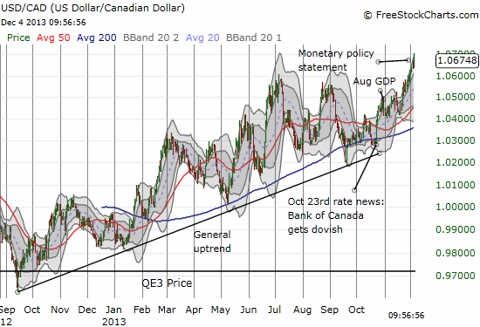 A 15-month uptrend continues ever so slowly
Source: FreeStockCharts.com
The Bank of Canada was consistent with the change of tone from late October's downgrade of the Canadian economy. In particular, inflation retreated further away from target:
"…inflation has moved further below the Bank's 2 per cent target. Core inflation is being held down by significant excess supply and by the effects of heightened competition in the retail sector, which look to be more persistent than anticipated."
This weakened inflation seems odd given the on-going strength in Canada's housing market, but clearly it is not enough. The Bank of Canada claims that current demand is getting pulled forward from future demand. If so, some kind of softening is around the corner. Indeed, The Bank of Canada expects a "soft landing" ahead for housing. Combine this with "disappointing" non-commodity exports and lower prices for Canadian oil, the recent downgrade of the Canadian economy received extra confirmation. Moreover, the Bank of Canada dismissed the potential positives of stronger than expected GDP growth in the third quarter because "…its composition does not yet indicate a rebalancing towards exports and investment." In other words, that strength is not sustainable.
Taken together, USD/CAD still seems headed to the 1.08 target I set out back in February, 2013 based on my conclusion that Canada needed a weaker currency to improve its exports and overall economy (see "A Weakening Canadian Economy Needs A Weaker Currency"). On Wednesday, USD/CAD got as high as 1.07 before fading a bit. If fears of tapering by the Federal Reserve become palpable again, 1.08 should come relatively easy from current levels. I will reassess new targets at that point.
Be careful out there!
Disclosure: I have no positions in any stocks mentioned, and no plans to initiate any positions within the next 72 hours. I wrote this article myself, and it expresses my own opinions. I am not receiving compensation for it (other than from Seeking Alpha). I have no business relationship with any company whose stock is mentioned in this article.
Additional disclosure: In forex, I am long USD/CAD