Company Overview
Stamps.com, Inc (NASDAQ:STMP) provides subscription based postage solutions for individual customers up to large enterprises. As the company name indicates, the product is web-based, allowing customers to print stamps, labels, etc through their online software. The company exists as a mutually beneficial partnership with the US Postal Service - large customers that bring enough business to the USPS through Stamps.com can have their subscription fee covered by the USPS. That fee typically ranges from $15.99 to $39.99 per month based on the service plan.
In 2010 Stamps.com began a partnership with Amazon.com (NASDAQ:AMZN) Marketplace although that is somewhat limited in scope as Amazon has since created it's own shipping label service. In 2011 Stamps.com begin providing their services for the USPS through Click-N-Ship, a feature which grants exposure to eBay (NASDAQ:EBAY) and thus all shipments through eBay subsidiary PayPal.
Risk: USPS Reliance
Stamps.com is heavily dependent on the USPS; the company is really only a web-based interface with the USPS and a failure of the latter will almost assuredly result in a failure of the former. The likelihood of a USPS failure is a very complicated issue and understanding this risk is critical to investing in Stamps.com.
Although a government entity, the USPS is not subject to taxpayer assistance, and instead operates as a private business, surviving on its own operating profits. This unique situation, being a government owned private enterprise, creates its own advantages (such as the Private Express Statutes) and disadvantages. Specifically, competitors like United Parcel Service (NYSE:UPS) and FedEx (NYSE:FDX) are free to make their own decisions whereas if the USPS wants to implement changes to operations, it literally takes an act of Congress, usually for the worst.
The most striking example of this difference is the Postal Accountability and Enhancement Act (PAEA) of 2006 which, since passing, has required the USPS to put aside $5.4 to $5.8 billion into the Postal Service Retiree Health Benefits Fund every year. This money would go towards funding a full 100% of the retirement health care obligations for the next 75 years. Compare this to industry where there are either no or minimal prefunding obligations and this quickly explains the disadvantage that the USPS is put at. It also explains a great deal of the debt that has resulted in the past several years. Unable to cover this burden, the US Postal Service has defaulted on this payment since 2011. Whether or not this is necessary is debatable. A great explanation of the situation can be found here.
Alas, it a complicated issue which leads, unfortunately, to an even more complicated one. The PAEA could be an attempt by Congress to drive the USPS to become a fully privatized enterprise. If that were to occur, it's anyone's guess as to what actions would result between the USPS and Stamps.com. Possibilities include the relationship continuing as if nothing happened; or the USPS could develop its own web-based service and cut ties with Stamps.com; or they could possibly acquire the company outright. As long as the talk is on the USPS getting rid of Saturday delivery and not on becoming a private company, it's probably safe to assume that this scenario is worth shelving in the back of your mind.
Risk: Emerging Technology
One of the major factors in the USPS' loss of income is the replacement of mail with electronic alternatives, notably email, although to a lesser extent texting and online messaging applications such as those offered through Facebook (NASDAQ:FB) and Google (NASDAQ:GOOG). This leaves future profitably more and more in the hands of package shipment. As such, the recent news of Amazon's plans for drone shipment should be interpreted as a real threat to future growth.
Although the company states that the technology is 4 to 5 years away, it is perfectly feasible that implementation of drone-based delivery could be available in 2015, pending FAA regulations. For Amazon, the implications are clear; their own delivery system would require no USPS (or UPS and FedEx) aid, eliminating that avenue of profit. Further, as Amazon begins to implement sales taxes in more and more states, cheap shipping looks like the obvious source of creating a price advantage, and their direct competitors, aka. pretty much every other online retailer, will need to keep up to survive. If Amazon gets this to work, they'll only be the first, and Stamps.com will be in serious trouble.
On the other hand, this could represent the solution that the USPS needs. Already planning on cutting 35,000 jobs to save up to $2.5 billion annually, implementing their own drone shipping program would allow further employment shrinkage, whether by layoffs or attrition. The benefits to the USPS would of course be a boon to Stamps.com. How likely is this to happen? As stated above, it would take an act of Congress to make a decision on this scale, so interpret that as you wish.
It would be very easy to dismiss drone shipping as a gimmick, but these days new technology has a way of quickly changing the world. I would keep a close eye on this and act accordingly.
Graham Valuation
With some of the risks discussed, it's time to look at the valuation. Since I'm currently working my way through The Intelligent Investor, I'll be doing this using a mix of several Benjamin Graham investing criteria:
Adequate Size of the Enterprise
Sufficiently Strong Financial Condition
Earnings Stability
Dividend Record
Earnings Growth
Moderate Price/Earnings Ratio
Moderate Ratio of Price to Assets
Adequate Size of the Enterprise
Right off the bat I'll just say that Benjamin Graham wouldn't have invested in this company (and most likely neither would Warren Buffett). Graham's criteria for adequate size, adjusted for inflation, would imply a company with total market value of no less than $2 billion. Stamps.com has a market cap of $710 million, or about one-third the minimum requirement. Nevertheless, this is simply one factor to consider. Frankly, if you're looking to invest in a relatively new tech company (founded 1998), you've already conceded to a limited exposure to risk. This is just a little more.
Strong Financial Condition
Benjamin Graham recommends a current ratio of at least 2-to-1, and Stamps.com meets this. With September 2013 total current assets of $88.80 million and total current liabilities of $14.52 million, the current ratio stands at a healthy 6.12. In addition, Stamps.com has no long term debt, allowing for a good profit margin.
Earnings Stability
Stamps.com falls short of the recommended earnings in each of the past ten years, but in this case, I'll allow it. The company was only founded in 1998 and didn't have its first profitable year until 2005, taking in $0.44 diluted EPS. After these first seven unprofitable years however, the company continued to grow, netting a 5 year CAGR of 22% (for this calculation I used the averaged 2010-2012 and 2005-2007 diluted EPS). For the first 3 quarters of 2013, Stamps.com already has a diluted EPS of $1.55, although that's behind the 2012 9-month diluted EPS of $1.72.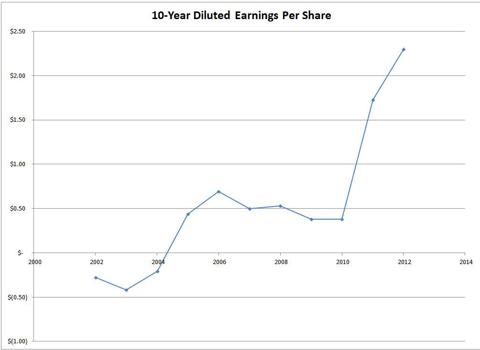 Dividend Record
Other than a special dividend in 2004 and another in 2010, there's nothing to speak of in this category. With a September 2013 cash & equivalents balance of $65.1 million, and 16 million shares outstanding, having no dividend makes sense. To pay out 3% annually would cost $21 million at the current price of $44.15 per share. That $21 million would eat up a third of the available cash. As could be expected with any new company, this money is better spent on research and development, which has cost on average $9.7 million annually from 2010 to 2012.
Earnings Growth
Benjamin Graham prefers an earnings growth of at least one-third over the past decade, but as explained above, the company only became profitable in 2005. The 5 year CAGR is 22%, falling short of the mark, while the 3 year CAGR is 85%. While this is a great growth rate, I think the most logical to address this is to simply dismiss it. The earnings, while profitable for 9 years counting the current, are too erratic at this point to get a meaningful growth rate. For those wishing to see a valuation using a Discounted Cash Flow model will have to accept that the numbers would most likely be meaningless until earnings have stabilized.
Moderate Price/Earnings Ratio
Again Stamps.com misses on this criteria. The recommended P/E is 15, based on 3 year average earnings. Using the previous 12 quarters EPS gives a 3 year average EPS of $1.91. At the current price of $44.15/share, the P/E is 23.11. To get that target P/E of 15, the shares would have to be priced at $28.65 (which seems unlikely), or the EPS would have to grow to $2.94. Given that the 2013 EPS is likely to fall below the 2012 EPS of $2.3, this is also unlikely. On this alone, Stamps.com can't be recommended as a value buy.
Moderate Ratio of Price to Assets
With a book value per share of $9.3 on assets of $164 million, and intangibles and liabilities of $15.6 million, Stamps.com scores a price to book value ratio of 4.74. This lands well over the recommended maximum of 1-½ times book value. Meeting this criteria would put the share price at a deeply discounted $13.95.
Conclusions
As a relatively new tech stock with almost 9 years of profitable growth under its belt, Stamps.com shows great promise. Unfortunately, the current price misses the mark on too many value criteria and therefore can't be recommended as a buy. For investors already holding onto shares, I recommend to continue holding and only buy on a major (20-30%) pullback. If you're interested in getting a quarterly return from earnings, this might be a good time to sell and exchange the shares for a dividend paying stock. For long term holdings, it will be worth watching developments with the USPS and the transforming delivery landscape.
Thanks for reading my article! Please take the time to leave comments below.
Disclosure: I am long STMP. I wrote this article myself, and it expresses my own opinions. I am not receiving compensation for it (other than from Seeking Alpha). I have no business relationship with any company whose stock is mentioned in this article.