China Mobile (NYSE:CHL) finally signed a deal with Apple (NASDAQ:AAPL). As a result, things are about to heat up in mainland China as Apple's potential market has grown by an additional 700 million customers, according to the Wall Street Journal. The potential upside from this deal could be substantial, but in order to fully appreciate the potential we have to quantify the opportunity properly. This means addressing the geographic income distribution of China and then calculating the amount of market share Apple can gain in that upper-income bracket.
While winning a China Mobile deal isn't as big of a deal to shareholders as the creation of a whole new product category. Shareholders should consider the completion of this deal an earnings catalyst.
Setting the stage on China Mobile
Anyone who doesn't live underneath a rock knows that China is an important market for any international business. Sure, China Mobile's humongous subscriber figure doesn't necessarily indicate the total addressable market for Apple, but it does give us a bit of a starting point for determining the potential revenue from super-premium handsets in the emerging economy.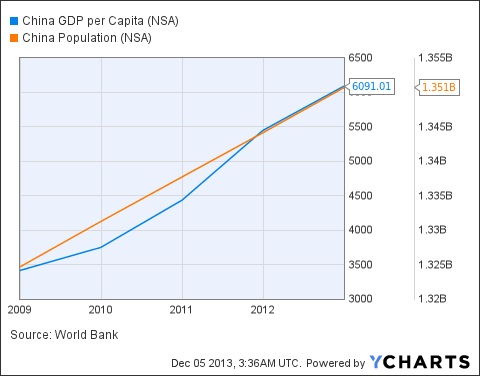 Source: YCharts
Currently China's GDP Per Capita is approximately $6,091 according to the most recent statistics from the World Bank. China's population is currently 1.351 billion according to World Bank statistics. According to the most recent interim report, China Mobile has 740 million subscribers. China Mobile has 55% of the Chinese population on its telecom network. Sure not everyone on China Mobile's network will be able to buy an Apple iPhone but at least it opens some doors for the good old folks in Cupertino.
China Mobile currently operates a 3G network. With recent approvals from the Chinese Party, China Mobile will be able to rollout 4G LTE technologies over the next five years. Sure, it's not going to look like the coverage map of the Verizon Network, but at least urban regions of China will be able to justify the purchase of higher-end phones that come with Qualcomm's (NASDAQ:QCOM) Gobi LTE Modems.
Evaluating the business opportunity for Apple
So from this point forward we're going to use McKinsey & Company's data to determine the potential of China's emerging class. Then determine the eventual saturation point of China's consumer class.
Source: McKinsey & Company
McKinsey & Company projects that the upper middle class will grow to 54% of the urban population and will earn approximately 106,000 to 229,000 RMB by 2022. As of 2012, the upper middle class and the affluent class represent around 17% of the Chinese urban population. The projected compound annual growth rate of both the affluent and upper middle class is around 22%, which would imply that in 2013 the combined upper middle and affluent class will be 20% of the urban population.
McKinsey & Company only mentioned the urban population, but I'm willing to take that same exact 20% sample population and apply it to the total population. It's not accurate, which is why I'm willing to estimate that 10% to 20% of China's total population will have enough income to buy an iPhone in 2013.
With Apple addressing 100% of the upper middle/affluent class, Apple's annual earnings growth should improve in the region significantly.
Source: IDC
Currently Apple's average selling price is approximately $650 per unit. In more developed regions of the world where competition from $300 devices are less of a competitive threat, Apple has been able to protect its market share from lower-end devices. This is because consumers will either buy a high-end smartphone, or not buy one at all. The $100 to $200 price differential from low-end smartphones to high-end smartphones is not large enough to result in a typical supply and demand relationship. This is why Apple has been able to sustain higher market share figures in the United States even with higher average selling prices.
Source: ComScore
Currently Apple has 40.6% market share in the United States. The average US citizen is the equivalent of the upper middle and affluent class in China. When I take 20% of the Chinese population (270 million) and assume that 40% of them will buy an iPhone (assuming two-year buying cycles) I arrive at the conclusion of 54 million iPhone unit shipments in China for 2013. This is just an approximation. But with an average selling price of $650 this translates into approximately $35.1 billion in annual revenue (from China). According to Apple's 2013 annual report, China represents $25.47 billion in annual revenue, and the United States represents $62 billion in annual revenue. Going into 2014, I expect Apple's revenue to grow by an additional $10 billion in its mainland China segment.
I make a reasonable assumption because the middle class in urban China will grow to 225 million by 2022 according to McKinsey & Company. So it's not farfetched to assume that Apple could at some point sell 54 million iPhones to 225 million Urban Chinese consumers per year. Of course, this is only factoring in urban China; mainland China has a much larger consumer base. So, I believe my assumptions are extremely conservative as a result.
Apple's operating margins strictly from smartphones is approximately 33% according to Canaccord Genuity. Using that operating margin figure, I was able to project $11.58 billion operating profit from China in 2014. This results in $3.2 billion year-over-year earnings growth from Apple's mainland China segment.
Not bad for signing ink on a piece of paper Mr. Cook! After all, the pen can be mightier than the sword.
Conclusion
Currently, analysts estimate that Apple will grow revenue from $170.1 billion to $180.75 billion between 2013 and 2014. Factoring in an extra $10 billion in revenue from the China Mobile deal and we can expect Apple's revenues to grow to around $190.75 billion for fiscal year 2014.
Apple should be able to beat earnings estimates going into the 2014 fiscal year. The company continues to execute on its core strategy of broadening distribution. That alone should be enough for Apple to sustain both revenue and earnings growth without releasing a new product category. Currently, I have a $537 to $636 price target for Apple by the end of 2013. Due to the recent developments in China, I believe that Apple will reach the upper price target of $636 per share.
Going into 2014, Apple should be able to reach my lower bound price target of $711 per share. Apple investors will be heavily rewarded for their patience.
Disclosure: I have no positions in any stocks mentioned, and no plans to initiate any positions within the next 72 hours. I wrote this article myself, and it expresses my own opinions. I am not receiving compensation for it (other than from Seeking Alpha). I have no business relationship with any company whose stock is mentioned in this article.