In March 2014, the FDA will be convening an Advisory Committee for input on the sNDA application for Salix (NASDAQ:SLXP) and Progenics' (NASDAQ:PGNX) injectable opioid induced constipation (OIC) agent Relistor, which will include pain, GI, safety, and cardiovascular experts. While the recommendations of the expert panel are being sought for the Relistor sNDA, the purpose of the Advisory Committee is also broader, as the FDA previously indicated that "it needs to provide consistent advice regarding the need for Major Adverse Cardiovascular Event studies to applicants developing drug products in this class for this indication". The FDA's action to convene an Advisory Committee was taken in response to the formal appeal by Salix of the complete response action taken by the FDA on July 27, 2012. The FDA will take action under the appeal within 30 days after receiving input from the Advisory Committee.
In addition, other upcoming catalysts for Progenics' PSMA pipeline are expected in the first quarter of 2014, including a Phase II data from PSMA-ADC, a human monoclonal antibody-drug conjugate for the treatment of advanced prostate cancer, and a Phase II data from PSMA imaging agent MP-1404, a diagnostic radiopharmaceutical indicated for prostate cancer. Additionally, the company recently announced that it is resuming a mid-stage study of its targeted radiotherapy Azedra, in patients with rare endocrine tumors.
Leading up to next year's events, I held an exclusive interview this week with Dr. Brian Klein, a Vice President and Senior Analyst covering the biotechnology sector at Stifel Nicolaus. Dr. Klein has over eight years of experience, including a four years with Lazard Capital Markets. Prior to his career in equity research, he spent three years as a medical resident in internal medicine at St. Luke's - Roosevelt Hospital in New York, and is currently board certified in internal medicine. Dr. Klein received his M.D. from New York Medical College and also holds an M.S. in physiology and biophysics from Georgetown University and a B.A. in economics from Yale University.
Ben Yoffe: Dr. Klein, in March 2014, the FDA Advisory Committee will discuss whether or not Progenics' Relistor merits approval for the treatment of OIC in patients with chronic pain. What are your expectations?
Dr. Klein: I expect a multi-disciplinary committee of advisors representing the GI, cardio-renal and pain & risk management divisions will discuss the risk/benefit profile of expanding the Relistor label to non-cancer chronic pain opioid-induced constipation. Regarding the likely outcome of this panel, I think it remains difficult to forecast given no new clinical data has been generated to address the FDA's concern on chronic usage of mu-opioid receptor antagonists and cardiovascular safety. Recall that the original CRL letter from the FDA requested additional clinical data, which Salix claimed was not necessary pre-approval.
Yoffe: Relistor is also commercially available for the treatment of OIC in patients with advanced medical illness who are receiving palliative care when laxative treatment is insufficient. How much revenue contribution are you expecting from Relistor in this indication?
Dr. Klein: Progenics derives several million in royalty sales on Relistor in its current indication. I forecast $4.5 M in royalies for 2013, growing to $5.6 M in 2015 based on increased penetration into the target population and price increases; these estimates do not include a label expansion. Notably there was a significant drop in 3Q U.S. sales which may just be an anomaly. Without the label expansion into the broader, non-palliative care patient population, I would not view Relistor's sales as satisfactory.
Yoffe: Are there any competitors that we should be concerned about?
Dr. Klein: The competitors include Nektar (NASDAQ:NKTR)/AstraZeneca's (NYSE:AZN) Naloxegol (NKTR-118), Cubist's (CBST) CB-5945, Theravance's (THRX) TD-1211 and Sucampo's (NASDAQ:SCMP) Amitiza. The Naloxegol NDA was recently accepted by the FDA with a target PDUFA date of Sept. 16, 2014. Sucampo's Amitiza is already approved for opioid-induced constipation in patients chronic non-cancer pain but its side effect profile limits usage; also it employs a different mechanism of action from the other agents. Regarding the remaining potential competitors, which all target the mu-opioid receptor within the GI tract, only Relistor treatment directly correlates with a spontaneous bowel movement - the other agents all increase the average number of SBMs per week. Since patients with OIC would like some control over their bowel habits, I believe Relistor has the competitive advantage, assuming equivalent pricing.
Yoffe: The next catalysts for Progenics will be the Phase II data for the company's PSMA antibody drug conjugate (PSMA ADC), and the Phase II data for PSMA imaging agent MP-1404. What is the likelihood of positive results in these trials?
Dr. Klein: I think the imaging agent MP-1404 is more likely to have positive results than the therapeutic agent, given the Phase 1 data for PSMA-ADC presented at ASCO 2013 which demonstrated inconsistent responses and a narrow therapeutic window.
The current method of tracking advanced prostate cancer relies on PSA measurement and imaging for metastases, which are not particularly precise. Since virtually all prostate cancer is PSMA positive (84%-99%) an imaging agent that employs PSMA as the target could allow for earlier detection of disease outside of the prostate, yielding improved risk stratification and therefore allowing for earlier intervention. PGNX's PSMA-targeted imaging agent binds to PSMA with high affinity, potentially improving diagnostic accuracy and allowing for reliable assessment of treatment responses.
Yoffe: What is the value of these assets?
Dr. Klein: At this time I would not ascribe a significant amount of value to either program, pending proof-of-concept Phase 2 data. I believe the majority of the company's valuation rests with the optionality for a Relistor label expansion.
Yoffe: Progenics recently announced that it is resuming a phase 2b clinical study of safety and efficacy of Azedra, in patients suffering from pheochromocytomas. What is the potential of this product?
Dr. Klein: Azedra has a limited commercial opportunity given the limited addressable patient population and the lack of strong patent protection (Azedra will only have orphan drug exclusivity). While Azedra could generate meaningful revenue for a company the size of Progenics, I do not anticipate data until 2016 and I think investors are more focused on the near term Relistor AdCom.
Yoffe: What are your impressions of the management team as leaders?
Dr. Klein: The team has done an impressive job of refocusing the company away from reliance on Relistor into an oncology company.
Yoffe: What is the financial situation of the company?
Dr. Klein: As of 3Q13 Progenics has $77.8M in cash/cash equivalents which I forecast is sufficient to fund operations into 2015, beyond several key catalysts.
Yoffe: In summary, at its current price do you think PGNX is a buy?
Dr. Klein: I think investors should remain cautious heading into the Relistor panel, on which we have limited insight, especially since no new clinical data has been generated to address the FDA's initial concerns. I remain positively included toward Relistor for the expanded indication, especially with its compelling characteristics of potency and rapid onset of action. However the safety concerns raised by the FDA may preclude a label expansion until a broad cardiovascular study is conducted.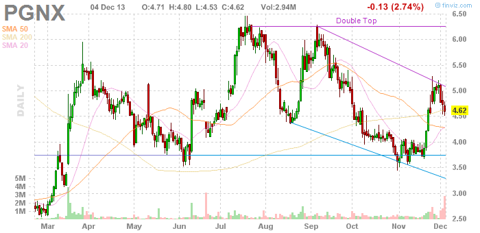 Disclosure: I have no positions in any stocks mentioned, and no plans to initiate any positions within the next 72 hours. I wrote this article myself, and it expresses my own opinions. I am not receiving compensation for it (other than from Seeking Alpha). I have no business relationship with any company whose stock is mentioned in this article.
Additional disclosure: Stifel makes a market in the securities of Progenics Pharmaceuticals. Stifel or an affiliate managed or co-managed a public offering of securities for Progenics Pharmaceuticals in the past 12 months. Progenics Pharmaceuticals is provided with investment banking services by Stifel or was provided with investment banking services by Stifel or an affiliate within the past 12 months. Progenics Pharmaceuticals is a client of Stifel or an affiliate or was a client of Stifel or an affiliate within the past 12 months. Stifel expects to receive or intends to seek compensation for investment banking services from Progenics Pharmaceuticals in the next 3 months. Stifel or an affiliate has received compensation for investment banking services from Progenics Pharmaceuticals in the past 12 months.