In the past few weeks since Muddy Waters came out with their report calling NQ Mobile (NYSE:NQ) a fraud, we have watched various articles on Seeking Alpha, both on the long side and the short side. The undisputed champion of the long side is Toro Investment Partners, which has repeatedly attacked Muddy Waters' credibility and claims. Toro's principal, Taek-Geun Kwon, slammed Muddy Waters in a CNBC Asia interview. But after some fact checking of Toro's research our conclusion is that this fund manager that seems to run money for the heirs to The Gap fortune might be distorting important facts about Muddy Waters and NQ. In this article we will be taking a closer look at Kwon's recent counter claims against Muddy Waters' report and his track record.
Since the Muddy Waters report, Toro has published multiple articles and dozens of comments on Seeking Alpha to defend NQ. Kwon has only ever published 10 articles on Seeking Alpha - 8 of them on NQ. Toro's attack on Muddy Waters is actually not a big surprise - Kwon has been advocating for NQ on Seeking Alpha, and has came to NQ's defense also back in March 2013, after the company was attacked on Seeking Alpha. It is therefore safe to assume that Toro held a long position in NQ prior to the Muddy Waters publication, and might have suffered from the sharp decline in the stock price since the report came out.
When we examine closely Kwon's allegations against Muddy Waters' research on NQ, and compare it with Muddy Waters' actual report on NQ, we find some interesting mismatches.
Toro claim: "(Muddy Waters') Allegation 1: NQ has no cash"
Toro's statement is clearly false. A simple search of the Muddy Waters' report easily proves that. What Muddy Waters did say, and Kwon and NQ chose not to comment on, was that it's practically impossible to move the IPO money to NQ's VIE in mainland China. NQ never answered this in its 91-page response and its conference call.
Even NQ's annual filling make it clear that moving the IPO money into the VIE is highly unlikely:
"PRC regulation of loans to, and direct investment in, PRC entities by offshore holding companies and governmental control of currency conversion may restrict or prevent us from making loans to our PRC subsidiary and consolidated affiliated entities or making additional capital contributions to our PRC subsidiary, which may materially and adversely affect our liquidity and our ability to fund and expand our business. In light of the various requirements imposed by PRC regulations on loans to and direct investment in PRC entities by offshore holding companies, including SAFE Circular 142, we cannot assure you that we will be able to complete the necessary government registrations or obtain the necessary government approvals on a timely basis, if at all, with respect to future loans by us to our PRC subsidiary or any consolidated affiliated entities or with respect to future capital contributions by us to our PRC subsidiary.
In addition, Paul Gill, the accounting professor that NQ's advocates like to quote as support for their claims, wrote on this matter in his blog:
The movement of funds is more interesting. Muddy Water's alleged that it was impossible for NQ Mobile to transfer the proceeds of the offering to the VIE without violating Chinese law. A couple of experts disagreed with that. Accountant Drew Bernstein said well-connected people can work around the rules. Carson Block says these people don't have that kind of clout. I side with Block on this. I seriously doubt that the company could have convinced a Chinese bank to simply ignore the law and allow them to exchange dollars into renminbi and then transfer the funds to a privately held company.
Just for the fun of it, we searched online a bit about Mr. Drew Bernstein who is quoted above in support of NQ. Mr. Bernstein, who sat on the audit committee of ONP when Muddy Waters issued its ONP short report has told the FT reports that:
From an emotional standpoint, you not only want to sue the shorts but do something worse like break their legs.
Clearly an excellent unbiased source to talk to regarding accounting and short sellers like Muddy Waters.
This claim from Muddy hasn't yet been answered by NQ or Kwon.
Toro claim: "(Muddy Waters') Allegation 2: YDT does not exist"
This is false again. Muddy Waters' report concludes that YDT is a related party and a shell, not that it does not "physically exist" as Kwon trying to falsely portray. But let's see what other inquiries have found on YDT. According to Bloomberg's article on YDT, after the company provided YDT's "real" address (which funny enough is not in YDT's name…):
The building directory contains no listing for Yidatong, and two guards at the first-floor security desk said they'd never heard of the company.
So YDT is a company that no one ever visits and it does not even receive mail or packages? Does Kwon really believe this, or is he so invested in NQ that he would ignore such glaring red flags?
Toro claim: "(Muddy Waters') Allegation 3: YDT's Numbers Don't Add Up"
Muddy Waters said exactly that - YDT's numbers don't add up, because YDT is not a real counterparty, it's just simply a shell to used by NQ itself. Muddy Waters provided a lot of documents and facts to support their claim. However, Kwon is trying twist the reader's conception by claiming that:
... even the local accountant contacted by Bloomberg … agreed that the numbers seem to Kosher.
Yet this reference is actually simply talking about Bloomberg's anchor during an interviewing with Carson Block, when she was asking him a question, referring to an upcoming article Bloomberg was publishing on NQ and YDT. When we examine what Bloomberg really published in the article, we see that no one has said that NQ's numbers were "Kosher". The whole thing was simply Bloomberg quoting Paul Gillis (we further explain his statements below) saying that Level 2 cash isn't a huge problem. Taking this and spinning it to say that Bloomberg's accountant confirmed the numbers are "Kosher" is nowhere near the truth.
Toro claim: "(Muddy Waters') Allegation 4: NQ has no partners in China"
Kwon is mischaracterizing it here once again. Muddy Waters claimed that one of NQ's partners is a related party and shell company. The report did not address any other "partners" which Kwon provided links to press releases supposedly confirming their "partnership". Muddy Waters even provided a list of which phones and models had NQ's apps installed.
It seems Kwon might be twisting the fact that Muddy Waters translated articles from the Chinese press that said the partnerships aren't real. It's clear that these are the Chinese media's research, and not Muddy Waters. Kwon's article is even suggesting some sort of conspiracy collaboration between Muddy Waters and the Chinese media that investigated into NQ in China and reported it findings. Yes, sure Mr. Kwon - Muddy Waters, China's "enemy of the state" No. 1, which, to put in an understatement is "not popular" with the Chinese powers, can have such collaboration with official China media…
Kwon assails Muddy Waters for lack of transparency, but for some reason the business cards he presents to prove he met with high ranking employees from NQ's partners who supposedly confirmed the relationships, have all their names and contact details blurred out. We find this odd. If these employees represent the official view of the company they work for, why should their identity be hidden? Block has said he had Chinese gangsters and security forces looking for him and his guys. Why does Kwon insist Muddy Waters name their people (and put their freedom or lives at risk) when he won't disclose who told him NQ isn't a fraud?
Toro claim: "(Muddy Waters') Allegation 5: NQ has practically no users in China"
This is actually true. Muddy Waters did claim NQ is massively overstating its user base in China and provided ample evidence for that, such as payments channels that are not able to process payments, clients' representatives of billing partners that claim not to work with NQ and others. Even the company backed away from its market share claims after Muddy Waters exposed them as massively exaggerated.
Toro claim: "(Muddy Waters') Allegation 6: NQ software sucks and nobody wants to use it"
Kwon is saying one thing, and answers on something completely different. In its report, Muddy Waters explained how they hired expert software engineers to work on the code of NQ's Mobile Security and Anti-virus 7.0 app. According to the report, these experts concluded that the application compromises the privacy of users, can be used as malware, and is actually more dangerous for its users rather then not having it installed at all. Muddy Waters' engineers also concluded that the application is sending users' private information to servers in China in an unsecure way. Even Bloomberg reported that ViaForensics, a mobile security app and testing company, found:
that he application has poor security leading to leaked sensitive data. The app does appear to generate fake virus alerts;
indications that the application sends contacts and contents of text messages back to the company
that the application raises a serious privacy concern.
This is a third party confirming what Muddy Waters' engineers' have been claiming.
Some might say Toro's strategy is to ignore facts, not even mention them, and then use some other, mostly irrelevant, findings to supposedly refute what Muddy Waters claimed about NQ's software. We believe this behaviour is textbook distortion of the facts, used wildly by stock promoters and not professional investors.
Déjà Vu?
The strong criticism by Kwon of Muddy Waters' work brings to memory some past similar incidents of analysts and investors who came to the defense of the companies that Muddy Waters accused of being a fraud and a "Zero". In particular, this reminds us of Global Hunter's analyst Ping Luo's strong defense of CCME, another company Muddy Waters accused of being a big fraud. After MW's report, Mrs. Luo strongly defended the company and supported her defense with her Due Diligence findings:
We were in China last week to conduct additional due diligence on CCME.... We visited CCME's headquarters again, and reviewed all of its contracts with advertising clients and bus operators, tax filings, and bank statements for the last three years.... Based on our due diligence to date, our thesis remains unchanged: CCME is a leader in the inter-city bus advertising market with a unique business model and large growth potential.
You could almost do a Find -> Replace with "NQ" in place of "CCME". Of course CCME turned out to be a fraud and ended up being delisted shortly after from the Nasdaq. Mrs. Luo left Global Hunter soon after, not surprisingly after such a publicly bad call.
Another example that comes to mind is Dundee Securities' Richard Kelertas, who called Muddy Water's research on Sino Forest "a pile of crap:
We are going to provide you with some information on why Muddy Waters research is a pile of crap.... We believe there's nothing true in that report
Mr. Kelertas was also very critical of Muddy Waters' Due Diligence work, and believed the company would clear its name fairly easily. Once again, sound familiar anyone? Sino Forest turned out to be a fraud as well, has been delisted from the exchanges, went bankrupt, and the OSC is now suing 5 of its top executives for fraud charges. Mr. Kelertas also subsequently left his job at Dundee Securities.
Apparently this time it's Kwon's turn to wave the anti Muddy Waters flag. Will Kwon end up being fired from his firm as well? Probably not.
From what we have learned, it seems Toro Investments Partners is actually a tiny operation with less than a handful of employees, run out of a single room inside the Pisces Foundation's office and managing about $32 million in AUM.
Seeing how harsh and hostile Kwon's writing has been on Muddy Waters' due diligence made us think there could be something more than what meets the eye in this case. Well, sure enough, Toro has disclosed a passive stake in NQ Mobile worth about 2/3 of Toro's AUM, so it's easy to see Kwon has a lot on the line. Is Kwon desperately doubling down on a bad bet, or is he a savvy investor? We think it's more likely the former.
Examining more closely Kwon's track record we found another incident where Kwon has been very vocal about his investment, again strongly supporting what turned out to be another Chinese fraud, Ambow Education Holdings (NYSE:AMBO). In a June 23, 2012 Barrons article, after Ambow's shares sold off over 40% because the company could not file its 10-K, Kwon said he believe the shares should double from where they were ($4.34), and noted that more than 40% of the shares are owned by Private Equity investors who bought the shares at higher prices. Guess what happened to Ambow? Ambow's shares were halted in March 2013 at $0.94, and ordered into provisional liquidation on June 11, 2013.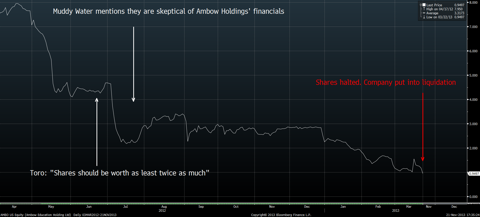 Click to enlarge
(Click to enlarge)
Interestingly, Muddy Waters had been critical of Ambow in their report on New Oriental Education (NYSE:EDU) in July 2012:
We are skeptical of the financials of several of EDU's publicly-traded financials of several of EDU's publicly-traded peers, specifically Ambow Education Holdings
Muddy Waters wrote and proved to be correct. Toro reported that it owned 4,344,536 shares of Ambow as of December 31, 2012, or about 8.1% of the company. We estimate Kwon's investors lost about $15m on Ambow's shares.
Interesting note: Ambow was audited by PWC, just like NQ is. NQ and Kwon toss around PWC's name as some sort of a guarantee that their financials are real. From past experience, the fact a Big-4 auditor signed the numbers for the company, does not give it much credibility in the wake of fraud allegations. Sino Forest was audited by E&Y, Longtop Financial was audited by Deloitte, which was also the audited of choice for other Chinese frauds, including CCME. The bottom line is that a Big-4 auditor is not a guarantee against fraudsters. Kwon should know that from his experience with Ambow, but for his own reason, prefers to ignore it
Toro seems to have lost a lot of AUM - Institutional Investor reported that at the end of 2011, the firm managed about $120 million. Investors either lost confidence or money - or both. This drop in assets mirrors Kwon's previous experience as Friendster's fourth CEO. He rode that puppy down from a value of $50 million to only $3 million in 10 months. When he was appointed CEO, it wasn't smiles all around. John Doerr might have seen the disaster coming - he resigned right after Kwon got the job. Some way or another Kwon managed to fall up after that debacle, and ended up at TPG.
0-8? Really?? Actually not.
In trying to defend his investment in NQ, Toro's Kwon decides to try and discredit Muddy Waters work with distortion of the facts in Muddy Water's track record. Indeed not all of Muddy Waters calls have been proven correct, but in reality, most of their calls (certainly their "frauds" calls) have been proven correct. Kwon claimed Muddy Waters had a track record of 0-8 in IPOs. To anyone who cares to check, this is actually clearly false.
Let's examine Toro's claim on Muddy Waters record. In reaching his 0-8 record figure, Kwon lists Muddy's Carson Block's mentioning at a convention that he is betting on shorting Standard Chartered debt via 5- year CDS. Several newspapers (including the WSJ) quoted Block saying he does not believe Stan Chart's debt costs are pricing the risks the bank is facing in his Asia loan book. Kwon lists this as a flop. Well, the 5Y CDS which was trading at 85 bp is now trading at 114, after touching 200. A gain of 34% so far, assuming Block didn't close his short at the higher prices the CDS has traded since then. So, 0-8? Stan Chart? Really?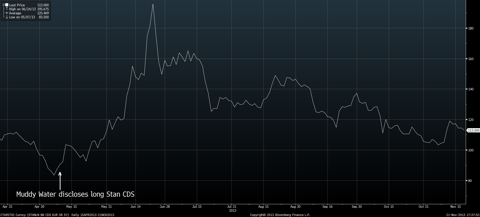 Click to enlarge
(Click to enlarge)
Furthermore, Kwon refers to two incidents where Block made a tweet and an open letter (6 pages) as if these are "reports" by Block. Well, Not in our view. Block may have been wrong on shorting SPRD and VIPS ), but he certainly did not have a full report published on it, and did not call these companies frauds or "Zeros". Kwon also refers to the short report on AMT (Which Block said is overvalued and a Sell, but not a Zero or a fraud), which is up to date 5%, while the market is up 7%.
Kwon misrepresents Muddy Waters' work on Olam, the Singapore commodity trader. The financial media all ran stories about Block calling the short on November 19, 2012 when he spoke at a conference in London and the stock was at $1.74. Olam sued Muddy Waters, and Muddy Waters released a report anyway about one week later. Olam's shares are now at $1.54, down 12% in one year - even after Temasek bailed it out with a $750 emergency injection, only 2 days after Olam's CEO stated that the company does not need or intend to borrow any money for at least 6 months. For comparison, The Straits Times index is UP 8% at the same time.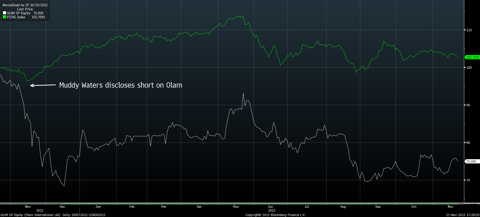 Click to enlarge
(Click to enlarge)
Olam subsequently completely changed its strategic plan because of the short call and board members have resigned. Even just the other day the FT wrote that a lot of investors still have doubts about Olam. But Kwon bluntly comments:
Muddy Waters concerns dismissed by market.
Lastly, Mr. Kwon perhaps did not notice that Duoyuan Global Water (DGW), which was also discovered by Muddy Waters as a fraud, and was subsequently delisted after going to a "Zero", was actually an IPO and not a reverse merger? Kwon claimed that all of the IPOs that Muddy Waters have wrote about were a flock...
Final remarks
To summarize, Kwon's theory is that frauds happen only is small reverse mergers and cannot happen to NQ. Kwon quotes a professor with no public track record of investing as saying:
The vast majority of Chinese frauds had several things in common. They tended to be micro-caps, they were rarely audited by reputable accounting firms, their sell-side coverage and corporate access were effectively non-existent.
Sino Forest was audited by E&Y, had a market cap of about $6 billion, and was covered on the debt and equity sides by numerous major firms. CCME was audited by Deloitte, had a peak market cap close to $1 billion, and it's largest outside investor was arguably the most experienced American investor in China - Hank Greenberg of CV Starr. Duoyuan Global Water was audited by Grant Thornton, and was owned at one time by Oberweis Asset Management. Orient Paper was audited by BDO. Longtop was a Goldman Sachs IPO, was audited by Deloitte, had a market cap around $1 billion before crashing, and was defended by analysts at big banks. Ambow, as Kwon and his investors have found out, was audited by PWC, NQ's auditor.
We rest our case.
Disclosure: I have no positions in any stocks mentioned, and no plans to initiate any positions within the next 72 hours. I wrote this article myself, and it expresses my own opinions. I am not receiving compensation for it (other than from Seeking Alpha). I have no business relationship with any company whose stock is mentioned in this article.