I think Apple (NASDAQ:AAPL) shareholders can be excused from taking a bit of victory lap this week. This especially applies to those of us who said "Damn the Torpedoes" and added to our positions when the share price dipped under $400 a share in late June. Sentiment was almost universally dismal back then just before the beginning of a new product cycle.
How quickly the tide has turned. Apple has been on fire or "En Fuego" over the past few months (See Chart). Although the shares have advanced over 40% from their recent lows, I still think the shares have some additional upside. The company added to its recent win streak with a couple of important announcements over the past 24 hours.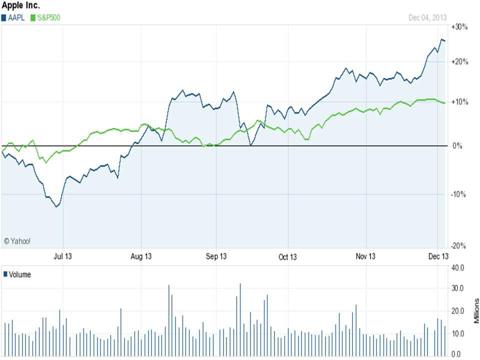 Click to enlarge
(Click to enlarge)
The China Mobile Deal -
The much anticipated distribution deal with China Mobile (NYSE:CHL) looks like it has finally been consummated. This will be huge for both companies. Apple gains access to China Mobile's over 750mm subscribers. To put this in perspective, this is seven times more subscribers than market leading Verizon (NYSE:VZ) in this country. This should substantially boost revenues and earnings from the Middle Kingdom. One analyst has already called for an additional 17mm iPhone sales in China for 2014 on the back of this deal.
I am hoping the deal has similar positive impacts to what the deal with Japan's NTT DoCoMo (NYSE:DCM) has created, which I highlighted recently. China Mobile should see a substantial boost in data traffic/revenue as well as Apple users drive more traffic than any other smartphone users.
The Icahn Effect -
Noted activist Carl Icahn announced yesterday that he will keep the pressure on Apple to accelerate using more of its ~$140B cash hoard to repurchase stock. Mr. Icahn has graciously come down from his previous demand of buying $150B in stock to "just" $50B in 2014.
I do not think Mr. Icahn will get his wish, but it will keep Apple's use of its cash hoard in the spotlight. I do expect some increase to the company's buyback program and dividend payout at some point in 2014 which will be positive for the stock. In meantime, the company is returning roughly $10B a quarter to shareholders via dividends and buybacks which is quite impressive as it stands.
Momentum -
UBS jumped the China Mobile deal by upgrading Apple to "Buy" from "Neutral" earlier in the week and by taking its price target to $650 a share from $540 a share previously. On the back of the China Mobile news I expect myriad of upward revisions to EPS & revenue estimates for 2014 from several major analyst firms. Also look for more price target hikes like the recent one from UBS in coming weeks.
Valuation -
It is hard to believe the stock has run up more than 40% in short order but still trades at less than 9x forward earnings once you subtract cash on the balance sheet. This is almost half of the overall markets forward multiple of ~16. The new versions of the company's iconic iPhone and iPad franchises are continuing to sell well and margins are holding up. Earnings should increase 10% to 15% in 2014 and I think Apple is well positioned to continue to outperform the market over the near term. BUY
Disclosure: I am long AAPL. I wrote this article myself, and it expresses my own opinions. I am not receiving compensation for it (other than from Seeking Alpha). I have no business relationship with any company whose stock is mentioned in this article.