Pedro de Noronha is the Managing Partner and Portfolio Manager at London-based hedge fund Noster Capital, which invests globally following a value investing philosophy focusing on absolute returns.

Before forming Noster Capital in September 2007, Pedro de Noronha managed the European Special Situations Portfolio for the Proprietary Positioning Business at JP Morgan. Prior to this, Pedro de Noronha was a mergers and acquisitions analyst for the energy team and global debt markets associate covering Portugal and Italy at Merrill Lynch.

We had the opportunity to ask Pedro about his single highest conviction holding in his hedge fund.
• • •
Seeking Alpha (SA): Thanks for participating in this series, Pedro. What is your highest conviction stock position in your fund - long or short?
Pedro de Noronha (PN): Our highest conviction holding is our long position in Golar LNG Limited (NASDAQ: GLNG).
The company is engaged in various segments within the LNG (liquefied natural gas) industry. Golar LNG owns five LNG vessels that are currently serving long-term contracts with various high quality counterparties that include Petrobras (NYSE:PZE) and BG Group. Three of the vessels serve as Floating Storage and Regasification Units (FSRUs) and two as traditional LNG carriers.
The company also owns approximately 70% of Golar Energy LNG Limited, a subsidiary that owns another eight vessels and which was recently spun out as a separately listed entity (Oslo Bourse: GOLE NO). Golar Energy's eight spot vessels trade either on the LNG tanker spot market or are serving under contracts that will soon expire. It also owns interests in various LNG-related projects.
SA: Can you talk a bit about the industry/sector? How much is this an industry pick as opposed to a pure bottom-up pick?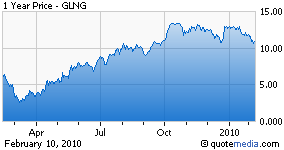 PN: This investment is a combination of a bottom-up analysis supported by the strong tailwinds of an industry that has extremely promising macro fundamentals – that's the combination that we focus on here at Noster.
The LNG tanker market was oversupplied during the past few years due to severe construction delays at major liquefaction plants around the world. Indeed, the vessels were built and delivered on time, but many had no cargoes to ship as the world was very short LNG. This is now in the process of changing, as these liquefaction plants are now ramping up and we believe the $17,500 TC day-rates that were seen last year were the trough and day-rates of $80,000 are more in line with a tight LNG tanker market. Golar Energy's spot vessels will be a direct beneficiary of this.
SA: Can you describe the company's competitive environment? How is this company positioned vis-à-vis its competitors?
PN: As one of the largest independent owners of LNG tankers – and the market leader in FSRUs – Golar is extremely well positioned to capitalize upon the emerging strength of the LNG tanker market – likely the one shipping sector that will exhibit a material tightening in the next three years. Competitors include privately held BW Gas, Hoegh and Exmar ((EBR:EXM)).
SA: Can you talk about valuation at GLNG? How does valuation compare to the competitors?
PN: There are no pure play competitors to Golar. However, there are ways to evaluate the current valuation. Golar LNG's management has stated that it intends to dividend out all free cash flow (post debt amortization) generated by its five contracted vessels, likely commencing in Q2/2010. Dividends should be in the range of $1.10 per share.
Applying the current 9.00% yield of Golar's closest competitor in terms of contracted LNG shipping vessels, Teekay LNG Partners (NYSE:TGP), to the prospective dividend of $1.10 per share implies a share price of approximately $12.20. To that one must add the current market value of its interest in Golar Energy, or $4.30 per share, to arrive at an aggregate $16.50 per share of value. Currently, Golar LNG is trading at $10.70, or a 35% discount to that implied value.
However, the real upside is in Golar Energy - which is materially undervalued on cash flow basis if one looks out 2-4 years. The stock is currently trading at NOK 10.20, or approximately $1.70 per share, and we believe that in due course Golar Energy will be earning $1.00-$1.50 in FCF/share (increased spot rates, new FSRU contracts, liquefaction in Australia). There is enormous upside and we are getting it all for free by owning GLNG – something we like to refer to as a "free call". In addition, both stocks trade at less than the current net liquidation value of their fleet, offering us a substantial margin of safety in our investment.
SA: What is the current sentiment on GLNG? How does your view differ from the consensus?
PN: These stocks are small, having a combined market cap of just north of $1bn and therefore fall below most people's radar. Also, a massive amount of work is needed to understand each company's prospects and many funds are simply not prepared to do that level of work. In addition, these stocks are long-term (2-4 year) plays, which are unsuitable for most hedge funds due to the shorter term needs of their LPs.
All these items work to our advantage as we are prepared to do our homework and have a very sticky capital base. Interestingly, the sell-side has recently turned extremely bullish on these two names.
SA: Does the company's management play a role in your position? If so, how?
PN: The management is led by the founder, and largest shareholder, John Fredriksen. We always look for investments where our interests are well aligned with the management/main owner of the company. No one in the shipping world has delivered a greater amount of shareholder value over time than Mr. Fredriksen and Mr. Troim. It is our understanding that Golar is a top 3 priority for them. The executive teams of both companies are seasoned industry veterans, led by Graham Robjohns at Golar LNG and Oscar Spieler at Golar Energy.
SA: What catalysts do you see that could move GLNG?
PN: New FSRU contract awards and a final investment decision at Golar Energy. The commencement of a dividend in Q2/2010 for Golar LNG should be another catalyst.
SA: What could go wrong with this stock pick?
PN: As none of the upside in either company is currently priced into their valuations, any lack of execution should limit the downside risk. Indeed, the management could sell all the vessels, pay off the debt and still create more cash than the current combined market value.
Of course, anything can happen in a bad tape but we are comfortable enough to buy more if Mr. Market offered us a ridiculously cheap price.
SA: Thank you very much for sharing your thesis, Pedro.
PN: My pleasure.
Disclosure: Noster Capital is long GLNG
If you are a fund manager and interested in doing an interview with us on your highest conviction stock holding, please email Rebecca Barnett: rbarnett@seekingalpha.com