The 2014 FIFA World Cup will be the 20th FIFA World Cup, an international men's football tournament, which is scheduled to take place in Brazil from 12 June to 13 July 2014.[1]
It will be the second time that Brazil has hosted the competition, the previous being in 1950. Brazil will become the fifth country to have hosted the World Cup twice, after Mexico, Italy, France, and Germany.
I do promise that this is an investment article, but apologize in advance if I get carried away with the beautiful game. I ask that you bear with me. An understanding of which countries are represented, and possible winners, is relevant to who will make some money.
The World Cup has already been going on for about two years. We are now getting down to the finals when only 32 countries compete for the coveted FIFA World Cup Trophy. The host nation, Brazil, is the clear favorite to lift the trophy for the sixth time. We should look at who else will be there.
The Teams and The Group Stage.
The 32 qualifying nations come from the 6 continental federations governed by FIFA. The federation and the number of countries representing them are listed below. The number next to each country is the FIFA world ranking, this denotes how likely they are to win. Although Brazil is ranked 11th, they are considered by many to be favorites due to the home field advantage. They also, as hosts, automatically progress to the Second Stage. Economically what is important is that, supporters from all 32 of these countries will be in Brazil for at least the first 2 weeks of the competition. The overweight attendance of teams from UEFA (Europe) is also significant as the competition takes place during regular vacation time. You will also notice that there are a disproportionate number of developed counties which is also economically significant.
Thanks again to Wikipedia.
With the exception of Australia the AFC and CAF nations are normally poorly supported by traveling fans. This was not as true for CAF nations at the last World Cup due to their proximity to the host nation South Africa. The same should also be true this time round for the CONCACAF and CONMEBOL contingents. With the exception of the USA, there is a real cultural connection that will also drive attendance. If we consider an average traveling fan base of 100K, then we end up with an influx of 3.2 million people. Just a little smaller than the population of Ireland or New Zealand.
Once the group stage is over, we move into the knock out stage. From then on the fan base will dwindle until there are just four teams left. Two teams playing for 3rd and 4th on July 12: two more playing in the final on July 13th.
So, how to make some money?
With such a huge global fan base there are a multitude of possibilities. In no way do I intend the few suggestion I make here to be an all inclusive list. I consider this to be a jumping off point, something to wet your appetite and encourage you to do some research of your own. I have looked into the individual finances of the company listed here but, they have been chosen because of their position in, or relationship to, this particular event.
Getting There
There are a lot of people that will need airline tickets. Not only do people need to get to Brazil, once they are there they need to travel to the various cities that will host their games. As we all know Brazil is a big country. Internal travel by fans will generally involve a flight too. An easy way to play this may be LATAM Airlines Group S.A. (NYSE:LFL) NYSE.
"LATAM Airlines Group S.A. is the new name given to LAN Airlines S.A. as a result of its association with TAM S.A. LATAM Airlines Group S.A. now includes LAN Airlines and its affiliates in Peru, Argentina, Colombia and Ecuador, and LAN Cargo and its affiliates, as well as TAM S.A. and its subsidiaries TAM Linhas Aereas S.A., including its business units TAM Transportes Aereos del Mercosur S.A., TAM Airlines (Paraguay) and Multiplus S.A.

This association creates one of the largest airline groups in the world in terms of network connections, providing passenger transport services to about 150 destinations in 22 countries and cargo services to about 169 destinations in 27 countries, with a fleet of 310 aircraft. In total, LATAM Airlines Group S.A. has more than 51,000 employees and its shares are traded in Santiago, as well as on the New York Stock Exchange, in the form of ADRs, and Sao Paulo Stock Exchange, in the form of BDRs. "from the company's website.
They are well positioned in South America, and fly to every city in Brazil that is hosting matches. Lower fuel prices should also help to expand margins next year. Those of you who read my "Quick picks 2014" article know that certain airlines are a recurrent theme. DO NOT end up with a portfolio full of Airlines. The company has been concerned with revenue loss due to currency exchange.(caused by a weakening BRL) as a result they have relocated parts of the operation to aid in stability. They may not provide you the same BRL leverage as some of the other ADRs listed here, but they also have less exposure.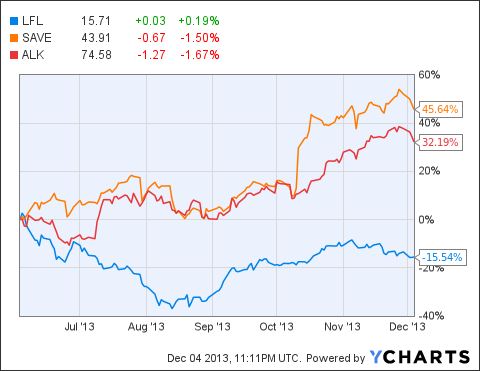 As you can see it has definitely under performed my other airline picks. I think it is time for that to change.
From the Nov 12th 2013 conference call
"We are very pleased this quarter to show a strong improvement in our operating results, with an EBIT margin of 7.6% and net income of $52 million. Our strong results are driven by the continued improvement in TAM's domestic operations in Brazil, by the rationalization of our international passenger operations and continued synergy and efficiency initiatives.

In the domestic Brazil passengers operations, financial results have improved significantly over the last year as a result of our strategy of continued capacity reductions and improved market segmentations and revenue management practices. TAM continues to reduce domestic capacity with a 9% ASK reduction for the first 9 months of 2013. Our strategy enabled TAM to improve low factors and to increase revenue per ASK by 19% in Brazilian real during the third quarter, as compared to the third quarter last year."
To be honest they have had a tough year restructuring. I do wish I had bought them in the lows this August. Last quarter they swung back to profitability. The may end the year a penny or two in the red, but next year is a winner. Analysts estimate EPS $1.05, that is double what they were doing in 2012.
In 2012 they traded for $25- $30. I am not saying they will hit $60 but a return to $30 seams likely. A straight double from here.
There are plenty of other carriers to look into, but the listing on the NYSE makes this one easy to own. I also feel they are a little under appreciated right now.
Communication
In the modern tech filled world those fans are not going anywhere without their smartphones. Uploading game shots, snapchats and pictures of last night's party for the entire visit and paying a pretty penny to do it. I like Telefonica SA (NYSE:TEF) as the largest player in the region.
Even without the World Cup going on Telefonica should still be on your watch list. In fact waiting until next year to get in may be waiting too long. In October Telefonica added 1.66 million subscribers in Brazil through their subsidiary Vivo. That takes the overall number to 77.4 million just in Brazil.
Current Stats (from Yahoo Finance)
Price$15.86
| | |
| --- | --- |
| Price/Sales (NYSE:TTM): | 0.94 |
| Price/Book (mrq): | 2.67 |
| Market Cap (intraday)5: | 71.66B |
| Forward Annual Dividend Rate: | 0.94 |
| Forward Annual Dividend Yield: | 5.70% |
TEF announced Q3 earnings last month (Euros); EPS decreased 0.01 to $0.25 from Q2. It was however still 0.04 ahead of Q1 which was 0.20. Revenues were slightly up and they dealt with a whole lot of debt. I have skimmed over it to get to the important bits. Tucked away in the release were these statements;
"-- At the end of September, Telefonica Group's customer base reached 320.3 million accesses (+2%) and in mobile access, strong year-on-year growth of the contract sector stands out: 9% across the group and 79% in Latin America. Mobile broadband access now accounts for 27% of mobile accesses, reaching 67.4 million accesses in September (+41%).

-- In Spain, revenue continued to gradually stabilise its evolution and the intense effort to transform the business continues to be reflected as significant improvements to efficiency, allowing an OIBDA margin of 50.2% reached in the quarter.

-- Brazil beat a new record for the company with a net quarterly gain in mobile contracts of 1.5 million accesses, which represents capturing 64,5% of the market growth. At the same time, the landline segment continued to improve its operating evolution, also accelerating customer acquisition in fixed services."
They later continued the good news with,
"Telefonica Latinoamerica further accelerated year-on-year growth (+10.9% year-on-year in the third quarter; +0.6 percentage points compared with the second quarter), whilst Telefonica Europe continued its gradual improvement (+1.7 percentage points compared with the year-on-year change in the second quarter to -7.1% year-on-year). Besides, Telefonica Digital revenue performance was particularly remarkable, growing 17.9% year-on-year in the third quarter in organic terms and including both digital services, already comprised in Telefonica Latinoamerica and Telefonica Europe regions, and subsidiaries and other businesses of Telefonica Digital new businesses. Excluding the negative impact of regulation, consolidated revenues in organic terms increased 2.0% compared with January-September 2012, posting strong growth acceleration in the third quarter to 3.9%. By region, Telefonica Latinoamerica remained the Group's growth driver, accounting for 51% of total revenues in the first nine months (+2.6 percentage points year-on-year)."
Yeah, 51% of total revenues. That's about 7 million Euros for Q3 alone. For the first nine months of 2013 it is 1,605 million Euros. This in a year when the company is saying, that the weak Brazilian Real has negatively impacted performance. Taking currency exchange into account, revenues fell by 8.4%. You can imagine how well they would do in a good year. Next year I am expecting weakness in the Dollar and Euro, TEF's earnings from South America could insulate them from this. It could even benefit them at the rate they are growing.
So let's look at what the stock has done in the last month since the announcement.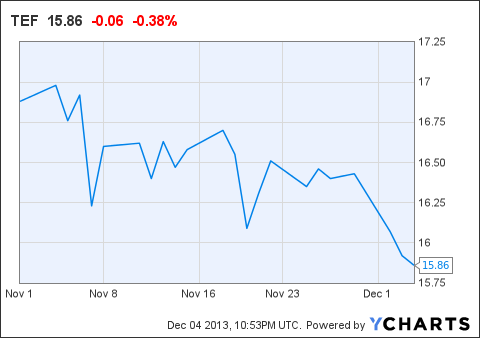 Not too much love there.
Current P/E is 13.50. A conservative estimate for next year's earnings would be 1.62. Even at today's low multiple we see a low ball price $22 over 30% upside. Taking into account currency, The World Cup and a decant PE of 18.00, I have no problem getting to $32 a straight double from here.
Banking
Everyone is going to need some spending money. Both Mastercard (NYSE:MA) and Visa (NYSE:V) stand to make some extra money off of this: Visa is also an official partner to FIFA. I think that there may be more money to be made in ATM fees and travelers checks. For that reason take a look at Banco Bradesco SA (NYSE:BBD), Citigroup Inc. (NYSE:C) American Express (NYSE:AXP) may benefit from both card fees and travelers checks. Ok so lets look at BBD.
SA Contributor Matt Fortune gave us a great article on BBD back in September.
The opening paragraph
"A great way to profit from the secular trend of a growing middle class in Brazil is to invest in full-range financial services provider Banco Bradesco ADR (BBD). Global Finance magazine names this financial services company the best bank in Brazil in their "World's Best Emerging Markets Banks 2013.""
Since then the stock has not really acted the way we would like.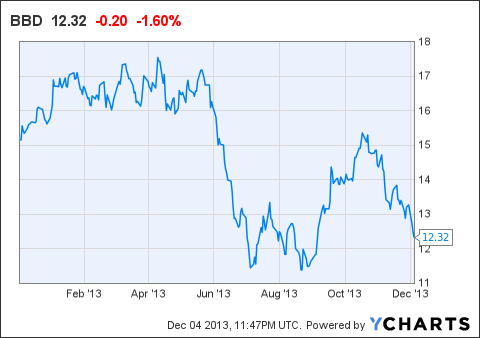 If you read Matt's article he is right, BBD really should do well. So why are they not?
Last quarter's Conferance Call:
"Good morning, everyone. We deeply appreciate your attendance to our third quarter 2013 conference call. In the third quarter of 2013, the global scenario was marked by the continued financial market volatility. Dictations that the U.S. will begin reducing monetary stimulus had a relevant impact on financial asset prices. As a result, long-term interest rates moved up globally and the emerging consequences depreciated strongly, that U.S. will take decisions not to taper stimulus in September brought some relief to the markets. The Brazilian Central Bank has been working on reducing inflationary pressure, establishing the confidence on the economic margins and ensures that both low income gains and microeconomics predictability are maintained. We, therefore, continue to see favorable prospect for the Brazilian economy, that includes [ph] our growing [indiscernible] that are both sustainable and compatible with risk while delinquencies shown signs of decline. Consequently, given the continuing upward social mobility, the outlook for the banking and insurance industries remain favorable. Within this context, Bradesco keeps investing in technology and its urgent growth pillars of our strategy to gain market share in the banking and insurance market."
Roughly Translated, "It was our fault."
On the bright side if you continue reading you discover that, loan delinquencies are down 12% for the first 9 months of the year, They have a ton of cash that pile is getting bigger. Efficiencies improved etc etc etc. However the have failed to meet estimates. I contend that missing Analysts estimates by $0.01 per share, in a year when you had 13% currency devaluation is forgivable.
Estimates for next year are EPS of $1.47 and should have BBD trading between $18 and $20.
In recognition of Matt's fine work I will finish with his closing comments.
"I am long BBD because of their impressive infrastructure of bank/express bank branches/ATMs, best-in-class Internet/mobile device online banking, growing insurance business with sustainable competitive advantages, and brand recognition as the best financial services provider in Brazil, servicing a growing middle and upper class of consumers and businesses."
Unlike some World Cup locations, Brazil has a reputation as being somewhat dangerous. This is mainly based on fear and the economic inequality that exists in the country. At previous competitions like France, Italy and Germany fans were happy to wander all over any host city trying local delicacies etc. It is more likely they will stay closer to event complexes in Brazil. This presents some additional opportunity for the official sponsors like, (NYSE:MCD) McDonalds Corp and (NYSE:BUD) Anheuser-Busch InBev SA who will have retail locations set up on site. Oh oops, nearly for got Coca cola (NYSE:KO)
Conclusions
This was in no way supposed to be a definitive list. There is a plethora of other possibilities including accommodations, travel companies and shirt manufacturers. Thankfully you have a little bit of time left to do some research. I have focused on the ADRs as most of the others should be well known to you.
There may also be implications for the BRL from a currency point of view. There will be an increase in demand and it should be large enough to move the needle. BBD is the most levered to this LFL the least.
Disclosure: I have no positions in any stocks mentioned, and no plans to initiate any positions within the next 72 hours. I wrote this article myself, and it expresses my own opinions. I am not receiving compensation for it (other than from Seeking Alpha). I have no business relationship with any company whose stock is mentioned in this article.
Additional disclosure: This article may contain certain forward-looking statements. I have tried, whenever possible, to identify these forward-looking statements using words such as "anticipates," "believes," "estimates," "expects," "plans," "intends," "potential" and similar expressions. These statements reflect my current beliefs and are based on information currently available. Accordingly, such forward-looking statements involve known and unknown risks, uncertainties and other factors which could cause actual results, performance or achievements to differ materially from those expressed in or implied by such statements. I undertakes no obligation to update or provide advice in the event of any change, addition or alteration to the information contained in this article including such forward-looking statements.