Core Molding Technologies, Inc. (NYSEMKT:CMT) is a company in the plastics business. According to Reuters they fall under the Basic Materials sector, in the Rubber & Plastics industry. From their latest 10-Q (found here): Core Molding Technologies is a compounder of sheet molding composites "SMC" and molder of fiberglass reinforced plastics. It's processing capabilities include the compression molding of SMC, vacuum assisted resin infusion molding, spray up and lay up processes. It produces high-quality fiberglass reinforced, molded products and SMC materials for varied markets, including medium- and heavy-duty trucks, automobiles, personal watercraft and other commercial products. Learn more about CMT here.
Core Molding Technologies until recently had only two major customers - PACCAR Inc. (NASDAQ:PCAR), and Navistar Inc. (NYSE:NAV). Major customers are defined as customers whose sales individually consist of more than ten percent of total sales during any reporting period. Take a look at the most recent 10-Q's breakdown of sales: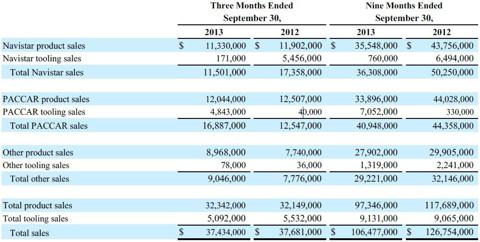 Click to enlarge
As you can see, Navistar and PACCAR currently make up 72.5% of CMT's total revenues for the year. Similar to an investor who only owns shares in a couple of companies, it's obviously very risky for a company to have only a couple of customers. Navistar and PACCAR are both in the same industry - "Heavy Machinery & Vehicles" (aka Trucks). Notice that CMT's sales are also down 16% YoY, but are about the same compared quarterly. The reason for the decline in sales facing CMT right now is that the industry of their two main customers has been down this year. Coincidentally, it's down the exact same percentage (16%) as CMT's sales this year:
(click to enlarge) (source: Google Finance)

Click to enlarge
I know... so far it seems like I'm making a poor case to be bullish on Core Molding Technologies. But despite the recent poor performance on CMT's books, CMT's stock has been soaring, up 72% YTD (as of submission time) and outperforming the S&P 500 by a wide margin this year:
(source: Google Finance)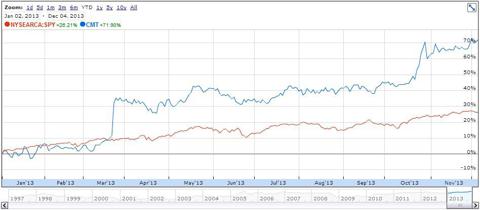 Click to enlarge
The reason driving the stocks rapid increase in share price this year can be attributed to CMT's announcement of a new business deal with Volvo (OTCPK:VOLVY) in March of 2013 (notice the corresponding jump in price on the above chart). Per the deal, CMT would be producing heavy duty truck hoods, roofs, and other parts. Regarding the deal: "Core expects the new business to generate annual revenues of approximately $26-$30 million and anticipates revenues beginning late in the second quarter and ramping up by the fourth quarter of 2013."
The Volvo deal is a fantastic one for tiny Core Molding Technologies, Inc. for a number of important reasons:
It alone represents a 20% increase in current annual revenues
It adds a third major customer to help diversify from their current dependence on PACCAR and Navistar
It proves they have a product that is valuable to the industry, in demand, and being marketed well
However, revenues from the deal did not start flowing in as soon as they were expected to, as noted by CEO Kevin Barnett during the most recent earnings call on Nov. 7th: "Although a little slower than originally anticipated, we now have the production tools in place for our new business with Volvo Group North America and we expect the ramp up of this business to contribute about $5 million of revenue in the fourth quarter. The new Volvo business contributed less than $1 million to revenues in the third quarter."
Despite the recent run-up in price due to this new deal with Volvo, I believe there is significant room for CMT to continue running. Here's my reasons why:
1. Improving outlook in the trucking industry.
CMT's main three customers - PACCAR, Navistar, and Volvo - have been suffering through a down industry this year. The outlook for them has improved recently, however. As has the outlook for the vehicle plastics manufacturing industry as a whole, as this article suggests sales growth is expected to get back on track with the double-digit numbers of the initial post recession years. ACT Research, one of the analysis and forecasting leaders in the commercial vehicle industry, just indicated that new orders for class 5-8 vehicles are exceeding all current trends and expecations. November orders were up 26% YoY and so far total orders for 2013 were up 11%. This is largely due to the fact that the nation's trucking fleet has been at it's highest average age for the past few years. As these older trucks reach the point where their serviceable lives have come to an end, newer trucks will have to be ordered to replace them, and that's precisely what we're beginning to see.
Next year is projected to be a hugely improved year across the board, as the following table shows:
(sources: Reuters Global, Yahoo! Finance)

Click to enlarge
Along with the impressive growth estimates, recent analyst upgrades are also reflecting the sentiment that the auto/truck industry as a whole is in for a massive 2014. NAV has been the subject of numerous upgrades, and PCAR also received an upgrade on October 31. It bodes well for Core Molding Technologies if their main customers are going to have improved years and revenue growth, as some of that should filter it's way down to CMT. As the vehicle manufacturers have new orders to fill, so will Core Molding Technologies.
2. Attractive Fundamentals.
CMT is the cheapest stock in its industry, using a number of valuations. It also has better margins and less debt than competitors. See the table below:
(click to enlarge) (sources: Reuters Global, Yahoo! Finance)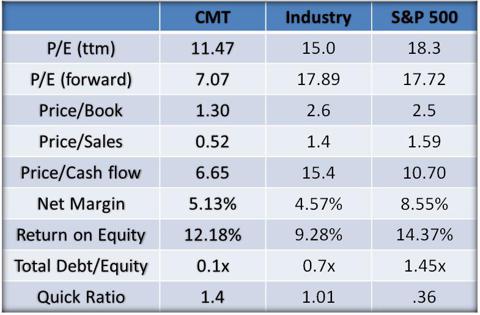 Click to enlarge
3. Institution and Insider Buying
Institutional ownership in CMT is rather high compared to other stocks of a similar market cap - over 53%. They also have a very low short interest of 0.21% Between 2nd and 3rd quarters, the institutional ownership increased by 3%. Fund managers are actively buying shares of CMT. This is usually a good indicator that a stock is going to do well.
The most recent insider activity was also a purchase. Director J. Matthew purchased 6500 shares of CMT at $9.37/share on September 3, 2013.
It's safe to assume that when both insiders and institutions are buying a stock that it is going to go up in price. Those guys are in it to make money too, just like us average investors.
4. Introduction of New Products to Meet New Fuel Economy Demands
The R&D team at Core Molding Technologies has been busy, and their hard work has recently paid off with the introduction of their new AiriLite brand of sheet molding composite. They already were industry leaders with their prior generation Featherlite products.
Core's new Airilite™ brand of SMC has a nominal density of 1.18 sp.gr., 38 percent lower than the 1.9 sp.gr. density of industry standard SMC formulations. Airilite ™ is also 17 percent lower in density than Core's Featherlite™ SMC, which has a nominal density of 1.43 sp.gr. and was introduced in February, 2011, after several years of development work. (source: Yahoo! Finance)
Said Terry O'Donovan, VP of Marketing and Sales: "We know our customers are relentless in their desire for improved capability in composites, and especially for low density formulations that perform well. Our Featherlite™ system advanced the industry with the lowest density SMC available without the use of glass microspheres," he continued. "As our customers strive to continuously reduce the weight of their products, we have responded by pushing the envelope again and creating a material that offers significant advantages to them. We now have two industry-leading, low-density SMC formulations to offer our customers as they design new products," he concluded.
In an environment of ever-increasing demands for fuel efficiency in trucks and vehicles, CMT has been leading the way to provide manufacturers with lighter, stronger materials to assist in meeting those demands. As long as they continue to spearhead efforts into newer and better materials, you can assume their customers will continue returning to purchase from them. The Airilite and Featherlite SMC systems are industry leading products, vaulting CMT in front of their competitors by offering customers ways to accommodate more stringent fuel economy requirements of today. It looks as though CMT wants it to stay that way as they continue to bolster their R&D departments and reinvest capital in their core business areas. The returns on these investments and new product lines has not been fully realized yet and should continue to add to CMT's revenues for the next few years.
Calculating a Target Price
To calculate a price target for CMT, I'll be using some numbers from the above charts and tables, as well as other company and industry numbers I obtained from Reuters and Yahoo! Finance. I decided to go with the price/sales ratio beginning in step four out of personal preference. You could just as easily substitute price/book, price/earnings, EV/EBITDA, etc.
To begin, I averaged the revenue growth of CMT over the past 5 years. Result = 15.05%
Next, I averaged the projections for next year's revenue growth for CMT's three main customers (VOLVY, PCAR, NAV) with their commercial vehicle industry average projection. Result = 46.8%
I combined these two results to come up with a projection for CMT's sales growth for 2014 (this takes into account their past sales growth as well as that of their major customers expected growth) Result = 30.93%
CMT currently trades at a P/S ratio of 0.52; their industry trades a bit higher at 1.4. The mean of these two is 0.96, a good reference point that I think the ratio should approach in the coming year. Historically, CMT trades at a P/S ratio of 1.01 (ten year average) close to the 0.96 I'll use.
Using 30.93%, 2014 revenues for CMT would be $192.7 M.
With 7.41 M shares, this amounts to $26.01 rev/share.
Using the three different P/S ratios (current - 0.52; mean - 0.96; industry avg - 1.4) I come up with the following price targets:
$13.52, $24.96, and $36.41 per share
Now, these calculations assume that CMT's revenues will grow at the 30.93% rate that I came up with by averaging their historical growth with the projected commercial vehicle industry growth. I believe this is a likely scenario - one should take into account CMT's past performance and weigh that with expected growth of their market.
If you want to play it safer, use the much smaller projected 2014 revenue growth for CMT's plastics and rubber industry: 4.4%
Using 4.4%, 2014 revenues for CMT would be $153.7 M
With 7.41 M shares, this amounts to $20.74 rev/share
Using the three different P/S ratios again (current - 0.52; mean - 0.96; industry avg - 1.4) I come up with the following price targets:
$10.78, $19.91, and $29.03 per share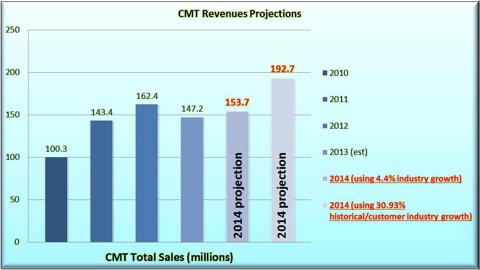 Click to enlarge
*Notice the 2014 projections are calculated using the baseline of 2013's total sales numbers, which aren't in yet. I estimate $147.2M based on the $106.5M already reported for the first 9 months of 2013, and adding last year's Q4 total of $35.7M as well as the expected additional $5M in new Q4 revenues from the Volvo deal. In my eyes, this is a reasonable estimation - the actual total will be announced in the Feb. earnings release.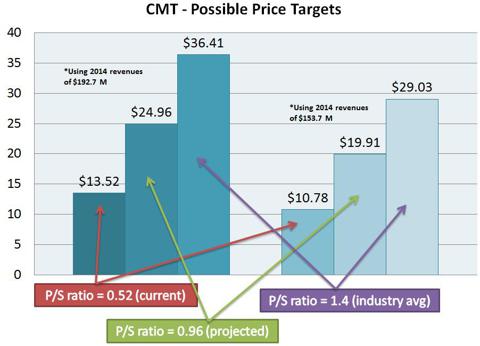 Click to enlarge
Looking at these 6 possible target prices you'll notice that even with the most conservative calculation method, the price of $10.78 represents a downside risk of only 5.3%. This is calculated using the measly industry average growth projection of 4.4%, and keeps CMT at its current P/S ratio of 0.52 - unlikely, but it's the safest estimation.
The most liberal of the calculation methods results in a target price of $36.41 - a potential 220% return on investment from today's share price! Not bad. This is assuming that CMT's sales grow at the 30.93% projection and their shares trade up to the industry P/S ratio of 1.4. Again, unlikely. So if you're like me, you're going to quit dreaming and go ahead and just throw that price target out.
I'm looking at a target right in between the two middle results - $19.91 and $24.96. I think that CMT sales will grow strongly in the coming year, and I also think that their Price/sales ratio will begin to creep back up to its historical levels and closer to that of their industry. Thus, combining those two middle price targets takes both those expectations into account in a more realistic and safe manner. I like CMT to hit over $22/share by this time next year.
Risks
Investing in small-cap stocks is inherently risky. CMT in particular trades with low volumes, thus making it susceptible to violent price swings should bad news break regarding things like decreases in orders, being unable to meet customer demands, or management lowering guidance. Also, although unlikely due to their decent cash position, should CMT decide to raise capital via a stock offering/dilution the above calculations and price targets would be off, and the share price would drop accordingly. If you do decide to invest in CMT, please follow closely any developments pertaining to the company so you can be best prepared to accommodate any changes.
Conclusion
Currently only one analyst covers shares of Core Molding Technologies, Inc. and has it rated as a "Strong Buy" with no price target. I've set a price target of $22.45 based on the calculations in this article. This represents a return of just under 100% from today's share price. One of the biggest risks associated with CMT - only having 2 major customers - was mitigated this year with the announcement of the Volvo deal. Purchasing shares of CMT is an opportunity to own a well-managed company that has shown continual signs of growth, and looks to maintain that growth well into the future. The share price should accordingly reflect this and reward investors with a great 2014 on top of an already amazing 2013.
Disclosure: I am long CMT. I wrote this article myself, and it expresses my own opinions. I am not receiving compensation for it (other than from Seeking Alpha). I have no business relationship with any company whose stock is mentioned in this article.