We estimate that Microsoft's (NASDAQ:MSFT) Xbox business, where the company competes with Sony (NYSE:SNE) and Nintendo (OTCPK:NTDOY), constitutes less than 3% of the $30.53 Trefis price estimate for Microsoft. This implies that the Xbox business is valued at slightly less than $9 billion.
There are three key factors that we consider for Microsoft's Xbox business:
Xbox Selling Price will Decline to $170
We believe pricing declines will continue as component costs fall, competition remains intense and gaming console alternatives like PCs and handheld devices (iPad, iPod Touch, PSP) become less expensive. We estimate that the average price of an Xbox console sold in 2010 will be about $235 and that this will decline to nearly $170 over the Trefis forecast period.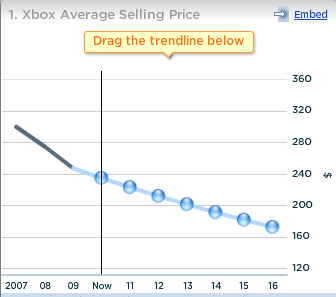 Xbox Market Share Will Increase to 14%
We expect that pricing declines will continue to make Xbox an attractive platform for many gamers. In addition, the number of games available on the Xbox will continue to grow which will help the Xbox to retain market share.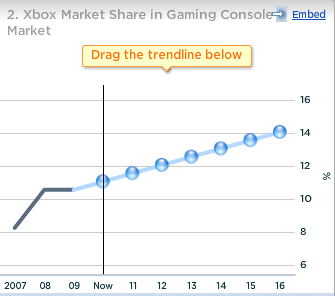 Gaming Console Market Will Increase to Nearly 140 Million Units
We believe the number of gaming consoles sold will increase from about 100 million in 2010 to nearly 140 million by the end of the Trefis forecast period as gaming continues to become a more mainstream form of entertainment. Consoles like Nintendo's Wii have succeeded at creating new gamer audiences and we believe the Xbox and PlayStation will also seek to appeal to a wider audience of potential gamers.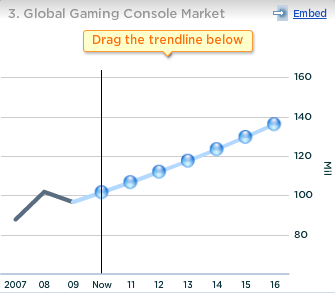 Disclosure: No positions