When we first wrote about NQ Mobile (NYSE:NQ) back on October 1, 2013 we mentioned how the short interest for NQ Mobile was continually rising even as the stock price soared back then. At that time we asked a contact of ours to see if he can shed some light on the matter. As we mentioned in our article, he told us the majority of the short positions seems to be from one or two hedge funds based in Hong Kong. These hedge funds were so confident in their short position in NQ they were just shorting more and more shares at any price.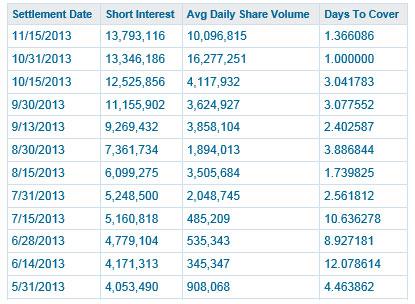 After the recent plunge in the stock price of NQ Mobile, the hedge funds shorting the stock were indeed correct and did very well on their shorts positions. However it seems now shorts are still building a larger overall position on NQ. As of November 15, 2013 the short interest for NQ rose to another all time high at 13.8 million shares.
We asked our contact again early last month to see if he was able to obtain more recent information on the hedge funds shorting NQ. Recently he was able to get in touch with a colleague who had talked with an employee of a hedge fund that had been shorting NQ heavily before the Muddy Waters report came out accusing NQ Mobile of fraud.
Based on what our contact has relayed back to us it seems this hedge fund is currently still building a larger overall position because they are now more confident than ever in their short position on NQ Mobile. They are still willing to continue to short every single share that becomes available to borrow at any price even though it is getting harder and harder to find shares because they believe without a doubt that NQ Mobile is going to be delisted in the near future. To them it is not a question of if but when. They also expect the SEC to be looking into the company soon if they haven't started already.
Given how confident some of the hedge funds shorting NQ are, even the most risk tolerant investors should perhaps consider hedging any long positions they may have on NQ Mobile.
NQ Inmotion Website Now Taken Down By NQ Mobile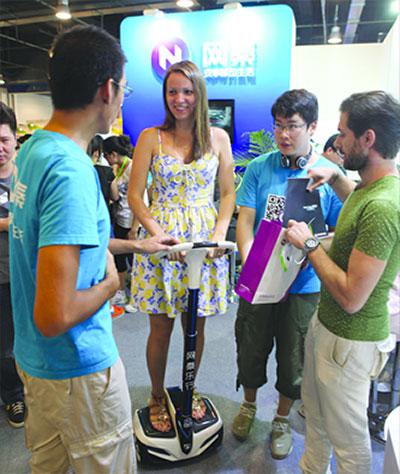 Now onto some updates from our previous article. We previously questioned why NQ Mobile would be selling Segways-like transport devices called NQ Inmotion and how could it possibly be related to their core mobile apps business.
The URL of the website for NQ Inmotion was inmotion.nq.com but soon after our previous article was published it seems NQ removed all traces of NQ Motion from their websites. The URL for NQ Inmotion now redirects back to the Chinese homepage of NQ Mobile. In addition, any trace of NQ Inmotion has been taken down from their Chinese homepage. NQ Inmotion used to be featured front and center by the company (as seen below).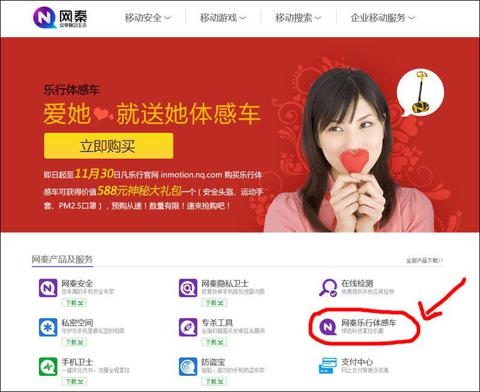 However now there's no mention whatsoever of NQ Inmotion on their Chinese webpage. Why would NQ take such action? Do they have something to hide? Does this mean we now can no longer order NQ branded Segways knockoffs?
Either way we decided to look further into the NQ Inmotion and found the ones actually producing these personal transport devices is a Shenzhen based company called Inmotion SCV, with SCV being short for Sensor Control Vehicle. It seems earlier this year NQ Mobile had set up a RMB 60,000,000 (about US $10 million) venture fund and Inmotion SCV was one of the companies that NQ's venture fund had invested in.
Now why would NQ invest in a sensor control vehicle company? As it turns out an investor posed a similar question on xueqiu.com, a Chinese version of Seeking Alpha or StockTwits. Dr Henry Lin Yu, Co-Ceo and Co-Founder of NQ Mobile, actually answered the question on there.
Dr Lin's response translated to English is: "NQ Mobile invested in sensor control vehicles because we believe that next generation intelligent mobile robots are the next multi-billion dollar industry. In the future we will combine NQ's audio and image search technology with sensor control vehicles to produce intelligent mobile robots."
Intelligent mobile robots? To us this sounds even crazier than just selling their own rebranded personal transport devices, which is already a stretch for a mobile software company. Is NQ Mobile trying to become the next iRobot (NASDAQ:IRBT) as well in addition to becoming a mobile platform company? Well good luck with the "intelligent mobile robots" then Dr. Lin.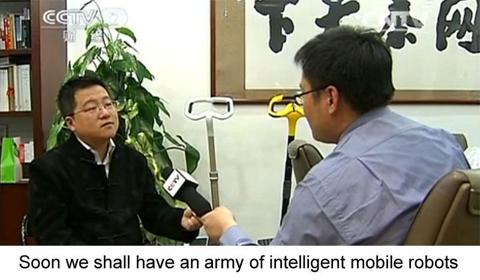 And as we suggested in our previous article, it seems the NQ Inmotion may very well be a pet project of Dr Lin's. You can see that he keeps a few of them in his office from the picture above.
FL Mobile Games Removed/Banned by Apple Due to Ranking Fraud & Malware?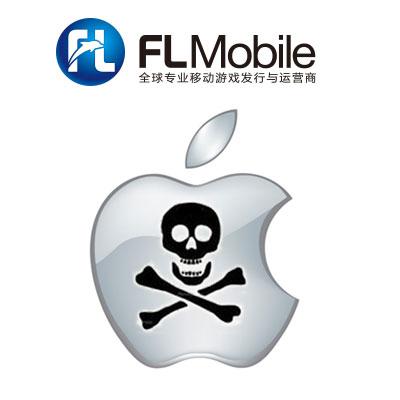 However before NQ Mobile starts building those "intelligent mobile robots" perhaps they should first work harder to get all the games from FL Mobile, their mobile gaming division, reinstated on Apple's App Store. We initially let investors know how many FL Mobile games were removed by Apple in an article dated October 29, 2013 and how they were still down in our previous article dated November 26, 2013. We recently contacted some app developers to see if they can provide some color on why Apple would take such action against FL Mobile.
We were told that at the very least FL Mobile seems to have been engaging in ranking fraud on the Apple App Store. As a brief description, ranking fraud in this context is using fraudulent actions to boost an app's ranking so they would appear in the top downloads list on an app store. This in turn gives that app more free exposure, which leads to more real downloads and potentially more revenue for that app. Ranking fraud is usually achieved through software which creates millions of fake downloads for an app in order to get it to appear under the top downloads lists under the Apple App Store or other app stores.
Ranking fraud can be help confirmed by seeing how rankings are wildly changing on an hourly basis for some of FL Mobile's removed/banned games on iOS in the past. Below is an example for one game that FL Mobile published called "QQ御剑 - 飞流至尊版" or "QQ Swordsman - Feiliu Extreme Edition" in English. This is one app among many others which was removed by Apple from their App Store.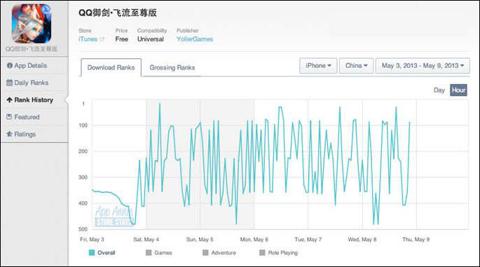 From what we were told, under normal circumstances rankings for an app should not fluctuate so dramatically. It wouldn't be ranked in the top 50 to as high as the top 5 in one hour and then under 300-400 the next. The sharp spikes in ranking are usually caused by when fake downloads are being rapidly generated. Then after the fake downloads are stopped the rankings would plummet back down again.
However ranking fraud alone would generally not cause Apple to ban or remove all of a developer's apps. If that was the case then app developers could simply use this tactic on their competitor's in order to get them removed. Sometimes Apple may prevent an app from showing up on their top downloads lists if ranking fraud is discovered.
To cause all of the apps under a developer to be removed or banned would require much more serious infractions. According to the app developers we talked to, a complete ban of a developer account by Apple is usually because of issues such as malware, spyware, other user privacy violations, fraudulent billing practices, copyright matters, or security related concerns.
If in fact it was malware related then this wouldn't be the first time FL Mobile (aka Feiliu) is accused of such actions. In the past the Chinese media and others parties have accused FL Mobile of using malware or spyware. The March 2011 CCTV report on NQ Mobile and FL Mobile infecting their own users with viruses for profit is pretty well known by now.
However more recently in an interview dated November 9, 2013, the main director of the CCTV expose, Wen Yin, still stands by all the claims. His response translated to English roughly says:
"Feiliu (FL Mobile) has not actually provided any factual evidence refuting our claims. They did not even say which parts of our report were wrong. They claimed the issue is related to a version number and even said they were being framed by competitors. A lot of companies that have been exposed would say they were being framed. Why would CCTV do such a thing? Now the two companies (NQ Mobile and FL Mobile) have pulled any statements saying our report is incorrect and was taken down. They have now also apologized to us."
It certainly seems like FL Mobile is a "bad apple" so to speak. Although they are far from being the only Chinese software company to engage in shady antics such as malware or app rankings fraud.
Hesine Technologies/Hissage iSMS - Another Suspicious NQ Investment?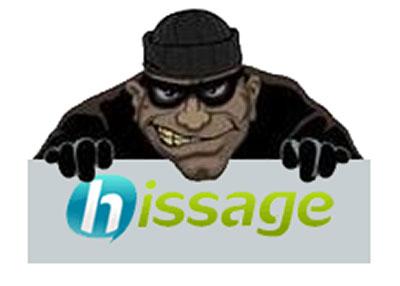 In our previous article we also mentioned how recently NQ Mobile management was touting their joint venture with MediaTek for Hissage and their iSMS mobile messaging platform as being so successful. The company stated there are now over 2 million daily users for iSMS.
Although taking a closer look, having 2 million daily users for a messaging app is not really as impressive as NQ is trying to make it sound. Some investors may see the 2 million daily users number and jump to the conclusion that means monthly active users could be over 30 or 50 million. However this would be a highly incorrect assumption.
First off investors should take a look at what iSMS is. It is an app which combines text messaging, instant messaging, email, social networking, and blogging. Generally most smartphone users that use these functions would almost use at least one of them daily. So total monthly users should only be slightly higher than the 2 million daily users.
As a comparison WeChat, Tencent's text and voice messaging app, now has over 270 million active monthly users. Therefore iSMS appears to be fairly irrelevant when it comes to mobile messaging apps and is just more PR fluff from NQ Mobile.
More concerning though is when we took a closer look into NQ Mobile's investment into Hesine Technologies, the developer of Hissage iSMS. NQ Mobile acquired a 33% stake in Hesine in August of 2012. According to NQ Mobile in their Q3 of 2012 earnings release:
"Equity investments, referring to those investments made on equity instruments, were $16.4 million as of the end of third quarter of 2012 compared to $6.7 million as of the end of second quarter of 2012 because the Company made minority equity investments in three mobile internet companies in the third quarter totaling $8.7 million of which the investment in Hesine Technologies contributed $6.4 million."
Therefore NQ Mobile paid $6.4 million in August of 2012 for a 33% stake in Hesine Technologies. This would value Hesine at around $19 million at that time. However we discovered that MediaTek themselves only paid a total of $1.9 million to acquire all of Hesine Technologies back on September 15 of 2010.
So it is extremely prudent to question did the value of Hesine really increase 900% or 10 times from $1.9 million in September of 2010 to $19 million in August of 2012 in just a little less than 2 years? Or did NQ Mobile drastically overpay for their 33% investment in Hesine and this is another one of NQ Mobile's acquisitions/investments that should be filed under the suspicious list?
Was there really a fundamental shift that increased the value of Hesine Technologies ten-fold in only 2 years? Perhaps NQ merely overpaid for their 1/3 stake of Hesine due to incompetence? Or is there something suspicious going on behind this equity investment?
Baidu Should Be Releasing Their Own Mobile Security Apps Soon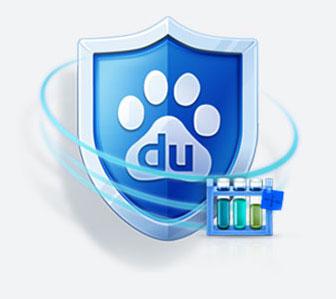 In our previous article we also talked about the competitive landscape for mobile security apps in China and how NQ Mobile has to go against bigger and much more well positioned companies like Qihoo (NYSE:QIHU) and Tencent. We also mentioned that we believe Baidu (NASDAQ:BIDU), the Chinese search engine giant, would be releasing their mobile security app soon seeing how they already released their own PC antivirus software recently. Now we found some more concrete evidence.
Earlier this year Baidu had already purchased a mobile security firm called TrustGo Mobile. We also discovered that Baidu in September of 2013 has already registered copyright names/trademarks for two different apps which appears to be mobile security related. You can view them here and here.
One of them is "百度杀毒反病毒软件" which translates to "Baidu Virus Killing/Anti-Virus Software". The other is "百度防骚扰软件" which translates to "Baidu Anti-Harassment Software".
Furthermore we found that Baidu has a website which translates to Baidu Security Labs in English. On the website users can upload Apk files (Android application package files used to install apps) to check if they contain anywhere viruses or malware.
So it seems Baidu releasing their own mobile security app is a forgone conclusion. With Baidu entering the market though the competitive landscape for mobile security in China will become tougher. Unlike NQ Mobile which operates under a freemium model, Qihoo, Tencent, and Baidu can afford to give away their apps completely free in order to gain market share.
Conclusion
It seems with NQ Mobile everywhere you look there are more suspicious activities and red flags that pop up. Investors should provide with extreme caution.
Disclosure: I am short NQ. I wrote this article myself, and it expresses my own opinions. I am not receiving compensation for it (other than from Seeking Alpha). I have no business relationship with any company whose stock is mentioned in this article.
Additional disclosure: While I hold a short position on NQ at the time this article was submitted, I have been actively trading NQ both long and short the past month. I may continue to do so in the near future.