A three-day market sell-off and a recent dividend cut has created a significant pullback and buying opportunity in the high-yielding shares of Fifth Street Finance Corp. (NYSE:FSC). This business development company or "BDC", invests in a wide range of industries including healthcare, manufacturing, energy, defense, technology, marketing and others. Its broadly diversified investment portfolio reduces risks for investors and it generates strong returns which are then paid out in the form of a monthly dividend to shareholders.
The company appears to have been a bit too generous with the dividend when considering quarterly earnings and this led to a recent dividend cut. It was paying a regular dividend of about 9.58 cents per share on a monthly basis and it reduced it to 8.33 cents per share. The 8.33 cent per share will next be paid to shareholders on record as of January 15, 2014. However, another dividend is coming soon as the company will also pay 5 cents per share to stockholders on record as of December 13, 2013.
The company recently reported net investment income of 24 cents per share for the quarter ended on September 30, 2013. This level of earnings is enough to cover the new dividend rate which means it appears sustainable and the pullback in the stock means that even after the dividend reduction, the stock still yields about 11%. Furthermore, in spite of the pullback in the stock, the company did report some positives (which the market appears to be ignoring for now), including the fact that it approved a new $100 million share buyback, and that book value is $9.85 per share. The decline in the stock seems to have been exacerbated by a three day sell-off in the market and that has created an even more ideal buying opportunity for a number of reasons:
1) Aside from the potential downside of a recession, investors in business development companies have to consider the potential for secondary offerings and dividend cuts. However, these potential risks appear extremely low now because this company did a secondary offering a few months ago at higher prices and (as mentioned above), it has just authorized a $100 share buyback as the shares trade below book value. Since the company has reduced the dividend to a sustainable level that is in line with recent earnings, that risk also appears minimal.
2) A billionaire is bullish on this high yield stock: According to Forbes Magazine, hedge fund billionaire David Einhorn is one of the richest men in the world. He founded Greenlight Capital which has produced very strong results over the years. Mr. Einhorn has purchased nearly 2 million shares of Fifth Street Capital, which is yet another reason why investors should consider this stock now.
3) With the stock trading near 52-week lows, it could be experiencing some tax-loss selling pressure. However, this could mean that the stock has potential to rebound sharply in the final days of December and into January as tax-loss selling fades.
4) Analysts are bullish: Just days ago, an analyst at J.P. Morgan (NYSE:JPM) reiterated a bullish view on this stock with an overweight rating and set a $10 price target. A recent Benzinga article details the bullish view and belief that the current dividend is secure, it states:
"Fifth Street Finance had a disappointing 4QFY2013, with a dividend cut, lower than expected NII/sh, and NAV dilution. The market seems to have recalibrated expectations lower, as shares traded down approximately 7% since reporting earnings. We are lowering our PT to $10, but with a secure 10% dividend yield and shares trading at a slight discount to NAV, we maintain our Overweight rating."
5) Other analysts are also bullish: On November 27, 2013, an analyst at UBS reiterated a "buy" rating and set a price target of $10.50 per share for Fifth Street. This is even higher than the target set by J.P. Morgan. This target implies more than $1 of upside or about 12%, and shareholders will be rewarded with a high monthly dividend while waiting for a rebound in the stock price.
6) The stock is now extremely oversold with the relative strength index or "RSI" now at about 18. When stocks have an RSI of about 30 or less, it is considered to be oversold and therefore possibly due for a rebound. By taking a look at the chart below you can see how oversold the stock is now, and with a high yield and solid fundamentals, this stock could be poised to rebound soon. In addition, the chart shows that this stock traded for about $9.30 per share in June which is when it last bottomed out. That turned out to be an exceptional buying opportunity as the stock rebounded by about 10% from that oversold level in just around 6 weeks. The fact that this stock is now back at around $9.30 could be indicating that it has strong support at this level, and it also could be putting in a technically bullish "double bottom" right now: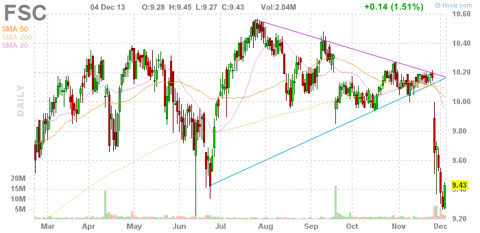 Click to enlarge
7) A dividend payment is coming soon: Investors who buy now will be entitled to receive a 5 cent per share dividend (the ex dividend date is December 11), and in just about four weeks, the regular January dividend of 8.33 cents per share will be coming up. That means investors who buy now and hold through mid January will be able to receive a total of 13.33 cents per share in a short time frame which can be used to further reduce the cost basis of this stock. This is even more relevant if you are planning to buy the stock as a trade for a potential rebound from currently oversold conditions.
Here are some key points for FSC:
Current share price: $9.40
The 52-week range is $9.27 to $11.13
Earnings estimates for 2014 (fiscal year): $1.03 per share
Earnings estimates for 2015 (fiscal year): $1.07 per share
Monthly dividend: 8.33 cents per share, which yields about 11%
Data is sourced from Yahoo Finance. No guarantees or representations are made. Hawkinvest is not a registered investment advisor and does not provide specific investment advice. The information is for informational purposes only. You should always consult a financial advisor.
Disclosure: I am long FSC. I wrote this article myself, and it expresses my own opinions. I am not receiving compensation for it (other than from Seeking Alpha). I have no business relationship with any company whose stock is mentioned in this article.