The credit crisis may not be over for Greece. It may not be over for Dubai. In fact, there's always the possibility that the other shoe will drop.
Yet, ever since the big banks cemented their collective viability with a "too-big-to-fail" designation, preferred financial stock assets have been remarkably consistent. For example, over the last 7 months, PowerShares Financial Preferred (NYSEARCA:PGF) has been one of the most steady, yield-producing ETFs in existence.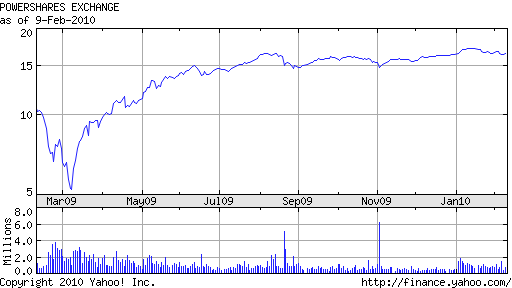 For some folks, PowerShares Financial Preferred (PGF) might be a solid alternative to reaching for high yield (junk) bonds. Keep in mind, junk bonds often move in concert with stock assets. What's more, junk bonds carry below-investment-grade ratings.
However, the average credit quality of the preferred shares in PGF is BAA/BBB (a.k.a. investment grade). In addition, absent "Financial Armageddon," preferred shares are more bond-like in their boredom. (Note: The boring result has been a SEC 8% annualized yield!)
When it comes to low volatility, high income, decent credit quality, the PowerShares Financial Preferred (PGF) may be tough to beat. However, what if you're intrigued by high income potential, but you still wish to pursue a capital appreciation component? Then you may wish to look at the JP Morgan Alerian MLP Index Note (NYSEARCA:AMJ).
With AMJ, you get exposure to a portfolio of energy MLPs in a single investment. You receive quarterly distributions (6.25% annualized) that far surpass most income streams. The energy MLPs themselves typically own the pipelines that transport crude oil and natural gas throughout the country, with supply and demand driving MLP price more than the commodities themselves.
Capital appreciation? Yeah… it's done that. While most stock assets have been busy correcting, the JP Morgan Alerian MLP Index Note (AMJ) has manged to hit higher highs.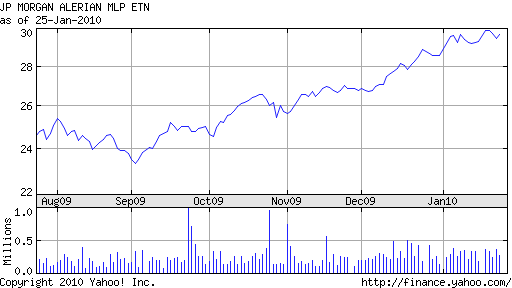 Disclosure Statement: Gary Gordon, MS, CFP is the president of Pacific Park Financial, Inc., a Registered Investment Adviser with the SEC. The company and/or its clients may hold positions in the ETFs, mutual funds and/or index funds mentioned above. The company does not receive compensation from any of the fund providers covered in this feature. Moreover, the commentary does not constitute individualized investment advice. The opinions offered herein are not personalized recommendations to buy, sell or hold securities.