Symantec (NASDAQ:SYMC) recently reported a decline in the EBITDA margin (a measure of profitability) of its Norton Antivirus flagship software product. We have updated the Trefis price estimate from $25.24 to $23.82 (versus market price of $17.04) in part to reflect continued margin declines for Norton.
Below we highlight the significance of Norton for Symatnec and how the margin declines will impact the company's stock.
Norton Constitutes 32% of Symantec's Stock Price
Symantec provides security software to both consumers and businesses that help them block malicious software and spam emails as well as provide protection from phishing programs. Norton Antivirus is most the popular Symantec software product among consumers and we estimate that it constitutes around one-third of the Trefis price estimate for Symantec's stock.
Norton Antivirus EBITDA Margin Declines to 36%
Norton has seen declining EBITDA margins in the past few years due to high research and development (R&D) expenses as well as high selling, general and administrative (SG&A) expenses. To retain its customer base, Symantec has been expending resources to improve how Norton runs on PCs. A chief complaint amongst customers is that Norton antivirus consumes too much PC resources when in operation leading to slower performing PCs. Symantec's Norton Antivirus 2010 and Internet Security 2010 are designed to operate more quickly and efficiently compared to previous versions of Norton.
The proliferation of complex malware means that Symantec will need to continue investing heavily R&D to combat threats. Complex malware such as Conficker and Clampi recently attacked the websites of banks and financial institutions and extracted confidential information such as passwords and credit card details. Such occurrences keep demand for Symantec's products high but also cost Symantec in terms of R&D expenses.
We estimate Norton Antivirus Software EBITDA margin to decline to about 36% by the end of Trefis forecast period as result of rising R&D and SG&A costs for Symantec. You can modify our Norton EBITDA margin forecast to see how Symantec would be impacted by higher than expected margin declines.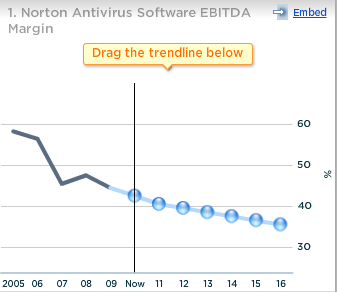 Disclosure: No positions