Farm equipment maker Agco Corp. (NYSE:AGCO) reported a higher than expected quarterly profit on Tuesday, and raised its guidance for fiscal year 2010. While fourth quarter 2009 income fell year-over-year 65 percent, the net profit of $33.5 million, or 35 cents per share, beat analyst consensus expectations of earnings of 31 cents per share.
The company also raised its 2010 sales outlook, forecasting revenue in the range of $6.6 billion to $6.8 billion, up from an earlier forecast of $6.4 billion to $6.6 billion, and this despite projected weak earnings (a net loss of between 10 to 15 cents per share) during the first quarter, along with temporary plant closings in order to lower inventory levels. Shares rose 4 percent on the news.
Agco attributed the sales decline to ongoing world-wide credit constraints and decreased farm income. While North American sales were down about 42 percent and in Europe by about 27 percent, sales in the Asia-Pacific region saw a 62 percent improvement and South American sales rose 3.5 percent. The company saw the largest decline in the sales of lower horsepower tractors in North America due to continued weakness in the landscaping, residential construction and dairy sectors.
Bullish outlook
We remain bullish on Agco, as we believe agriculture is currently an undervalued sector within the current "Generational Opportunity" (please see our Seeking Alpha article on Grains), and that demographic conditions in non-North American markets will be key in driving the company's future sales higher for years to come.
Simplistically, growing populations spur the demand for more food, while mechanized machinery offers a good means for increasing production while offsetting costs. Ironically, declining populations also spur the demand for mechanized machinery, as declining labor forces generally lead to higher labor costs, which in turn spurs the demand for cost-saving mechanized solutions, such as offered by Agco.
Geographical expansion
The company in recent years has increased its presence in Eastern Europe–primarily Russia, Ukraine and Kazakhstan–which has immense amounts of farmland, but in many areas a declining pool of laborers. The company believes that there is significant demand for its machinery in the region, but does not see this demand being fully met until credit markets recover. Agco is also increasing its presence in China, anticipating that the country's expected farm consolidation in coming years will lead to the need for larger, high-horsepower tractors, which are Agco's core product. And Agco has a strong market position in Argentina and Brazil, the latter of which has been on a farming expansion boom driven by its role as leading exporter of soybeans, sugarcane and coffee.
Low debt
While Agco's competitors, Deere & Co. (NYSE:DE) in particular, will also benefit from demographics and improving credit markets, we feel that Agco's share price has a bit more room for movement to the upside. The company is significantly less leveraged than Deere, with a long-term debt to equity ratio of 0.13 compared to Deere's at 2.13. Agco also has the more favorable price to sales ratio, 0.42, compared to Deere's at 0.92; and a more favorable P/E, 14.61, compared to Deere's at 24.45. Not that we're bearish on Deere, and it should be noted that Deere does come with a dividend yield of 2.30 percent.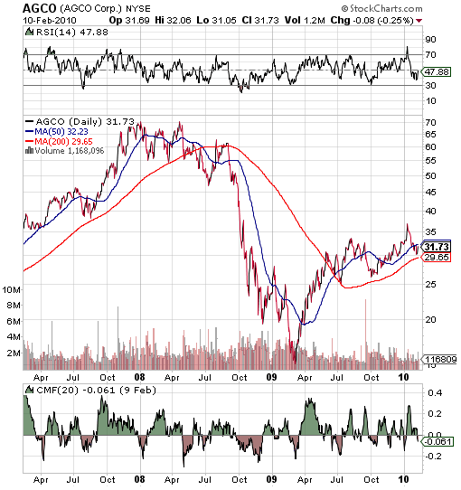 Click to enlarge


Disclosure: No positions, but AGCO is featured in our model portfolio.