ZaZa Energy (NASDAQ:ZAZA), together with its subsidiaries, is involved in the exploration and development of unconventional oil and gas resources in the United States. With properties mostly located in the Eaglebine/Eagle Ford East Shale plays, and strategic joint venture agreements with established oil players in place, ZaZa looks like a lucrative investment candidate at this point.
Business Overview
Here's how the company describes itself -
Headquartered in Houston, TX, ZaZa Energy Corporation was formed in 2012 by the merger of Toreador Resources Corporation and ZaZa Energy, LLC.

ZaZa's executive leadership team brings a proven track record and singular focus on creating value through the drill bit. With over 25 years average experience, this tenured group possesses the unique ability to identify conventional and unconventional oil and gas reserves, move quickly, and provide proof-of-concept for maximizing the value of ZaZa's portfolio of assets. Their collective knowledge base, utilization of advanced technologies, and forward thinking has resulted in the identification and appraisal of over a dozen industry plays and the successful drilling and completion of more than 7,500 horizontal wells globally.
Investment Thesis
ZAZA focuses on making early moves into potential plays by performing extensive geological evaluations followed by careful acquisition of contiguous acreage in 'sweet spots' of organically rich plays. This has proved to be beneficial for the company given that ZAZA has managed to achieve first mover advantage in one of the richest portions of the Eagle Ford play giving it a strong competitive edge.
ZAZA has a history of identifying great potential areas of interests. During 2010 and 2011, the company drilled 11 successful proof-of-concept wells and 19 appraisal wells in northern, central, and southern LaSalle County. The company also drilled a proof-of-concept well in the eastern Gonzales County in the same year (2011), which, incidentally, has an estimated ultimate recovery of 5,00,000 barrels of oil equivalent per day.
It is also noteworthy that ZAZA drilled the successful Boening 1H proof-of-concept well in the northeastern Dewitt County in 2012 which gave evidence of the organically upscale Eagle Ford play in that area.
In addition to above, ZAZA's latest accomplishment was the drilling of two new proof-of-concept wells in Walker County. This led to the discovery of 5 new zones which are expected to be highly commercial in times to come. Interestingly, following the drilling of the Boening well, several new wells have been drilled in this area by noted players, which evidences the enormous potential that this play possesses. The following figure clearly demonstrates the presence of numerous noteworthy players in the area.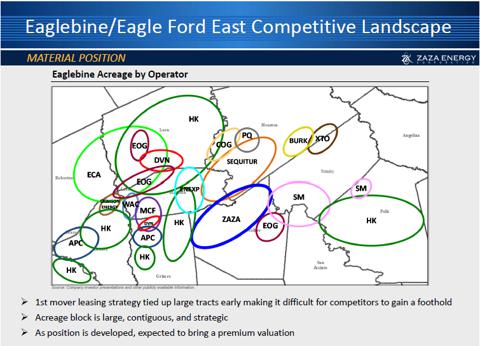 Source: ZaZa Energy Investor Presentation- October 2013
The next 12 months are going to be quite exciting for the company considering that both the joint ventures are set to enter the appraisal and development phases. With both vertical and horizontal wells scheduled to be spud soon, the company has an impressive drilling inventory lined up. The following figure highlights the strengths of ZAZA's acreage in the Eagle Ford play.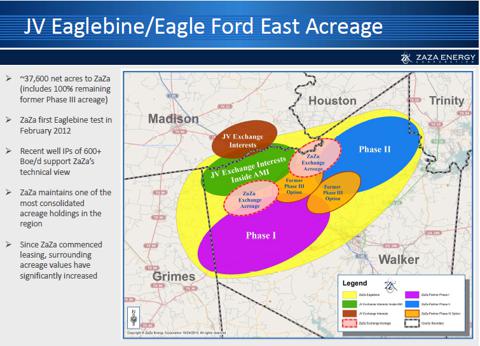 Source: ZaZa Energy Investor Presentation- October 2013
Highlights of the most recent quarter
The most recent quarter saw the company close 3 significant transactions. A brief outline of the same has been given below:
ZAZA sold its Non-Core Moulton Eagle Ford Assets for an approximate sum of $38 million. The strategic divestment enhanced ZAZA's financial stability alongside providing it with enough liquidity to discharge its senior secured creditors, and reduce its liabilities by $73 million.
Secondly, ZAZA entered into a JV with Sabine Oil & Gas to develop some of its assets on the Eagle Ford Shale play. Under the agreement, Sabine will develop around 7,600 acres in the Sweet Home area of the Eagle Ford play along with carrying 100% of the drilling costs of two commitment wells, and up to $750,000 of construction costs for a 75% working interest in the acreage. In the event of successful production of the above mentioned commitment wells, any additional wells spud or acreage acquired shall be shared between Sabine and ZAZA in the ratio of 75:25.
Thirdly, ZAZA executed its third amendment to the Eaglebine/Eagle Ford East Joint Venture with EOG Resources to develop around 1,10,000 acres in the said play whereby ZAZA received a sum of $17.8 million together with production interests in 23 wells carrying a PDP present value of ~ $17 million as per an independent reserves report. The details of the amended JV agreement are shown below: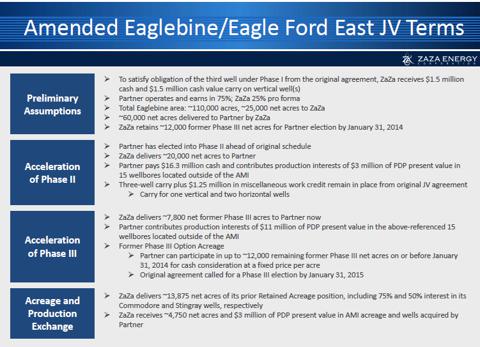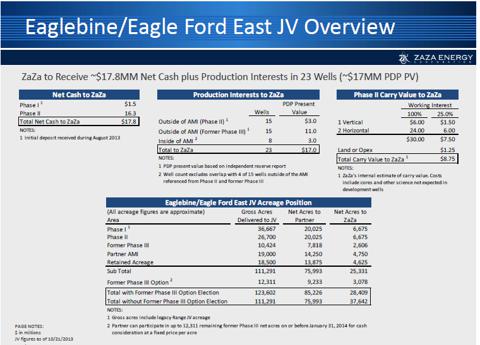 Considering the above developments, I expect to see substantial growth in ZAZA's production base in times to come owing to extensive drilling of appraisal wells through-out 2014.
Alpha catalysts
Let's take a look at the major plusses that ZAZA possesses:
Holds ~110,000 acres in the most organic rich section of the entire Eaglebine/Eagle Ford East play.
Significantly contiguous acreage with high concentration of liquid rich assets forming significant drilling inventory.
Joint-Venture with Sabine Oil & Gas and EOG Resources to develop Eaglebine/Eagle Ford East acreage.
Poised for rapid growth in production with continuous appraisal and development phases coming up.
Strategic divestment of the non-core Moulton Eagle Ford assets for ~ $38 million.
A cleaned-up balance sheet with a reduction of ~ $ 73 million of secured senior notes.
Impressive strategy employing drilling of proof-of-concept wells before entering full scale production.
Impressive Well Economics.
Final Word
In view of the above mentioned catalysts, I believe, ZAZA is carefully moving closer to achieving optimum production levels that will significantly impact the company's top and bottom lines going forward.
In addition to that, ZAZA's plans focused on continued evaluation of the play with a view to increase acreage and production will further add value to the company's stock.
Considering the above, I expect the market to soon realize the immense potential of the stock, and rate the company a definite buy for any growth-oriented investor.
Disclosure: I have no positions in any stocks mentioned, and no plans to initiate any positions within the next 72 hours. I wrote this article myself, and it expresses my own opinions. I am not receiving compensation for it (other than from Seeking Alpha). I have no business relationship with any company whose stock is mentioned in this article.