Life insurance and annuity company Lincoln National Corp.'s (NYSE:LNC) fourth quarter earnings of 90 cents per share were ahead of the Zacks Consensus Estimate of 83 cents. Last year, the company reported a loss of 50 cents. Results reflected growth in average variable account values and included favorable returns on alternative investments helped by rallying equity and bond markets.
GAAP net income for the quarter came in at $102 million, or 27 cents a share. This compares with a net loss of $506 million or $1.98 a share in the same period a year earlier. Total revenue increased to $2.4 billion from $2.2 billion in the fourth quarter of 2008.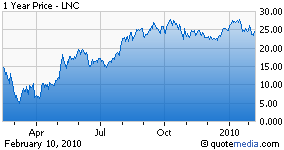 For full year, the company earned $3.18 per share, compared to $3.00 in the last year. Revenues decreased 7.9% year-over-year to $8.5 billion.
Lincoln reported a 3% year-over-year increase in deposits to $4.9 billion; net flows were up 12% year-over-year to $1.5 billion. Ending account balances increased 20% to $141 billion since last year, driven by another quarter of double-digit growth in net flows and equity market appreciation.
Lincoln's Retirement Solutions segment reported $153 million in income from operations versus a loss of $173 million in the prior-year quarter. The gains were mainly due to an equity markets appreciation.
The Life Insurance segment also reported an 86.0% year-over-year increase in income from operations to $188 million.
Book value per share came in at $36.89, down from $42.09 last year.
U.S. life insurers like Lincoln have been weakened by the global financial crisis, hurt by investment losses as well as higher costs on investment-linked retirement products that guarantee returns. The company received government support in the form of TARP funds and has been able to maintain a favorable capital level from additional capital raises.