With the economic data out this morning the fears of tapering are once again running rampant through the market. The fear is overblown and certainly misplaced in our view because if these economic numbers hold up it certainly indicates that rates can in fact move higher and not impact the economy significantly. What seems to be lost upon the market is that we are talking about tapering, not ending. Any tapering action would only signify the beginning of the end, not THE END. That is a huge difference that the market seems unable to distinguish between right now but should become apparent later on.
Commodities are seeing some pressure this morning with the metals taking the brunt of the hit.
Chart of the Day:
Gold remains under pressure and is taking the biggest hit as investors worry about the outlook for the yellow metal with low inflation and an easy money policy coming to an end. We still think that the way to be short gold is long the physical commodity and short the gold equities. It might be cute, but thus far has worked and kept a bit of a safety net for moves to the upside.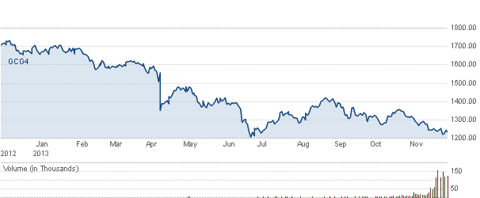 Source: CNBC
Commodity prices this morning are as follows:
Gold: $1,223.70/ounce, down by $23.50/ounce
Silver: $19.29/ounce, down by $0.54/ounce
Oil: $97.39/barrel, up by $0.19/barrel
RBOB Gas: $2.7145/gallon, down by $0.0047/gallon
Natural Gas: $3.991/MMbtu, up by $0.031/MMbtu
Copper: $3.242/pound, down by $0.0295/pound
Platinum: $1,361.50/ounce, down by $14.50/ounce
Alternative Fuels Deal
Although we are not believers in investing in biofuels this early in the cycle, we do like to follow the events in the sector especially when one of the major oil companies is involved. This is why the news that Total, SA (NYSE:TOT) had formed a 50/50 joint venture with Amyris (NASDAQ:AMRS), a company that Total also happens to own roughly 18% of, to develop that company's biofuel technology was interesting to us.
The two companies are nowhere near being able to bring this technology to market and actually produce their targeted jet and diesel fuel markets any time soon, but look to have production in the next few years. We have read about this technology for some years and the fact that it is being rolled out by a large, deep-pocketed oil company indicates to us that there might be some hope that this technology can produce fuels economically.
Oil And Natural Gas
We have seen a number of names experience sharp pullbacks in the sector as of late, but with oil prices rebounding and issues like Iran and missing nuclear materials in Mexico hitting the newswires it seems that now might be the time to start picking up some of the winners that have seen pressure recently. Two names that have caught our eye recently are Magnum Hunter Resources (MHR), which looks attractive from a momentum/technical standpoint in the $6.50-6.75/share range, and EOG Resources (NYSE:EOG), which is one of the best all around E&P plays out there. It will take awhile for the equities to follow the physical commodities higher, but with the big move higher in the underlying commodity prices we have recently stated that we believe that equity prices will follow suit.
We like the pullback and consolidation that has taken place with Magnum Hunter shares. The company has executed recently and we like these levels to begin building a trading position.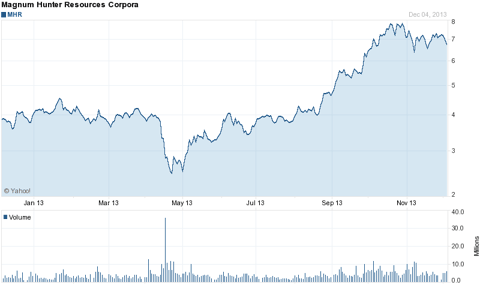 Source: Yahoo Finance
We are admittedly oil bulls and make no secret of it. There are times when we think that prices have gotten ahead of themselves and other times when we think there is true value to be had. After having difficulty in finding true value in recent months this pullback has brought many names back into buying ranges we are comfortable with, namely EOG Resources which we have gone on the record many times as being believers that the company will end up being a consolidator within the shale E&P names so long as one of the "Big Oil" names do not buy them out first. Look for some more deals in 2014 with the bigger names such as EOG entering joint venture agreements to co-develop acreage with smaller names needing capital.
Disclosure: I have no positions in any stocks mentioned, and no plans to initiate any positions within the next 72 hours. I wrote this article myself, and it expresses my own opinions. I am not receiving compensation for it (other than from Seeking Alpha). I have no business relationship with any company whose stock is mentioned in this article.