"Invest in what you know", were Peter Lynch's words. We all know something about food. Given most of us eat several times a day. Lynch was also a value seeker though. On a recent grocery shopping trip, I was filling my cart. Then I thought, I should see if any consumer staple stocks are on sell. Perhaps I can fill my portfolio as too with my shopping cart.
My trip took me to Wal-Mart (NYSE:WMT) but Wal-Mart isn't a food company right? It's a retailer. Cart in hand, off we go.
Who hasn't eaten a P&J?
I've eaten an immeasurable number of peanut butter and jelly sandwiches in my life. Nor am I likely to stop. Their quick, easy clean up, and tasty. So putting that JIF peanut butter into my cart (and Smucker's jelly) made me consider its maker.
The J.M. Smucker Company (NYSE:SJM) is showing earnings per share of $5.29 on a price of $104 giving you an earnings yield of 5%. Not bad considering a 10 year Treasury Bond is only paying 2.75% currently. And there is not much appreciation potential on government debt at this point. Also, SJM dividend will pocket you 2.2% dividend yield.
Is it a good time to put Smuckers in my portfolio along with my cart? Looking at Fast Graphs, SJM is running above its historic PE ratio level. Currently, it's just below 20 on a PE ratio. If the shares drop, I'd take another look at it. I may open my wallet for more than just their products, if the price comes down. All it takes, is one bad quarterly earnings report. That itself could push a good company like SJM into a buying opportunity.
JM Smucker & Co 10 Year FAST Graph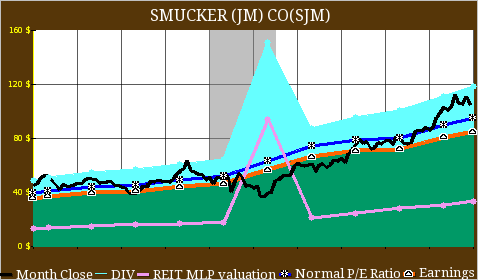 Milk Goes best with that PB&J
What is the prefect beverage to go with your PB & J? Milk, of course. Who doesn't have a big glass of milk to go with their sandwich. So that takes us to Dean Foods (NYSE:DF), one of the biggest names in milk with a market cap of $1.74 billion.
Dean's is a company in a transitional period though. It's focusing on its core dairy business. It spun off a major growth division into White Wave Foods Co. (NYSE:WWAV) after IPOing in 2012. And it also sold off another growth segment in Morningstar for $1.45 billion in January 2013.
Flush with cash, Dean's is looking at making returns to stockholders. Planning a $0.07 dividend in Q1 2014. If the dividend becomes annualized, that gives you $0.28 a share and a yield of 1.52%. While better than no dividend, it's very low in the consumer staples sector.
Dean's has also authorized a $300 million share buyback. If fully carried out, that could wipe out over 17% of the outstanding shares. Executives and directors though often like to reward themselves with shares though. You can't always depend on all those shares being retired.
Given the transitional process just having been completed, DF deserves more research then this article can afford it
Pepsi & Coke also squeeze oranges
The milk section often has bottled orange juice with it. Despite the fair amount of sugar, orange juice seems to wear a halo while soda gets the riot act. And who knows more about sugary drinks then yep, you guessed it, PepsiCo(NYSE:PEP) and Coca-Cola (NYSE:KO).
Pick up a Tropicana and you're paying PepsiCo, while minute maid and simply orange sales goes to Coca-cola. PEP comes in at a P/E of 19.39 and dividend yield of 2.7%. Meanwhile bigger KO sports a P/E of 20.92 and dividend yield of 2.80%.
Pepsi Co 10 Year FAST Graph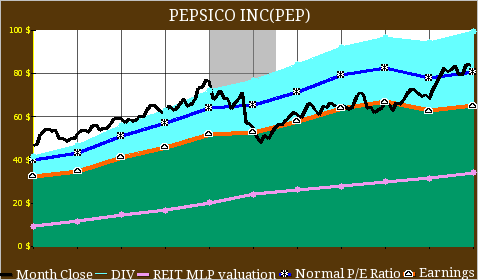 KO being overvalued is a common theme lately. However analyst Nik Modi of RBC Capital Market disagrees. Modi thinks KO shares should rise 25% over the next year. That KO's slow sales growth is only temporary.
I am long KO. In this case I am going to pull an Uncle Buffet (Warren not Jimmy) and sit on it. While I'm not in the mood to buy more, I'm happy to collect my dividends and not pay the capital gains tax. Cash isn't hardly paying anything as an alternative to KO.
Looking at PEP instead, I pulled the FAST graph on PEP for the last 10 years. Just like it's competitor, it's trading hands above its historic PE range. While you can note it had for several years before the recession. It's another company that a correction or a less then great quarter could knock it down. I'd wait for another day.
There's always room for Ice Cream
Many a shoppers last stop before the check out frozen food. Often times for simple pleasure of ice cream. This trip I spied a new guilty pleasure. I already admitted to a love of peanut butter. So when I saw the Reese's Ice Cream Cup , I was sold. Reese's is the largest selling candy brand in the United States. The only thing that shadow's it's name is its owner's own iconic item, the Hershey Bar.
Hershey is one of those enduring legends. You might call it, an only in America story. Milton Hershey made a fortune selling his first company. He then created an even bigger one by starting a new business that survives today. Unable to have children of his own, he left his vast wealth to a school for orphans that bears his name. That school trust remains it's largest single stockholder.
The only trouble is, this stock is not on a small sugar high, it's soared as it if was on rocket fuel!
Hershey 10 Year FAST Graph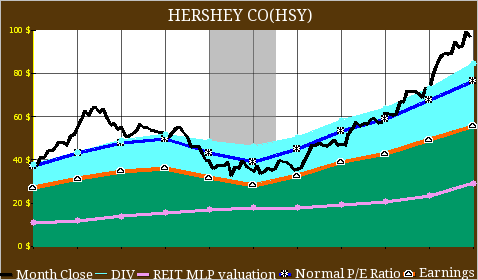 HSY sports a P/E of 28 and earnings yield of just 3.57% (compare with the 10 yr Treasury rate of 2.75% ) and pays a dividend yield of 2%. Currently 80% of their sales are US based. That leaves a lot of potential for oversees growth. That potential is not cheap though. Either the earnings are going to have to rise sharply or the stock is going to have lower. Until then, I'm only buying their treats.
Macaroni and cheese comforts and pays big dividends
An interesting stock for the pure income seeker would be Kraft (KRFT). Its 4% dividend yield alone grabs your attention compared to the other packaged goods vendors much smaller payouts. Its PE ratio is only 17. Which may sound high but in this market, seems fair.
KRFT was spun off from Mondelez International (NASDAQ:MDLZ). KRFT will focus just on the low margin North American grocery segment. So don't expect growth. However it does have huge free cash flows. If it follows the plan, this leaner scaled down food seller will keep paying cash regularly to stockholders.
Great Value is Wal-Mart's brand, and their shares are too
The biggest value in this grocery store wasn't any of its products. It was the store itself, Wal-mart Stores that is. While it's not a food maker, it has become the largest seller of groceries in the United States. Its own "Great Value" offers cheaper generic options compared to the name brand food and drinks.
Wal-Mart 10 Year FAST Graph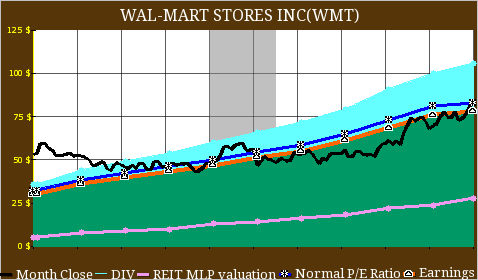 Compared to the food makers, Wal-mart looks like a "great value" itself. With a earnings yield of 6.5% you are way ahead of the other consumer staples mentioned in this article. That makes for a P/E of only 15.5. Which is well within and even under its historic range. Along with it 2.3% dividend yield.
WMT management seems to agree that it's on sale. In the past several years, WMT has less shares outstanding then when the year started. While sales and earnings growth have missed the mark, free cash flows are not. Even better those cash flows are being used to retire shares. $14 billion worth in the last two years alone. Along with paying a dividend that has been increased like clockwork for the past 39 years. Look for 2014 to become year 40 with a dividend hike.
Turns out the best value in the store, was the store itself.
Disclosure: I am long WMT, KO, MDLZ. I wrote this article myself, and it expresses my own opinions. I am not receiving compensation for it (other than from Seeking Alpha). I have no business relationship with any company whose stock is mentioned in this article.