Forest Laboratories (NYSE:FRX) is paying $240 million to Merck (NYSE:MRK) for exclusive U.S. rights to schizophrenia drug Saphris (asenapine) with possible additional future milestone payments.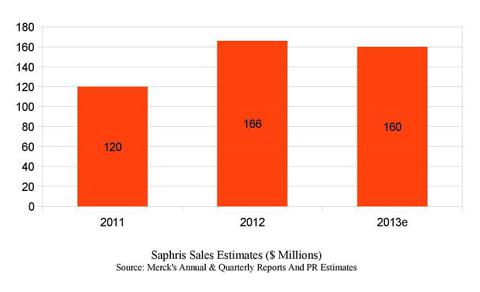 (Click to enlarge)
Saphris, an atypical antipsychotic approved by the FDA in 2009, was expected to achieve sales of about $160 million in 2013, slightly lower than the $166 million it achieved in 2012.
Merck, which acquired Saphris through its merger with Schering-Plough in 2009, took $330 million in write-offs on the drug earlier this year due to reduced sales expectations.
In November this year, the FDA declined to authorize Cariprazine, an antipsychotic drug licensed to Forest from Hungarian firm Gedeon Richter. In a complete response letter, the FDA said Cariprazine demonstrated effectiveness but needed more tests to optimize dose. Analysts had forecast sales of $250 million for the drug.
Forest is planning to boost Saphris sales using the 250 psychiatric reps who were lined up to launch Cariprazine; roughly double the number that was handling the product at Merck.
Forest's CNS Patent Cliff
Forest's CNS franchise has been under pressure since its lead antidepressant Lexapro lost U.S. patent exclusivity in March 2012. Forest launched Viibryd, another selective serotonin reuptake inhibitor antidepressant, to replace Lexapro in August 2011 but its sales did not match those of Lexapro.
In July 2013, Forest launched Fetzima, an old serotonin and norepinephrine reuptake inhibitor antidepressant that was launched in France in 1996, to beef up its CNS business and keep its large psychiatry force busy.
Forest Cost Reduction Initiative
Forest has finally decided to lower its head count and reduce its overhead. The company has just announced that it will cut about 500 jobs as part of a plan to trim $500 million in costs over the next two years.
Approximately $270 million of the savings will come from streamlining and realigning research and development, $150 million in savings will result from reduced marketing expenses and another $80 million will come from a reduction in general, administrative and other expenses.
Forest Valuation
Forest shares have gained 60% since the start of the year and are currently trading at their peak. The company expects revenue of $3.4 billion (mid-range) for the year, which gives it a price-to-sales ratio of 4.5 at current valuation.
Forest, which currently trades at a P/E of 60, is planning to buy back $400 million of its own stock before the end of 2013, which could explain the recent spike in its share price.
The transaction will be funded in part from the sale of $1 billion in debt due in 2021. Forest could spend the remaining $600 million on share repurchases, which can help lift earnings per share, however, management said that it will place a priority on merger, acquisition and licensing deals.
We still believe that Forest is richly priced, however, it would be interesting to see if its sales organization manages to reverse the decline in Saphris sales.
Disclosure: I have no positions in any stocks mentioned, and no plans to initiate any positions within the next 72 hours. I wrote this article myself, and it expresses my own opinions. I am not receiving compensation for it (other than from Seeking Alpha). I have no business relationship with any company whose stock is mentioned in this article.