By Mike Yamamoto
Rowan (NYSE:RDC) attracted upside option activity a day after its Chief Executive Officer reportedly said the Houston-based drilling company plans to move to another country in search of lower tax rates.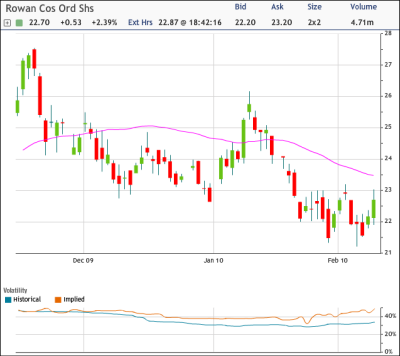 RDC closed yesterday up 2.39 percent to $22.70, adding to a 2 percent gain the day before when CEO Matt Ralls purportedly made his relocation comments at the Credit Suisse Energy Summit in Vail, Colorado. The stock is still down more than 13 percent since January 11, when the price of crude hit its recent peak and began taking energy-related names lower as it declined.
optionMONSTER's Heat Seeker system detected unusually heavy action at the March 25 strike, where some 7,800 calls traded in a strong buying pattern well over the open interest of 1,126 contracts. The bulk of those calls, which have averaged just 56 per day for the last month, came in a single purchase of 5,000 for $0.55.
For those calls to turn a profit, Rowan's stock would need to rise more than 12.5 percent by the time they expire on March 19. The company is scheduled to release its next earnings results on March 1.
(Chart courtesy of tradeMONSTER)