Vodafone Group (NASDAQ:VOD) announced a record setting $130 billion deal with Verizon (NYSE:VZ), regarding their 45% stake in the Verizon Wireless joint venture, in September. The companies expect to close the deal during the first quarter of 2014. The deal consists of $58.9 billion in cash, $60.2 billion in Verizon shares and $11 billion in additional loans and other transactions, including Verizon's 23% stake in Vodafone Italy. After the deal is completed, Vodafone will return all the Verizon shares and an additional $23.9 billion in cash to their shareholders.
The dividend yield has always been attractive for dividend investors (see graph below). Additionally, Vodafone will return a lot of cash and Verizon shares to the shareholders during the first quarter of 2014. After the deal is complete, Vodafone holds on to 'only' $32 billion in cash, considering that the tax bill regarding the Verizon deal could be around $3 billion. However, I sold my Vodafone shares several weeks ago. In this article I argue that Vodafone is no longer a preferred long-term dividend stock after it completes the Verizon deal.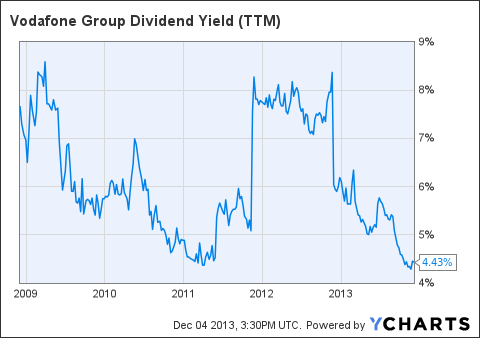 VODPF Dividend Yield (TTM) data by YCharts
Free cash flow
The telecom sector is a very competitive sector and Vodafone needs to increase their capital expenditure in order to be competitive. According to the second quarter earnings report, Vodafone will increase the capital expenditure to $7 billion in the upcoming years. These capital expenditures are necessary to be competitive. Further, the company expects growth to come from African and Asian markets. The networks in these markets are not as good as in Europe or in the United States. To deliver growth in Africa and Asia, Vodafone is likely to increase their capital expenditure in these regions even further.
Additionally, Vodafone faces increasing pressure from regulators and governments. The company paid significant more fees to regulators and governments, compared to several years ago. For example: Vodafone paid $1.9 billion for the latest 4G license in the Netherlands, one of Vodafone's smallest markets. In the United Kingdom, telecom regulator Ofcom proposed that Vodafone will pay 432% per year more for their 4G license. If approved, the proposal is effective on January 1, 2014. These payments will decrease the free cash flow in the future.
Southern Europe
Vodafone has several holdings in Southern Europe, including Italy, Spain, Portugal and Greece. I refer to these holdings as 'ugly assets'. The market conditions in Southern Europe are extremely tough and there is no clear time path for recovery. The Southern European markets posted a 15% decline in revenue and a 41% decline in adjusted operating profit during the first six month of this fiscal year. The impact of the decline in revenue and operating profit on Vodafone's consolidated results will be significant, because these markets account for nearly 25% of Vodafone's total revenue (according to the second quarter earnings report).
Quadruple play
Vodafone makes an expensive bet on quadruple play in Northern and Central Europe, which include markets in the United Kingdom, the Netherlands and Germany. Vodafone's mobile revenue in these markets declined nearly 4% during the first six months of this fiscal year. Although the decline is not as fast as the decline of the markets in Southern Europe, this is not a positive development and the company tries to make up the lost revenue. Vodafone's strategy is to acquire European cable companies and offer quadruple bundles to customers (internet, television, fixed-line telephone service and wireless telephone service).
As part of the strategy, Vodafone acquired Kabel Deutschland Holding for $7.7 billion this year, after a short bidding war with Liberty Global (NASDAQ:LBTYA). If Vodafone targets to acquire another cable company in Northern Europe, there is a potential threat that the company will end up in a bidding war with Liberty Global or another Telecom competitor. Also, the shareholders of the targeted cable company could ask more money for their shares, because they know Vodafone is 'rich' and holds $32 billion in cash. Vodafone will end up overpaying for the acquisition in both cases.
Conclusion
Despite the fact that Vodafone will add $32 billion in cash after the company completes the sale of the 45% stake in Verizon Wireless, I doubt that Vodafone is able to increase the dividend payments in the long term. First, the company needs to increase capital expenditures to be competitive and to support growth in Africa and Asia. Second, the company underestimates the market conditions in Europe. It could take years before the market conditions improve, especially in Southern Europe. Third, the company's bet on quadruple play could turn out to be expensive. Vodafone could end up overpaying for potential acquisition targets.
Disclosure: I have no positions in any stocks mentioned, and no plans to initiate any positions within the next 72 hours. I wrote this article myself, and it expresses my own opinions. I am not receiving compensation for it (other than from Seeking Alpha). I have no business relationship with any company whose stock is mentioned in this article.